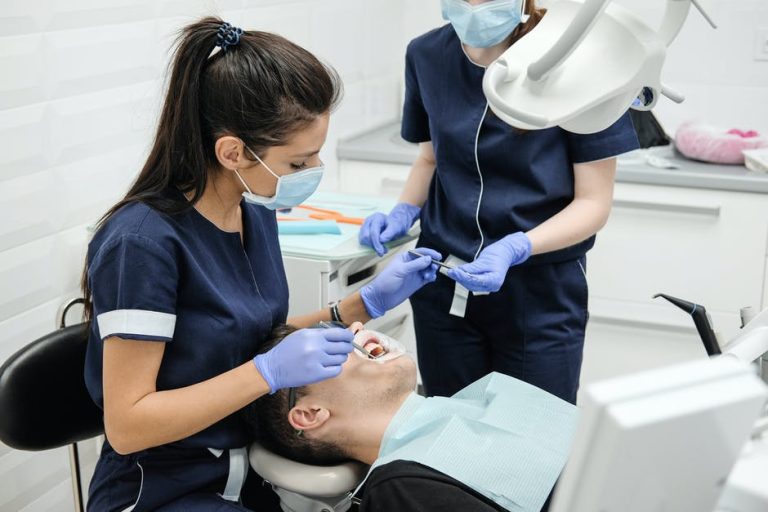 Dental careers are rewarding due to their better-than-average job opportunities and great industry stability. If you want a job where you can help others and make a good living, look no further.
A Certified Dental Assistant enjoys working with people and has an aptitude for science and technology. You can start training right after high school, or return to school to change careers later in life.
To embark on a career as a dental assistant, you need to know how to be certified. Read on for an overview of the profession and the training you'll need to enter the field.
Pay and Occupational Outlook
How much does a certified dental assistant make an hour? According to a recent report, certified dental assistants make around $30,000 to $40,000 a year. This translates to roughly $15 to $20 an hour.
These figures originated from research conducted in 2019. Pay has steadily increased over time and the projected occupational outlook for dental assisting is strong. A 7% growth is predicted through 2029 by the U.S. Bureau of Labor Statistics.
This shows that dental assisting is a stable field with decent pay. If you are looking for a career with excellent opportunities to grow and good job security, this may be exactly what you're looking for.
Becoming a Certified, Licensed Dental Assistant
Dental assistants are often confused with dental hygienists, but they are two very distinct professions. Instead of cleaning teeth, dental assistants focus on other important activities related to dental care.
Training requires 270 hours of study. Many can be completed in a year, like the UMA dental assistant training program. It's important to take courses from an educational program that's received accreditation from the Commission of Dental Accreditation (CODA) or another accrediting agency.
With today's busy students in mind, many training programs offer classes on a part-time or evening basis. You should be comfortable with basic science courses like chemistry and biology, and be able to do hands-on training. You will learn how to take x-rays, assist with surgery, take blood pressure and pulses, make molds, clean equipment, and much more during clinical training.
After you've completed your program's requirements, the next step is to sit for the Certified Dental Assistant (CDA) examination. Most states require dental assistants to be licensed, so you will also need to look into licensure after being certified. To find out the details, ask your career training school.
Where Do Dental Assistants Work?
Where can you work as a dental assistant? Dental assistants can work in a variety of places besides private dental offices. They sometimes work for public clinics, dental appliance manufacturers, the military, schools, or nursing homes. If you choose this career, it will open doors for you to explore, both geographically and professionally.
It's common for dental assistants to cross-train to handle administrative tasks, depending on where they work. Small practices naturally offer more opportunities to cross-train, while large practices are better for finding a specialty niche.
Make an Informed Decision
Becoming a certified dental assistant is an exciting career move that can open many doors to your future. It's important to ask questions before deciding whether dental assisting is right for you. We hope this introduction to the profession will jumpstart your research.
If you have found this article to be helpful, check out the rest of our blog.