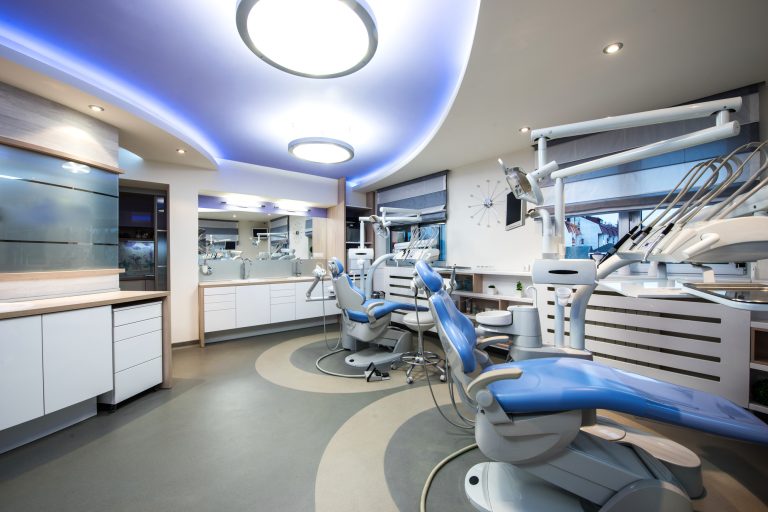 Making patients feel comfortable and relaxed should be a priority in any orthodontic office. A couple of years ago, a survey showed that 25 percent of people chose to take care of their teeth exclusively at home (likely from fear), avoiding any dental help.
A positive orthodontic office design can put patients at ease during the potentially stressful occasion. To help, we've put together a quick list of professional design tips for dental or orthodontic offices.
How to Improve Orthodontic Office Design
From the wall color to decorations, every detail matters. A thoughtfully designed dental office could bring you more patients – and revenue. Use these tips to make your practice more appealing:
1. Add More Color
Color is a quick, easy, and relatively inexpensive way to transform your office and improve its design. You can choose from a range of sleek and modern colors for a professional office or use wacky or far-out colors to set a specific mood.
There's a science behind color choosing, whether you abide by it or not. Certain colors compliment each other or inspire emotion.
When in doubt, think practically and choose clever ways of drawing the eye away from unattractive areas.
2. Keep Clutter Out of Sight
Sometimes, a stack of papers or a busy corner of equipment and wires is unavoidable. To keep up the professional atmosphere and enhance the design, keep clutter out of sight.
Conceal equipment and supplies in closets and storage containers. Keep wires and hanging cords unknotted and uniform. You can even invest in cable covers to hide wires and cords that run down a wall.
Try to have a place for everything, and only keep out immediate tools and whatever is meant explicitly for the patient.
3. Consider an Aquarium
Not every aquarium has to have the grandeur (or price tag) of a 1000 gallon tank. A simple tank is a great tool for keeping people calm as the colors, lights, and animal life provide a healthy distraction from stress.
Aquariums do especially well in pediatric offices, but any orthodontic or dental clinic can benefit from one. These little ecosystems provide patients with a unique look into the underwater life, helping calm fears or worry over their appointment.
An aquarium in the lobby or in the waiting room will draw visitor focus in all the right ways.
4. Hang Shelves
Shelves are an excellent and pragmatic choice for cleaning up some of the negative space left by glaring blank walls. Shelves can house anything from pictures and plant life to important files of documents.
You don't have to put shelves along hallway walls or in the waiting room. Hang them behind desks to keep your practice clutter-free and provide a place for decorations.
To save money, consider building them yourself (more info on that here) or invest in a carpenter who can make custom products for your office.
5. Put Up Artwork
Without having to change any layout or invest an arm and a leg into a new design, try putting up a little artwork. The right color choice or art subject can compliment your other decor to unify design throughout the office.
A few framed works of poster art, floral fields, or some neutral artistic design will work best in a professional environment. Remember, artwork should appeal to all your patients, so avoid anything with political or societal undertones.
6. Install Plant Walls or Use Potted Plants
A plant wall (much like an herb wall in a kitchen) is set up to hold many tiny individual plants or a creeping vine. It can take up a whole wall for floor-to-ceiling greenery, or it can be a feature as small as a piece of artwork.
Alternatively, you can keep a few potted plants around to help bring more of nature into your office. Potted plants and plant walls increase oxygen and are attractive, enhancing your office design to the fullest.
7. Water Features
If you're going the custom-design route and you've already figured out the cost of owning your own dental practice, why not go extravagant? A water feature is the surest way to muster immediate oos and aahs from your patients upon entering.
Water features don't have to be worthy of Vegas to be impressive. While a cascading waterfall with a koi fish pond beneath is beautiful, a trickling stream over a few gray stones should do it.
Consider installing a permanent water feature in the wall or a corner of the lobby to boost your practice's reputation in big ways.
8. Themed Murals
Some dental or orthodontic offices are built on a theme. Consider a pediatric dental office with a medieval theme; they might feature fake castle walls or have princesses hanging out of windows calling princes to save them.
Adding playful dragons and knights in shining armor on the walls can help distract younger patients and keep them in a happy, playful mood.
While you don't have to feature this theme, investing in a themed mural can help people identify and remember your office better. In addition, the added artwork will help increase the impact of your office design.
9. Create Entertainment Areas
Having a play place with blocks and toys or a corner area with video game consoles will work wonders for kids and teens. Stacks of magazines, books, or newspapers can help keep the adults happily preoccupied while they wait.
Of course, what entertainment area would be complete without a television? Consider broadcasting cable shows or family-friendly movies in dedicated entertainment areas of your office while patients wait.
10. Upgrade Fixtures
Switching up the light fixtures from harsh fluorescents to something milder, stylish, and cozy will only help your office's reputation.
Don't break the bank to change up the lighting; talk with specialists at stores like Lowes or Home Depot to discover the best options and available deals.
Get Tips and Advice from Pros
To make the most of your orthodontic office design, you have to fit the style and expectations of a professional office. However, adding a personal twist will help boost your reputation and help retain customers for years to come.
Looking for more insightful industry advice? Check out the ADA Marketplace website today for professional articles on how to take control of your dental practice!