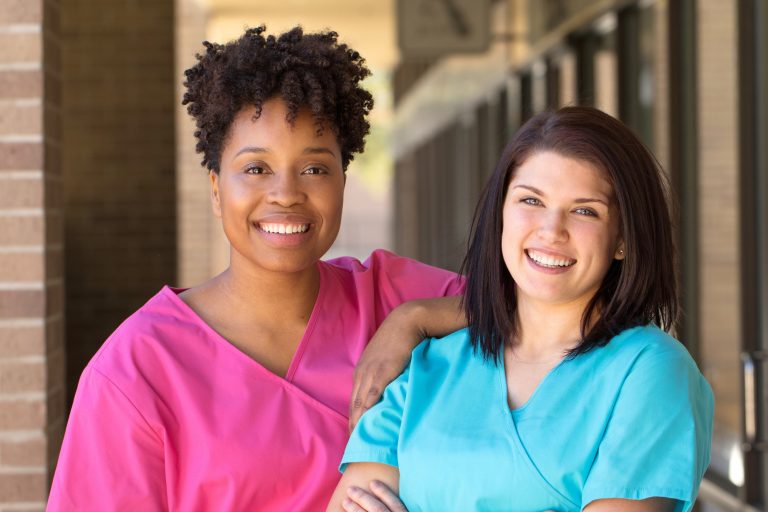 If you wear scrubs to work, you're in luck: scrubs are one of the comfiest forms of work attire. But workers who wear scrubs often complain they don't look so great. And it makes sense — they're not figure-flattering and can be pretty bland.
Scrubs weren't exactly created for style. And certain dental companies have strict dress codes, so looking great can be difficult. But there's no reason why you can't wear comfy scrubs in style. Most scrub-wearers don't know scrub style hacks.
Here are 10 ways you can look great in your dental scrubs. Use these scrub style hacks and look awesome for your patients and staff.
1. Make Sure Your Scrubs are Fitted
If you work in an office with a strict dress code, you may not be able to accessorize. Fitted scrubs are all you'll need to achieve style and flare.
It's easy to get the wrong fit or wear scrubs that don't flatter your figure.
But plenty of scrub outfits can fit nicely, such as accenting a narrow waist and circling your hips perfectly. You can also opt for scrub styles that tie in the back or have a band underneath your breasts.
2. Look for Color
Dental scrubs are often boring. They come in colors such as standard blue and don't offer other options. But if you shop around, you can find scrubs in exciting colors.
Are you unsure about which colors to choose? Look for flattering solid colors first.
Examples include pink and red. Certain colors look best with different skin tones and eye and hair colors. Do a quick search or ask a fashion stylist what colors look best on you.
3. Accessorize If You Can
If your dress code allows accessories, take advantage of it. A few jewelry accents will make your scrubs look chic.
But don't try and be too loud. Dangling earrings and bangle bracelets may distract the clients and can make your scrubs look tacky.
Since dentists and dental hygienists work with their hands, it's best to avoid rings unless it's a wedding band.
Look for small gold hoops or pearl earrings. Choose a lovely necklace such as a silver chain or even a gemstone that can flatter your collarbone.
4. Always Throw Out Old Scrubs
When you wear the same scrubs for years, they're subject to wear and tear. The colors fade, the threads become undone, and you may develop rips and holes.
The moments you see signs of aging, throw out those scrubs.
This is the same for scrubs in poor condition. Wrinkled, dirty and stained scrubs look awful, no matter how new or old they are.
New scrubs and good-quality scrubs help you look more polished and professional. Keep your scrubs in good condition for longevity.
5. Always Do Your Hair and Makeup
You're always working in a dental office and you may want to skip over the duty of doing your hair and makeup. If you want to look more stylish, great hair and makeup are necessary. But you don't have to go overboard.
For example, there's no reason to wake up a couple of hours earlier to style your hair. Get a haircut that looks great and is easy to style. After some styling products and a quick blow-dry, your hair should look salon-quality.
There are also plenty of easy makeup tips.
Instead of wearing heavy foundation, opt for a BB cream. Neutral eyeshadows such as beige, gray, and rose look lovely on all skin tones.
Opt for a little mascara and lipgloss instead of heavy eyeliner and lipstick; this avoids taking time to perfect the makeup and constantly updating it.
6. Make Sure Body Modifications are Acceptable
For the longest time, body modifications such as tattoos and piercings were looked down upon.
Today, more businesses are more relaxed about their tattoo and piercing dress code. If your work allows body modifications, you should still make sure they're acceptable.
With facial piercings, less is always more. Make sure they're cleaned and cared for. Since you work at a dental office, avoid piercings around the mouth and opt for a nose stud.
Tattoos should never be offensive, such as curse words or religious symbols.
Works of art can complement your work uniform, but cover them up to be on the safe side.
7. Don't Forget Your Shoes
As a dental employee, you'll likely be on your feet all day. Like your scrubs, you should wear comfortable shoes. But more shoe brands are designing work shoes for comfort and style.
Instead of wearing dull tennis shoes, wear designer basketball shoes. There are plenty of nice flats and booties that look great with scrubs. If you want to be bold, choose crazy colors rather than neutral colors.
8. Choose an Attractive Scrub Style
Since so many professionals wear scrubs, more scrub brands offer various styles. These include V-neck, different shapes, multiple sleeve options, and even pant-length options. Go on a scrub shopping spree and try on various scrub styles.
9. Wear Complimentary Colors
Do you plan on mixing and matching your scrubs?
Make sure they match. A brown top with purple pants might look a little weird. And don't ever mix two different patterns, learn more here.
If you want to go outside of the scrub sets, buy a scrub wardrobe and mix-and-match different pairs.
10. Add a Personal Touch
Your scrub doesn't have to look the same way it looked when you bought it. Add a personal touch such as a pin, an artistic name tag, or even get some embroidery in your uniform.
Time to Rock Your Dental Scrubs
Every day, you should feel beautiful at work. There's no reason why you need to look dull in your dental scrubs. Subtle styles, such as beautiful colors, can make your scrubs look amazing.
Different scrub styles, a great hairstyle, and well-fitted scrubs can make you look chic. Just always review your dress code and make sure you're not breaking any rules, especially if you have body modifications or plan on wearing jewelry.
For more dental advice, visit our resources.