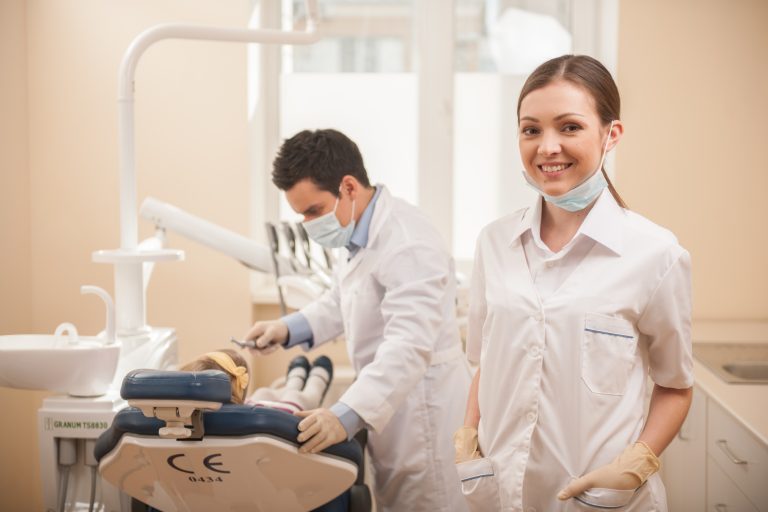 Did you know the demand for dental assistants is forecast to grow 19 percent by 2026? This growth rate is much faster than the seven percent average for all occupations in the U.S.
As a dental practice owner, this presents good and bad news.
Good because the demand for oral health services is on the rise. Bad because you have to keep diving into the labor market to find the best dental assistants.
How do you do it? Here is your guide to dental assistant hiring.
Understand the Qualification Requirements
The employment requirements for dental assistants vary from state to state.
In Montana, for instance, an aspiring dental assistant must graduate from an accredited program. In Texas, the level of training a dentist has dictates the kind of tasks they can perform.
Consequently, hiring the best dental assistants requires you to understand the qualification requirements in your state. This is the minimum a prospective candidate for the job must hold.
Beyond state provisions, what are your practice's standards?
If you're looking to position the practice as the go-to facility for the best quality patient care, you've to raise the bar. Look for professionals who hold a professional certification like the Dental Assisting National Board's Certified Dental Assistant (CDA).
You might also want to give preference to candidates with some years of relevant experience. If you specialize in orthodontics, for example, go for a person who has worked in an orthodontics office.
Experienced assistants won't need as much on-the-job training as complete newbies, saving you time and money.
Know What a Dental Assistant Does
How well do you understand the job description of a dental assistant?
Many dentists will tell you the basic administrative and patient care tasks of a dental assistant, such as scheduling appointments, keeping records, and preparing patients for procedures.
But did you know some assistants have expanded functions like monitoring the administration of nitrous oxide and performing pit and fissure sealant procedures?
When hiring, it's vital to have a good handle on the finer details of what your dental assistant will be doing on the job. You don't want to hire one with minimum qualifications, only to figure out later on that they're not trained to perform certain advanced tasks.
Develop job descriptions for the various dental assisting positions you need to fill before diving into the labor market.
Know How to Source Dental Assistants
Running a dental practice is pretty much like running a law firm.
What puts the top law firms apart isn't only the reputation of the managing partners, but also the competence of the legal associates.
And how do these firms end up with the best associates?
They don't waste their precious time inviting applications from any qualified associates. Instead, they poach associates straight from the top tier law schools.
Even dental assisting schools have no Ivy League, recruiting the best dental assistants requires you to source them from learning institutions.
Offering externships is an effective way to do this. Here is how it works.
You offer a temporary training program in your practice, and let dental assisting colleges near you know. Interested assistants will apply, upon which you'll select who to join the program. Consider offering paid externships to attract the best assistants.
During the externship, you'll have the opportunity to work with the assistants, identify their strengths and weaknesses, and ultimately determine the best fit for your facility.
Another strategy is to create job postings on dental job posting sites. The American Dental Association's CareerCenter is a prime example of an industry-specific job board. Because such platforms have a niche reach, your posting will easily reach qualified and interested candidates.
Prepare the Right Interview Questions
Hiring the right people for your dental practice isn't just about finding pros who have the professional capacity to do the job. At a time when workplace culture is becoming a vital tool in many organizations, hiring employees for cultural fit is also vital.
This is why you need to prepare diverse interview questions for dental assistant hiring. Examples of questions to ask include (besides the usual competence-based questions):
What brings you to the dental assisting field?
Is there anything you could change about this job description?
Where do you work best – alone or in a team environment?
What challenges do you expect to face in this job, and how would you solve them?
How familiar are you with professional ethics in dental assisting?
Set Up Your Practice for Dental Assistant Hiring Success
Recruiting dental workers doesn't end the moment a potential candidate aces and interview and accepts the job offer. It involves taking steps to ensure the new hires ease into their role and feel comfortable working in your practice.
Creating a workplace environment that supports your employees and affords them good work-life balance goes a long way in enhancing retention.
Offer competitive salaries (the average annual salary for dental assistants is about $38,000). Create workplace policies that promote trust, openness, and respect.
Provide flexible work hours. Read more to gain insight into how you can use software to schedule and manage your employees.
In addition, put effort into growing your brand, especially online. Many prospective employees want to work in companies with strong online reputations.
Final Thoughts
Dental assistant hiring is no easy task, especially when looking for the right employees. But it's a task that must be done — and done right. With these best practices, however, you're no doubt in a stronger position to land the best assistants in the market.
Need more tips and resources for your running your practice? Keep tabs on our marketplace!