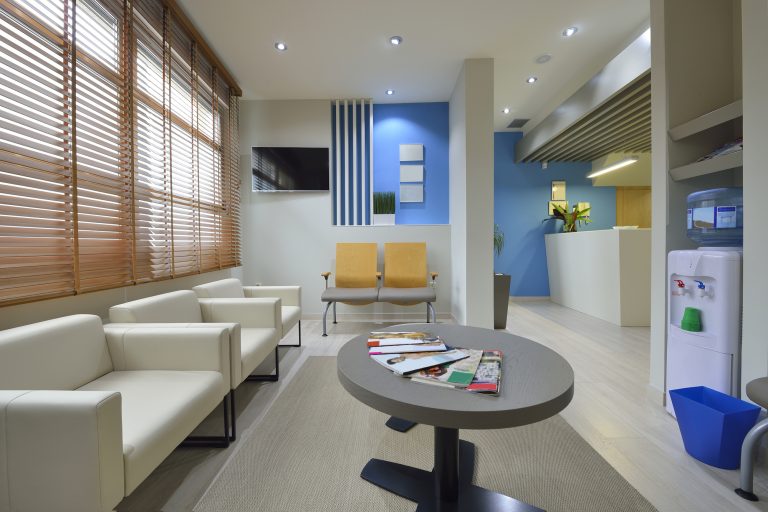 As the saying goes, "you never have a second chance to make a first impression." And it's true, especially in business.
The first thing your patients see when they walk into your office is your waiting room. If it looks dreary, has cobwebs, or the furniture has holes and tears, you shouldn't expect people to have much confidence in your abilities as a dentist.
But it's not just about making your waiting room design look clean and tidy. There are a lot of little things you can do to make sure your patients feel welcome as soon as they walk through the door.
To help you get some ideas flowing, here are five great dental office waiting room ideas.
1. Start By Choosing The Right Colors For Your Waiting Room Design
Your dentist waiting room should make your patients feel immediately welcome and relaxed. Choosing the right colors for your waiting area design will do a lot to create a calming atmosphere.
Stay away from colors like red or orange which can agitate your patients. If you choose white, try to go for an off-white so it's not so glaring under the lights.
Blues and greens are great selections but can get boring on their own. You can also try painting one accent wall one color and then leave the rest a white or beige color.
You can also select wallpaper rather than paint. If you do, try to find one that isn't too busy. And again, make sure the colors within the wallpaper are calming rather than aggressive.
2. Select Comfortable Chairs
No matter how hard you try, there will be days when you get behind schedule. Patients can walk in late, you get a last minute emergency or a procedure takes longer than expected.
It happens. And when it happens, your patients, who are already nervous, are going to get fidgety. One way to prevent this is to make sure you invest in some comfortable chairs.
You should also consider the seating arrangements when you plan out your dental office waiting room. Determine how many seats you'll need versus how many can fit in the space.
Take into consideration that some people prefer to have as much space as possible between themselves and others. Meanwhile, many patients come in with family members who need to wait there until it's over.
It's also wise to keep in mind that American's waistlines are increasing. Make sure all your patients can fit into your chairs with ease and comfort.
3. Always Keep The Area Clear and Clutter-Free
No matter how amazing it looks, if it's not free from clutter, your dental waiting area isn't going to score points with your patients. In fact, seeing a cluttered room may end up causing them further anxiety.
Clutter is known to cause anxiety. You definitely don't want your patients feeling overwhelmed and distraught before you put them in your dental chair.
Every night, make sure you or one of your employees clears up the clutter in the waiting room. Magazines tend to end up strewn about.
Make sure there are a few wastebaskets so everyone can easily toss their own clutter away rather than leaving it for you to clean up.
Don't add too many decorations. You want people's eyes to be able to see the artwork you choose. You don't want them to go cross-eyed because there is too much clutter on your walls.
Choose carefully what you place in your dental waiting room area. Every little thing in there can have an impact on the emotional or physical well-being of your patients.
4. Make Sure Your Receptionist Can See Who Walks In The Door
When most people talk about waiting room ideas, they forget to include how beneficial it is to have the receptionist in plain view of the entryway.
New patients especially are already nervous about placing their trust in you. Even your patients who love you probably feel a little vulnerable when they come in.
And when they walk in and no one is there to greet them, the anxiety rises. Now it's their responsibility to find where the receptionist is located and to figure out what to do next.
At this point, your patients aren't happy, they're stressed. Make it easy on everyone by making sure your receptionists smiling face is the first thing they see when they walk in.
Having a live human to help them know exactly where to go and what to do will help ease their anxiety and make them feel welcome.
If that's not possible, make sure to install chimes for your door so your receptionist and staff know when someone new has arrived. To find great chimes, check it out here.
5. Decorate Your Walls With Calming Images
Your waiting room design needs to include wall decorations. And there are a lot of things you can hang on your walls.
But you need to make sure that whatever you hang, the images are calming. That means, no portraits of stormy seas or a copy of Edvard Munch's, "The Scream".
Try searching for paintings of landscapes. You can also choose posters featuring positive quotes.
It's also not a bad idea to hang some of your credentials on the walls to further promote your dental capabilities.
Plants are also a great addition to any dental waiting room. They also have a calming effect, help to cleanse the air, and of course, look great.
While some dental offices now have a television in their waiting room, it's not always advisable. News stories, daytime soaps, and even talk shows are usually focused on delivering negative images and stories to capture the attention of viewers.
If you do choose to put a television in your waiting room, opt for playing movies that are family-friendly and share positive messages.
Where To Find Available Office Space
Of course, before you can begin your waiting room design, you must have office space. The ADA Marketplace can help you find everything you're looking for to build a successful practice.
Click here to find available dental practices in your area.