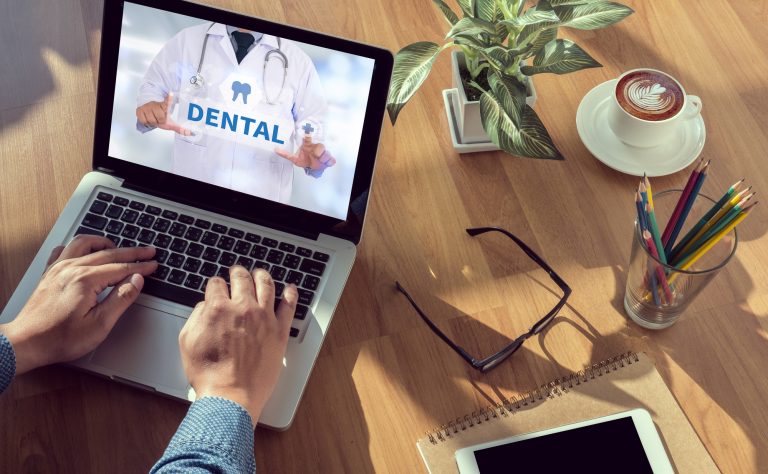 The dental industry has experienced 2.5% growth year over year since 2013. So for you as a dental professional, this means one thing: competition.
The good news, though, is that there are things you can do to stand out from the crowd. One of the best things you can do is have a great website.
But for most dentists, this is easier said than done. So we put this blog post together outlining 6 tips for making the best dentist website possible.
Check them out below!
1. Keep Things Clean & Professional
When someone sees your website for the first time, you only have a few seconds to make a first impression. So you need to make sure you're leaving a favorable impression by having a clean, professional website.
If your site is messy and cluttered, you seem less trustworthy. It's that simple!
Keep in mind that people are trusting you with their dental health, so they want to know that you're reliable. They have tons of options when it comes to dentists, so don't let a bad website ruin your chances.
On your site, use white space. This will keep things looking modern and clean. Choose fonts that are easy to read and keep your color choices professional.
2. Make It Responsive
The fact of the matter is that people access the internet on their smartphones all the time. So if your site performs poorly on mobile, you are going to lose traffic.
But if you're not a web developer, it can be super intimidating to design a different version of your website to fit on every single size of mobile device. Well, that's where a responsive builder comes in.
When you use a responsive builder, your website will automatically resize to fit every screen size. That way, no matter the screen size, your site will look great!
This is especially important for dental websites because people use your forms often. If you have a calendar that they can use to book an appointment, you also want to make sure this works well on tablets and smartphones.
When you use a responsive builder, they always will. Click here for more tips on B2B web design.
3. Organize Your Information
Dentist websites are known for being information heavy–and there's nothing wrong with that! The problem that happens often, though, is that the information is poorly organized.
And when this happens, people will have a bad experience on your site, resulting in fewer patients.
To avoid this, it's important to keep things organized. Start by creating a consistent menu bar that's the same on every page.
That way, no matter where people are on your site, they'll know how to get around and make their way back to the home page or contact page.
Also be sure to keep your menu to less than 10 items. If you have more pages than this, use drop-down menus under the main pages. This will keep things clear.
Here's an example of an effective navigational menu:
Home
Services
Insurance
Blog
FAQ
Contact Us
You'll have much more success when your navigation is easy to use.
4. Put an About Us Page on Your Dentist Website
Your About Us page is an essential part of a successful website, but far too many practices don't do it well.
When people are looking for a dentist, they want to make sure you have the necessary skills as well as a personality they'll get along with. With so many options out there, it's important to provide this information long before they enter your office.
On your About Us page, include information about your practice, including how long you've been in business and what you stand for. Also create bios for each of your dentists, hygienists, and other staff members.
In these bios, include information about their education and experience. But also include fun information like their favorite foods, movies, or vacation destinations. Potential patients want to see that you're fun and relatable.
Also be sure to include a professional picture of each member of your team. If you don't have this, have a picture day where you get these taken. It will make you seem much more professional.
5. Testimonials
Social proof is a big deal to consumers these days. What is social proof? Any time someone besides your business talks favorably about your business.
One of the best (and easiest) forms of social proof is customer testimonials. People love to see what others say about a company. It gives legitimacy to your claims.
So start asking people for reviews! After every appointment, send an email to your patients asking for a quick review.
After a while, you'll have a great bank of positive reviews you can use on your website. Then create a page or a section of your homepage where you feature these.
You can also use these on social media or in promotional emails. No matter what, make sure you get them in front of the eyes of potential customers! They can be super powerful.
6. Include Clear CTAs
CTAs (calls to action) are a crucial part of your website because these are what get people to take action.
For dental practices, the most common CTA is to make an appointment. So make this obvious throughout your site.
Include your phone number at the top of every page. Put buttons on your pages that help people book online appointments through your calendar.
In your body copy, always include a clear call to action in the last paragraph of each page.
When you do these things, it's super easy for your consumers to take the next step. When you don't, people tend to get lost and don't take as much action.
Final Thoughts
There you have it: 6 tips for creating a killer dentist website. Now that you've gone through these ideas, it's time to decide how you can implement them on your site.
Which ones apply most to your situation? Pick those and then start using them.
Have questions? Feel free to contact us at any time.