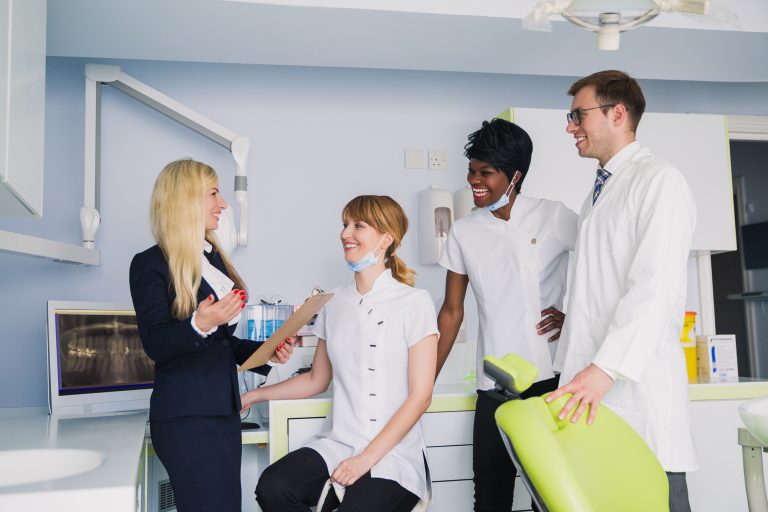 Do you want to get more results out of your dental business?
Luckily, your practice can always be improved.
Being a successful dentist can be challenging. Despite the fact that you and your staff are experts at treating patients, your office may lack superior patient experience.
By making small adjustments to your dentist practice management, you'll see your productivity increase. Proper time management and excellent service are important in ensuring a regular return of your patients.
If you think your dental business isn't running as smoothly as it should be, use these 7 productivity tips to bring your dental business to the next level:
1. Establish an Office Culture
What is your office all about?
To answer this, you must look at what makes your practice unique. This includes taking into account the way you and your staff act. Pay close attention to the way you behave, how you lead others, what your expectations are, and the way your staff communicates.
Make sure you and your staff are on the same page. Hold a meeting and ask what their expectations and goals are for the office. When all staff members strive to reach the same goal, your dental office will become more productive.
Even your dental office decor can influence office culture. Surprisingly enough, worksplace design can greatly increase productivity. Simply adjusting the light, color, and furniture in your office can create a more welcoming and comfortable atmosphere for patients and staff alike.
2. Implement Automated Billing
Instead of having a staff member leaf through dozens of records to locate a patient's information, invest in automated billing. Automated billing allows you to find a patient's record in a matter of seconds.
Not only does it speed up the location process, it also lowers the likelihood of errors. Employees are more likely to make a mistake or misplace a document when working with physical records.
Using paper records also decreases the efficiency of billing services. It can take days or weeks for your payments to arrive, due to the fact that insurance companies are eliminating paper billing systems. With automated billing, you can receive secure payments quicker.
Keep up with the times, and go through the effort of implementing electronic billing software in your office.
3. Don't Keep Patients Waiting
When patients are spending too much time in the waiting room, they will leave the office with a negative impression. It's important for staff to follow the daily schedule and complete tasks in a time-efficient manner.
The average wait time for dental patients is 19 minutes and 19 seconds. Studies show that patients who wait more than 20 minutes are unhappy with their service. Strive to shorten the wait time to increase patient satisfaction.
Front-office staff should be able to politely communicate with waiting patients. They should let patients know if there is a wait, and should reassure them by giving them an estimated wait time.
To make it seem like the office is running on time, move patients into exam rooms. You can also try to perform a procedure on one patient while the other waits for an x-ray.
If your office struggles with long waiting times, consider hiring a dental office manager or another dental assistant.
4. Use Digital Radiography
If your office is still using film to examine x-rays, then it's time to convert to digital radiography.
Digital radiography creates more space in your office, as there is no need for a dark room. You also don't need to wait for film develop–the x-rays are instantly available on your computer. This allows you to enhance the image and diagnose your patient faster.
5. Expedite Patient Intake
Say goodbye to bringing a paper and pen into the exam room.
Don't waste time scribbling information on a clipboard, when everything can be done much more efficiently.
Recording information on paper means that there is someone who is responsible for transferring it to the computer. You can easily skip this extra step by using a laptop or tablet to record patient information.
Electronic databases also decrease the number of errors made and allow all information to be easily accessed from the computer.
6. Become Phone-Savvy
Use phone calls as an opportunity to get more patients into your office.
A patient's first impression of the office is usually made over the phone. It's important that your staff is trained to answer the phone and communicate in a professional manner.
You should make sure that your employees are able to accommodate future patients. Some patients may be unsure whether to book an appointment. However, your receptionist should let them know that the office is flexible.
Staff should also ensure that the patient knows how important dental hygiene is and should encourage them to book an appointment before the schedule fills up.
It's recommended that staff issues confirmation calls for patients' appointments. This reminds them of their upcoming visit and decreases the chance that they'll forget to come in.
7. Educate Patients About Oral Hygiene
Before the patient leaves the office, they should be aware of the importance of maintaining a healthy smile. Staff should be able to educate patients in a clear and informative way.
In order to encourage patients to make another appointment, let patients know that regular cleanings prevent tooth decay and gum disease. Always ask the patient to make another appointment after their visit.
To keep patients coming back, have staff look through patient records and see which patients haven't had an appointment in a while. An employee should call these patients to remind them that a regular trip to the dentist improves their oral hygiene.
Get the Most Out of Your Dental Business
If you're searching for more information on how to improve your life in and out of your dental business, look no further.
Not only do we offer useful information about how to run a dental office, we also provide suggestions about topics ranging from great vacation spots to wardrobe advice, and workout routines.
Visit our blog to get more tips that will make your life as a dentist easier.