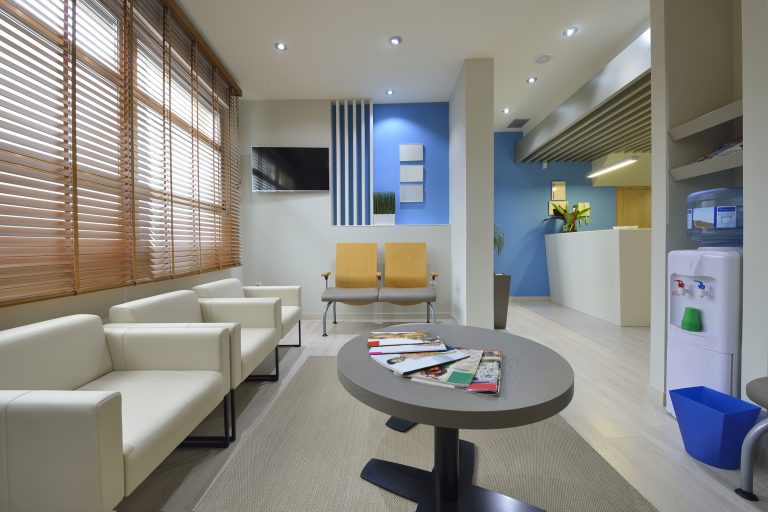 Let's face it, few people love going to the dentist. They dislike waiting around even more.
Studies show that as many as 40 million Americans avoid going to the dentist because of fear and anxiety.
Ease the pain of impatient and anxious patients with these tips for making your waiting area a great place to be.
1. First Impressions Count
It's important to create a welcoming atmosphere at the first opportunity. A modern, clean and light reception area does the trick.
Make your reception desk a focal point in the area so that clients know where to go when they arrive. Choose a desk design that matches the impression you are trying to create. A wood-grain laminate is hard-wearing and looks elegant. Touches of plexiglass and steel look add a modern feel.
There should be enough space for several patients to stand around the desk without feeling cramped. Measure everything before installing any furniture in your dentist waiting room.
Keep it tidy. Post-it notes stuck all over, boxes lying around or piles of paper on the desk create a chaotic and unprofessional look.
Make sure that your reception desk has enough room to store deliveries and files out of sight. It should be high enough to hide printers, faxes, computer monitors, and telephones from sight.
2. Maximizing Space
Your patients will spend around 15 minutes waiting for their appointment. Nobody wants to sit in close confinement with someone they don't know for that long.
Spend time working on your waiting room design to include different areas for patients.
A small desk and chair in a quiet section are ideal for businessmen, a children's play area is a huge bonus and needn't take up much room. Provide settees and coffee tables for families to sit together.
Select your furniture according to the layout you have in mind to make sure it all works together.
3. Mood Lighting
Don't leave your patients shivering in a dark and dingy room. Natural sunlight is a huge mood booster, use it to best effect in your dental office.
Glaring overhead fluorescent lighting creates a sterile and unwelcoming environment. If you don't have windows, use lamps and chandeliers to lighten the mood as well as the room.
If you want to create a homely atmosphere, keep the lighting low. Bright lights can create an energetic feel in a room. You don't need an expensive dimmer system, simply change the lightbulbs.
If you do have large windows, shutters are the perfect solution for letting the light shine in, while maintaining privacy. See more info about using shutters here.
4. Using Color
Color can do wonders to create an energetic mood and have a psychology all their own. While you don't want your waiting room to look like the inside of a circus tent, pops of color are essential for modern dentist office decoration.
White walls will never go out of fashion and help to keep things light and airy, that doesn't mean everything needs to be in muted tones. Choose a color scheme for your practice and use it in upholstery, artworks, and rugs to brighten up the place a little.
When selecting upholstery and rugs, choose engineered and combination fabrics. These are the most durable options. Ask for swatches of fabric to see how they work in your space before committing to a particular design or color scheme.
5. Little Luxuries
Spoil your customers with small treats to ease their waiting time.
All the best dentist waiting rooms have free Wi-Fi these days. Charging points for cell phones, iPads, and laptops are a bonus for busy patients.
A refrigerator with complimentary bottled water and fruit juices goes down well.
When choosing chairs for your waiting room, sit in them for a few minutes to check their comfort levels. One dentist is famous for installing a massage chair for mothers to enjoy during their children's appointments.
Toys, books, and games to keep little ones busy are a must.
Keeping your customers up to date with their expected waiting time is a courtesy that is vastly underused in the medical profession. Ask your receptionist to provide newcomers with an estimated waiting time upon arrival.
6. Decor
Fresh flowers and interesting, colorful artwork are obvious decor features for well-designed waiting spaces.
Yet, there's nothing like a water feature to soothe the mind and calm the soul. A small fountain in your waiting room adds a Zen element. A fish tank appeals to patients of all ages.
If you have a television in your waiting room, don't leave it on the news. Consider changing to a documentary station or a cartoon channel if there are many children in attendance. Music is a great alternative to television.
7. Low-Budget Fixes for Your Waiting Area
If your budget doesn't extend to a complete refurbishment right now, Try some of these cheap and easy waiting room ideas instead.
Rearrange what you have. Take some time to work out the flow of your room. Move the existing furniture around so that patients can move freely in high traffic areas. Place your chairs in a U-shape instead of straight rows.
De-clutter your space. Get rid of faded, outdated magazines, dusty books, and other items that are making the place look untidy. Visit a second-hand bookstore and pick up some interesting coffee table books instead.
Paint one wall in a feature color. If you have old framed art on the walls, spray paint the frames in a color that matches your decor.
Give your old wooden furniture a new lease on life with a coat of varnish or a lick of paint. Provide cushions for uncomfortable chairs.
Find Out More
Our website has many informative articles to help you set up a professional and effective dental practice. Read more about design ideas and tips here.
Your waiting area is an important part of your practice. Enter our Dental Office Design competition, we'd love to see what your revamped waiting room looks like.