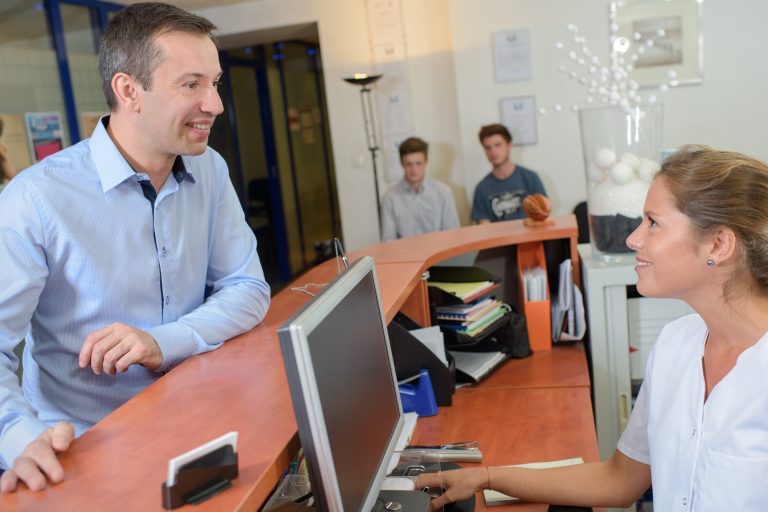 Consumers today are looking to do business with brands that offer great customer experiences. Roughly 70% of buying experiences center around how the customer feels they're treated.
This survey says a lot about the importance of excellent customer service. This holds true no matter the industry you're in. As a dental professional, it's important to have customer service skills that'll set your dental office apart.
If you're looking to improve your skills for customer service, then continue reading.
We're going to look at the customer service skills list that every dentist should have, so let's dive in!
1. Has Humans Answer the Phone
It's alright to have an answering service that helps to direct your incoming calls. However, you don't want to take too long before the patient gets a hold of a live person.
Surely, you've had your share of bad customer experiences where you're kept on hold by an automated operator for one too many minutes. If you don't have the staff to handle your phone lines, then it's time to outsource it to a reputable phone answering service.
If you go this route, make sure they speak fluent English so there are no language barriers. Plus, you want the phone operators to appear as though they're sitting right in your office.
Here's additional info about improving your customer service.
2. Listens to Patients' Needs
Your role as a dentist is to help your patients acquire and maintain beautiful, healthy teeth. And as you may already know, many of them will have questions and concerns they want to address during their visit with you.
Make sure you're attentive to their problems and be willing to discuss these matters with them. You never want to treat your patients as another invoice. If you don't make them feel valuable, then they'll more than likely take their business to a competitor who will.
3. Manages Complaints Accordingly
Every business dreads them, but every business gets them – customer complaints. And it's no different for dental practices. You can't please everyone, although you may try to. So it's very important to prepare yourself to deal with complaints as they come.
How you manage them will depend on the form they come in – verbal or written. The internet is the most common place for complaints to show up about brands. For this reason, you should have a plan in place to address these negative reviews to try and turn things around.
For instance, if the complaint is genuine and substantiated, try offering a discount or a simple apology. The key is to show your practice cares about its patients and will do whatever it takes to keep their business.
4. Creates a Customer Loyalty Program
Customers are loyal to businesses that treat them great and give them a reason to return. This is what makes customer loyalty programs so successful. There are different ways you can get your patients to return repeatedly.
For instance, if you offer cosmetic dental services, you can offer bigger discounts for each time a patient returns for a follow-up procedure. And you can do the same for non-cosmetic dental services.
5. Makes Improvements Based On Patient Feedback
Asking your patients for feedback is a great way to make them feel like they matter – and they should. After all, they're the lifeblood of your dental practice. To help ensure they and future patients continue to enjoy your services, you should ask for feedback regularly.
This way, you can catch issues that are festering and fix them. For instance, you may receive feedback about improving your waiting room, decreasing wait time, or even switching the products you use. Then there may be other feedback that gives you a thumbs up.
It's good to know what your patients find delightful in your practice so you don't change it and cause upset.
6. Clear Communication Skills
As a dentist, it's very important to have great communication skills. Many of your patients are new and never received the services you provide. This means you'll have to explain the procedure, what to expect, and how to get through it.
If you're not clearly communicating this, it paves the way for dissatisfied patients. Unhappy patients lead to negative reviews, which can damage your practice's reputation.
7. Wears a Welcoming Smile
Your facial expressions and whether you smile will determine how your patients interact with you. This is especially true when you're dealing with nervous children. No matter the age of your patients, however, everyone somewhat fears going to the dentist.
So to put everyone at ease, you should wear a friendly face and a warming smile. Your tone of voice should also portray the same attitude. If you're the type of dentist that wears a frown or even a serious face the entire visit, then you'll make your patients feel uncomfortable.
8. Good Time Management
No one likes to wait a long time to receive the services they're anticipating. Unfortunately, a lot of dental offices overbook themselves and cause a long waiting period for their clientele. To avoid this, you want to do two things.
First, make sure you're getting enough appointments to keep your practice open, but not so that you're overworked. Second, set appointment time frames based on how long it'll take you to perform the service so that your wait times are minimal.
9. Attentive to Non-Verbal Cues
There's a lot you can learn about your customers by looking at their non-verbal cues. For instance, you may notice when they're uncomfortable if they're fiddling with their hands or bouncing their leg.
In this case, you can try to make them smile or start a conversation to calm them. Also, take notice if there's discomfort or dissatisfaction.
Find out what's causing it, then try to provide a remedy to turn things around before the visit is over.
Improve Your Skills for Customer Service to Grow Your Practice
As a dentist, you need to develop skills for customer service to ensure your practice stays in good standing with prospects. If word gets out that your current clients are unhappy, then chances are it'll spread to prospects and slow down business.
If you'd like to learn more about improving your customer service experience, then you can visit ADA Marketplace. Here, we have tips you can use to improve your dental marketing.
Plus, we have a marketplace where you can place your ads and grow your practice. Stop by today to see how we can help turn your dental office into a success!