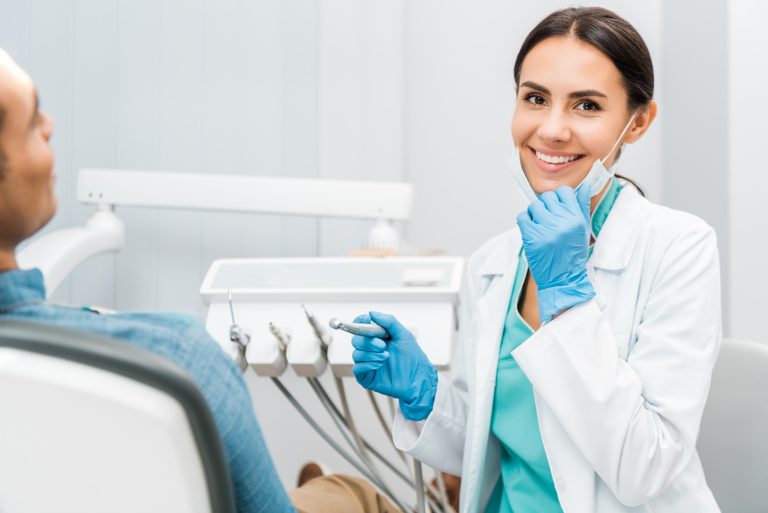 As at last year, there were almost 200,000 dental practitioners in the US. That means the competition is quite fierce for you as a dentist. If you're starting a new practice, you need to deploy proven dental practice management techniques.
And if you already have a dental practice, these will help ensure that your practice not only survives but thrives too.
This is important because being great at fixing people's teeth isn't enough. You need to know how to keep them coming back to your business -yes, it's a business- and referring others to you.
Most dentists would rather just fix teeth and allow others to run the moneymaking side of their business. Unfortunately, that's not enough.
If you're moderately successful, chances are you have families depending on the paycheck your staff take home. This is why you must keep it running profitably.
The following dental practice management best practices should help you do all that.
Have a Warm Office Culture
This lies at the heart of every successful practice. Roughly 60 percent of the populace dread going to the dentist.
Then, there's another 5-10 percent who have been diagnosed of dental phobias. The point is people are scared of their annual visits to the dentist. It's probably why many avoid the trips until when they can't really put it off any longer.
This is why you must endeavor to make the office appealing and warm to your patients. Have your staff trained in excellent customer service and making patients at ease.
A cozy office, a warm staff, and an amiable dentist are all everyone needs to start feeling relaxed. Of course, you may not be able to help them with their psychological issues.
But, how your office looks and how the staff attend to them can make their visits more tolerable and maybe even enjoyable.
Determine Your Unique Competitive Advantage and Use it
Every successful dentist has a unique selling proposition. They have something that attracts many patients to them -and it's not cheap prices. Your unique competitive advantage can be something as simple as your marketing. It could be your service offerings.
For instance, if you're an orthodontist, you could offer free consults for every appointment booked. If you only offer one or two services, you can always liaise with seasoned dental specialists around this city or state. This way, you can go on to offer full dental services.
Just understand that a unique competitive advantage plays a significant role in successful dental practice management.
Offer Flexible Financing Options
This is a big part of your business. After all, patients have to pay for your treatments. So, have as many financing options as possible available to them.
A wide range of payment options helps ensure that you consistently enjoy a steady revenue stream. More importantly, you'll be able to help your patients pay their bills faster.
If necessary, have a separate, private space in the office for bill payment. This way, if patients need to combine a few payment options to afford your bills, it'd be easier.
As part of your dental practice management, have payment options for insurance coverage, credit and debit cards, money transfer, bank transfer, cash, check, special financing options, and even cryptocurrency.
Follow Up With and Have a Relationship With Patients
Sometimes, life happens and your patient can forget to book their appointments. Or, they may just be scared. So, give them a call or reminder that their appointments are due. This works great for past patients and those on a retainer.
And if you've finished treatment, it's not enough to just let them go. Periodically reach out to them to find out how they are recovering. Frequent post-procedure follow-ups always work.
Even better, it endears you to your patients. This is why many successful dental practices have multi-generational clients. In fact, we've seen practices with three generations -granddad, son, and grandson- come in for treatment.
Encourage Referrals from Patients
We get it: you'd rather fix teeth than ask patients to refer their friends and family to your practice. But, if you want to be around, you need to apply this incredibly important dental management practice.
As a dental specialist, asking your patients to "spread the word" is imperative. You can also make this easier by consistently putting out informative oral care tips on your blog.
If these are good enough, they'll send it to and share with friends and family. Simply asking people to forward your article to their friends so they can learn more about certain dental issues works.
Asking for reviews works too. Just tell your patients to leave reviews of your practice on Google, Yelp and other important directories. Like it or not, online reviews help 93 percent of the populace make their hiring or buying decisions.
Promote and Market Your Practice
Marketing and promoting your dental practice is just as important as fixing teeth. If you want more people booking appointments and walking through your doors for treatment, you need to get the word out.
The good news is there's a variety of options available to you, regardless of your budget. If you have a low budget, focus on online marketing strategies.
If you have a robust budget, you can either do traditional advertising such as print, radio or TV ads. Or combine both traditional and digital marketing for maximum exposure.
Just make sure that people are seeing and talking about your practice. The more exposure you get, the higher the appointment booking rates and patient numbers.
Extra Tips on Effective Dental Practice Management
While the above-listed dental practice management tips work, that's not all to it. You should optimize your schedule system, so there'll be a seamless flow of activities.
For instance, make it easy for patients to book appointments, confirm them, get scheduled, and treated at your office. Also, get advisors for your practice. They can help you see things more clearly, and offer good advice that'll help your practice grow.
Manage your cash flow too. It'll keep your doors open for a long time. If you need more actionable information on growing your dental practice, check out the ADA Marketplace and site.