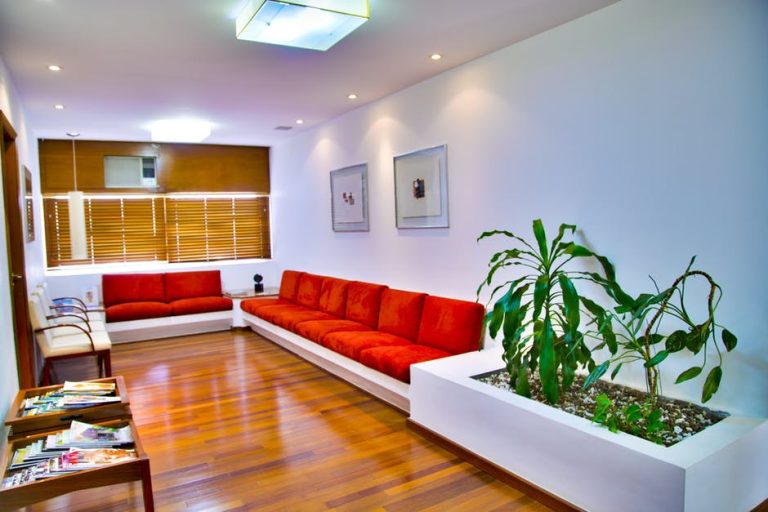 Are you planning a dental office makeover but don't know where to start?
You can go for a full renovation and completely change the look of the space or spruce up some minor details to make your office inviting and pleasant. The first room to revamp is the reception area. This is the first thing patients see when they enter your practice, so make sure it feels welcoming.
Next, make a list of everything you need to replace or update, such as furniture, lighting, appliances, and wall colors. If the job seems overwhelming, hire an interior designer who will help you achieve a clean, professional look of the office that won't feel too sterile and cold.
Ready to give your dental practice an overhaul? Check out these dental office decorating tips and make your workplace warm and welcoming for your patients and employees.
1. Paint
A fresh coat of paint can make any space look clean and new, including your dental office waiting room. This is the place where patients spend most of their time waiting for their turn, so make sure they feel comfortable.
Don't go overboard with the paint and refrain from using bold and bright colors on more than one wall. Unless your patients are children, painting one accent wall is enough to add life to the room.
Consider the colors of the furniture and decor in the waiting room and choose the wall paint accordingly.
2. Furniture
Furniture is an essential part of your dental office decor and if yours is old and outdated, it'll give out the wrong impression to your customers.
Consider replacing the sofas and chairs in the dentist office waiting room if they have visible cracks and damage. You can also add some shelves with decorations, as well as accessories to make your office more modern and friendly.
Make sure there's enough seating for everyone to avoid people being crammed into each other.
3. Artwork
Using art pieces in dental offices is a great way to warm up the space and give it some personality. You don't have to use expensive artwork or wall decor to beautify the space. The art should match the rest of the decor and not clash with the wall paint.
Some dentists tend to hang pictures of their before and after work on the walls, but this can create discomfort in patients. Reserve the artwork for the reception area and only use two to three minimalistic pieces depending on the size of the room.
4. Plants and Flowers
If your office seems dull and cold, greenery is the best way to liven it up. Decorative plants and fresh flowers give out a welcoming feel and help your patients feel more at ease.
Artificial plants work great for dental offices because you don't need to water them or provide sunlight, both of which may be limited in the space. Just remember to wipe the leaves with a wet cloth once a week to remove dust and your greenery will be as good as new.
5. Lighting
If your main source of light in the dental office are fluorescent lights, consider adding a few lamps or warmer light bulbs to make the space more inviting.
Your patients will appreciate a better-lit waiting area where they can read magazines or talk to each other. Even the most beautifully decorated and painted rooms can look gloomy if there isn't enough lighting.
Combine ceiling and wall fixtures with a floor lamp in the reception area for the best balance of professional and welcoming.
6. Magazines and Entertainment
Magazines are a common occurrence in a dental office waiting room and patients use them to kill some time while they wait. You can create an entertainment area for your patients by providing current issues of magazines, coffee table books, and daily newspapers.
Avoid controversial materials and keep the area clean of political or any other influences. You can put some of the books and magazines as a dentist office decoration. Read more to see how to display them in a glass display cabinet.
7. Background Music
Playing soothing music in your dental office can help your patients feel relaxed and mentally better prepared for the upcoming procedure. Avoid playing loud music or music with lyrics that may be disturbing for some patients.
Your front desk staff can create a playlist of soothing instrumental music that will create a positive atmosphere in the office. This may also help the patients feel calmer while they're on the chair.
8. Kids' Toys and Books
Many reception area ideas only include things for adults, but children are patients, too. They're also the most afraid of going to the dentist, so make sure you have an area dedicated to toys, books, and fun board games.
Sometimes, kids accompany their parents and may be bored while waiting, so an entertainment area will keep them busy and prevent tantrums.
9. Refreshments
If you have a lot of patients in the waiting room at the same time, have refreshments ready for them to grab. This can be a mini fridge with bottled water, a water cooler, coffee, tea, and even breath fresheners.
This is a small expense for you, but one that'll show your patients you care for them while they're waiting.
10. Air Conditioning
If you don't set up a heating and cooling system, you'll lose a lot of patients if the office is unbearable to stay in. For example, on hot summer days, people can't wait to go somewhere with air conditioning and if they don't find one in your dental practice, they'll leave. The same goes for heating in the winter.
To make sure your aircon system works properly at all times, clean the vents regularly and check for damages or leaks.
You Complete Guide to Dental Office Decorating
Most people dread going to the dentist because they associate it with pain and discomfort. Also, dental offices often smell of anesthetics and bleach which reminds the patients of hospitals.
These dental office decorating tips and tricks will help you make your office a professional, yet comfortable place for your patients and employees.
For more dental office improvements and tips, check out the articles on our blog.