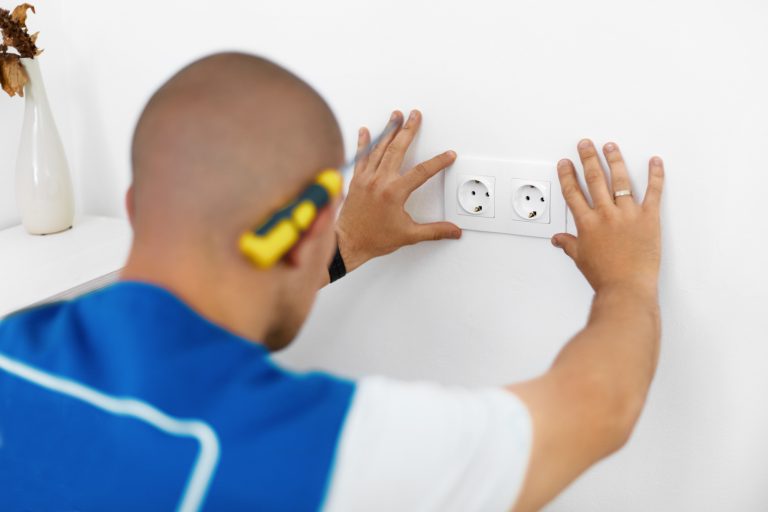 Are you in the process of setting up a new dental office? If so, you're probably going to need to hire quite a few professionals to do work for you.
You'll need to bring in contractors to tear down old walls and put up new ones. You'll also need to bring in plumbers to install new sinks, toilets, and more. And of course, you'll need the assistance of commercial electricians to do electrical work throughout your new office space.
With that in mind, you might be wondering about what you can expect to pay in electrician rates. It'll allow you to build room into your budget for electrical service.
We're going to talk to you a little bit about electrician rates today. But first, let's talk about why you need to hire professionals to do electrical work in the first place.
Read a few of the reasons below.
They'll Begin by Inspecting Your Current Electrical System
When you first call on commercial electricians to come out and do electrical work in your new dental office, they'll start by taking a good, hard look at your current electrical system.
Ideally, your current electrical system will be in great shape and won't need to have anything done to it. But in some instances, electricians might find that the electrical system that's in place won't meet the demands of your dental office.
It's good to know this now as opposed to when you start seeing patients. The last thing you want is for your dental office to be forced to shut down for a few days when you first open due to an electrical issue.
Commercial electricians can check out the capabilities of your electrical system to see whether or not it's going to work for your dental practice moving forward. It'll give you a peace of mind that you wouldn't have if you did electrical work in your dental office yourself.
They'll Be Capable of Handling All Your Electrical Needs
Once commercial electricians scope out your electrical system and tell you that it's good to go, the real work can begin. You can sit down with you electricians and let them know exactly what it is you want to do to improve your dental office.
That might mean putting in new outlets throughout the office space so that you can plug in your equipment. It might mean upgrading the electrical panel so that it's able to power some of your more high-tech equipment. It might even mean doing something as simple as installing better lighting throughout the space.
There are so many different electrical projects that will need to be completed in your office. And while you might be able to tackle some of the small ones on your own, you're much better off leaving all the jobs, both big and small, to the professionals.
They'll Pull the Proper Permits Prior to Doing Electrical Work
After you tell your commercial electricians what you need them to do, they'll come up with a plan of action and let you know what they're thinking. You'll then have the power to either approve that plan or make alterations to it based on other things that are happening in your dental office.
As soon as you and your commercial electricians agree on a plan, they'll start preparing to get down to business. As part of that, they'll pull the proper permits that need to be in place prior to doing any electrical work.
If you do electrical work in your dental office and you don't pull permits before doing it, you could be in a world of trouble later. You might not be allowed to open your dental office because of it.
The average person doesn't have the slightest clue how to go about getting their hands on permits for an electrical project. But an experienced electrical company will know where to get the permits, how to display them, and more.
The electrician rates you're paying will be well worth it when they help you avoid permit problems and other issues that might pop up.
They'll Make Sure Electrical Jobs Are Done Right
At this point in the process, your commercial electricians will have a clear plan in place and permits hanging in your dental office windows. It'll officially be time for them to start taking care of your many electrical jobs.
The electricians will bring in the right equipment to finish these jobs, and more importantly, they'll make sure these jobs are done the right way before they leave the premises.
If you try to do these jobs on your own, you might think they're getting them done right. But in reality, you could be rewiring things the wrong way and putting your entire dental practice at risk down the line.
But that won't ever be an issue with reputable commercial electricians. They'll work diligently to do the jobs that you need them to do, and they'll make sure each and every job is done the right way.
Whether they're doing something as small as putting in a new light switch or as complicated as ripping out your old electrical wiring and putting in new wiring, they'll do everything properly.
They'll Keep Your Dental Office Safe During Electrical Projects
Anytime you're doing any electrical work in a home or office space, there's a chance something could go wrong and compromise safety. There is always a risk of electrocutions, fires, and more whenever work is being done on an electrical system.
This is why you should never work with electricity if you don't know what you're doing. You could hurt yourself, hurt others, or damage a building by working with electricity in an unsafe manner.
Commercial electricians know how to complete electrical projects while minimizing the risk associated with doing it. They put all kinds of safety precautions into place before they begin working to avoid running into any issues.
If you're not experienced as far as working with electricity, you likely don't know how to take these precautions to prevent problems. You should learn more about some of the electrical repairs that you shouldn't ever try on your own and make sure you're calling on commercial electricians to get them done.
They'll Prevent Future Problems With Your Electrical System
Can you imagine how frustrating it would be to spend a bunch of time and money doing electrical work on your own only to have your electrical system go down a week or two after your dental practice opens?
It would be enough to make you want to rip your own teeth out!
When you hire professionals to do your electrical work and pay them fair electrician rates, it'll be well worth the investment on your part. They'll help you steer clear of running into any problems with your electrical system down the line.
And if you do, by some chance, happen to have a problem with your electrical system shortly after they do work on it? Most companies will gladly send someone back out to your dental office to fix it.
You won't need to worry about problems plaguing your office for a long time when you trust the pros to do work on your electrical system.
They'll Save You Money
We're going to fill you in on what you can expect to pay in electrician rates in a minute.
But before we do, we want to point this out: Hiring commercial electricians is, in all likelihood, going to save you money both in the short and long term.
How? For starters, you won't have to spend money buying the electrical tools, equipment, and supplies you'll need to do electrical work on your own. You also won't have to waste a lot of time learning how to do certain electrical tasks.
Furthermore, you won't have to spend money later fixing problems that you caused when doing electrical work. There are some instances in which dental office owners spend a fortune doing electrical work on their own only to find out that they need to spend more money down the line making repairs to their work.
All of this will make you wish you had just paid the going electrician rates in the beginning rather than trying to save a buck by doing electrical work yourself.
So, What Are the Average Electrician Rates Right Now?
Now that you know why it's a smart idea to hire commercial electricians to work on your new dental office's electrical system, it's finally time to talk numbers. You need to know if electrician rates are going to fit into your budget.
We should point out that electrician rates vary depending on where your dental practice is located. The cost for commercial electricians will also depend on what kind of work you actually need to be done.
But on average, you'll likely pay somewhere between $30 and $100 per hour to an electrician based on their qualifications. You'll also pay a fee for the specific job itself.
Simple tasks like replacing an old outlet will typically cost between $60 and $80, while bigger jobs like rewiring an office could cost anywhere from $3,000 up to $30,000.
Finding the Electrical Help You Need
It's always best to reach out to several electrical companies at once to get electrician rates for your projects. It'll help you get the best deal on the electrical work you need.
Want more helpful tips on running a successful dental office? Check out our blog today!