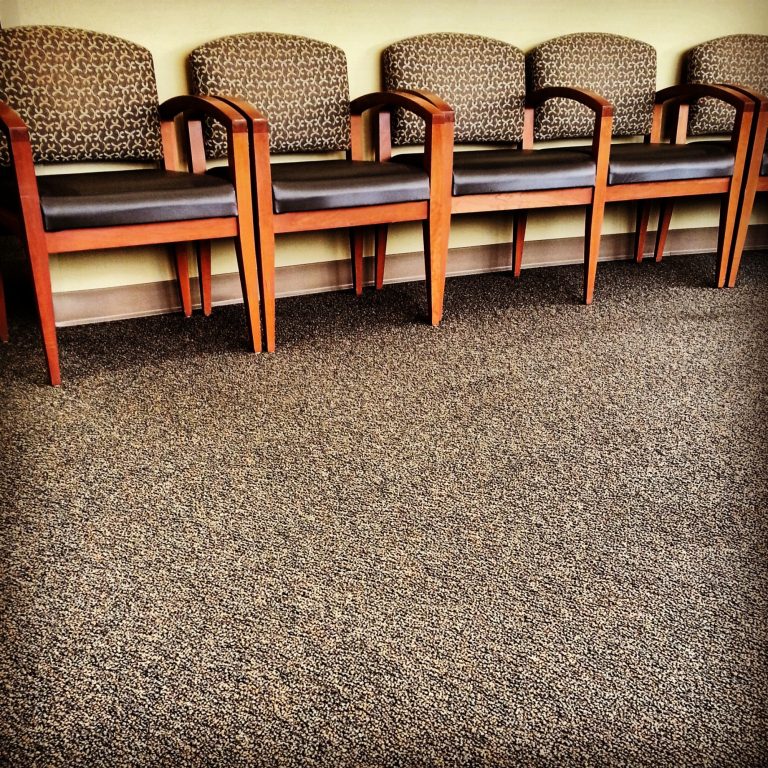 Are you trying to decide what type of flooring you should have in your dental office?
Are you wondering whether office carpet is the right choice?
Choosing the flooring for your dental office isn't as easy as it may seem to be at first glance. The floors you use in your office can have a big impact on patient health, so you must choose wisely.
Unfortunately, while many dentists prefer to have carpet in their dental office it's not the best choice. Carpet can negatively affect the health of your patients and dental staff, so you need to be aware of this if you want to make your dental office as comfortable as it can be.
Below we'll tell you about some of the biggest ways that office carpet can affect the health of your dental patients.
1. Carpets Collect Germs and Bacteria
One of the reasons that carpet isn't good for the health of your patients is because it is known to harbor pollutants and germs more than other types of floors. Having these germs and bacteria in your dental office can lead to discomfort, sickness, and even larger health issues for patients as well as dental staff.
Pollutants such as dust mites, pet dander, mold spores, and cockroach allergens can all collect on the carpet and they can't be removed easily. The problem can get even worse as these pollutants can become airborne if the carpeting is disturbed too much.
Ideally, you may want to use another type of flooring in your office to avoid the collection of pollutants. However, if you do decide to keep the carpeting in your office, you'll need to make sure you get it cleaned regularly. You can check out this helpful article to learn more about the ideal cleaning frequency.
2. Dirt Will Accumulate
Carpets tend to collect a lot of dirt and it can get stuck between the fibers. The dirt collected in carpeting can be chockfull of bacteria and allergens and won't serve the health of your patients well.
Insect feces and husks, bacteria, mold, and dust mites will all be present and can build up over time. Carpet can hold about four times its weight in dust and dirt.
This buildup of dirt hurts the air quality in your dental clinic. If left unchecked, patients who come by may not breathe well or feel healthy when in your dental office.
3. Carpet Contains Harmful Chemicals
In addition to dirt, dust, and bacteria, having carpeting in your dental clinic can also bring harmful chemicals into the air as well.
Many new carpets are made with harmful chemicals and adhesives that contain volatile organic compounds (VOCs). VOCs can have disastrous effects on the health of your patients and staff. These compounds emit harmful odors and can fill the indoor air of your office with pollutants.
VOCs can be harmful to people of all ages but can be particularly bad for babies who are less than one year old.
4. It Can Lead to Respiratory Problems
If any of your patients suffer from allergies, asthma, or other respiratory issues, having carpeting in your office can increase their problems.
Carpet can collect all kinds of pollutants that can lead to respiratory issues including dust mites and black mold. These pollutants can severely reduce the indoor air quality in your office and they may make breathing more difficult for patients with respiratory problems. It may cause patients to sneeze and wheeze during an appointment.
If you want your patients to be comfortable while at your office then you must keep patients with respiratory issues in mind. By focusing on improving indoor air quality and considering flooring alternatives you'll avoid triggering their illnesses and making them dread coming back for more appointments.
5. It Can Weaken the Immune System
While black mold and dust mites are a big issue with carpeting, mycotoxins can also be a problem as well. Mycotoxins are a dangerous type of microbe that is a composite of different kinds of molds.
Mycotoxins can affect the health of your staff and your patients and can lead to a weakened immune system. It can cause stomach infections and issues as well.
Being exposed to mycotoxins as well as the other bacteria in carpeting can cause a patient's immune system to work extra hard and can weaken it. In extreme cases, mycotoxins can cause bigger problems as well and may lead to health issues or even death.
6. It May Irritate the Skin
Dust mites that are found in carpeting can trigger skin problems and irritation in the same way that they can trigger asthma attacks and respiratory problems.
Fungi and other microorganisms that are found in a dirty carpet can accumulate quite a bit, and if left unchecked, can lead to skin issues such as rashes and athlete's foot. Skin asthma attacks can also occur as a result of the carpeting in your dental office.
The carpeting in your dental office may also lead to the triggering of eczema, rhinitis, and other skin conditions that your patients may have as well.
Deciding Whether to Replace Your Office Carpet
If you want to give your patients the best experience possible when they come into your clinic, then you must take every step you can to improve their comfort levels. By rethinking the use of office carpet, you can improve your indoor air quality and ensure that your patients and staff don't experience health problems as a result of coming into your office.
Looking for more dental practice tips and advice? Explore our blog now to find more helpful articles.