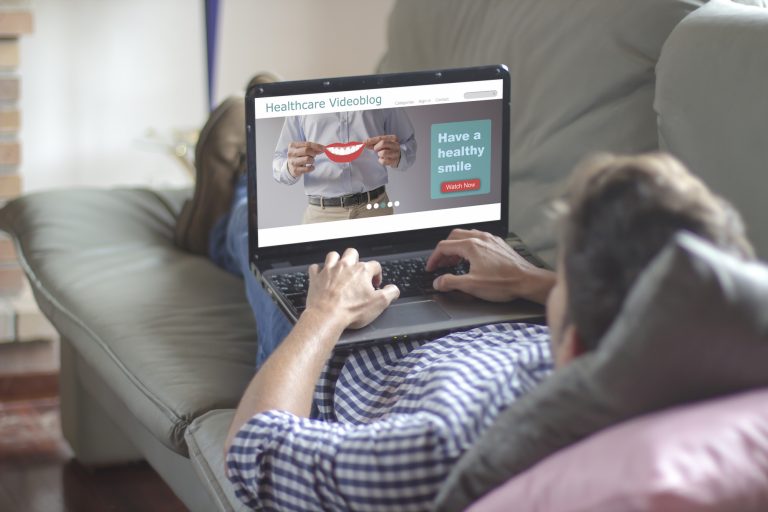 In 2018, the number of people who saw a dentist at least one time per year went down to 58% (from 64% in 2016), per a survey done by the American Dental Association. The ADA survey also found that 42% of people want to see a dentist more often.
That amounts to a large percentage of the population who either want to see a dentist or should be seeing a dentist more than they are.
So when they come looking, your dental website needs to be there waiting and doing all it can to ensure they find and choose your office.
Here are some ways to convince them.
Make Your Dental Website More Effective
When prospective or existing patients visit your dentist website, it needs to look current. It also needs to be welcoming and appear "open" at all hours.
Some good ways to do this is by:
Keeping all your contact information up-to-date at all times
Posting regularly to your blog, if you have one
Having interactive Live Chat support on your website
Having a website that loads quickly on computers, phones, and tablets
But to generate leads and get even more patients, there are several other things you can do to make your website work harder for you.
Ability to Set Appointments Online
Even in today's age of seemingly everyone having a cell phone, it is still hard for people to get time during your normal office hours to set up their appointments.
So make making an appointment with your office easier and convenient by adding the ability for patients to make appointments directly from your website.
If dental leads have navigated to your website, it very likely they are in need of your services. Don't give them the opportunity to put off making an appointment by hoping they will call your office at a later time.
Let them set up their appointment then and there and make it as easy as possible for them to do so.
Place a CTA to Obtain Email Addresses
Make sure you have calls-to-action (CTA) on your website pages that encourage people to give you their email addresses.
By creating an email list of people interested in your services, you will be able to use those addresses to keep in touch with them. You can use these addresses to let people know about promotions, discounts, or anything else you think your customers will find relevant and valuable.
Content Marketing
An e-newsletter is a type of content marketing. It is a great way to use your email address list.
A newsletter can contain articles with anything related to good dental care and dentistry recommendations for patients. If your practice specializes in a particular procedure, you can include articles that help teach patients what to expect or highlight how having the procedure done will improve their life.
It could even include information on general good health practices, such as which foods to eat for stronger teeth, which types of drinks stain teeth and what to do about it, etc.
You can also use a newsletter to give reminders to people to set up appointments if they don't currently have one with your office. You can do this by having a link to your website's appointment creation landing page or directs them to your contact page.
But by filling your newsletters up with you useful and valuable information, it will be a non-pushy way to stay in touch with patients and prospects alike.
Some people won't go see a dentist until an emergency happens or they're in pain. Your newsletter may be the closest contact they have with a dental office over a long period of time. So you need a way to stay at the forefront of their mind when they need to make that appointment.
SEO Optimization
When your prospective patients open their search engine to look for a dentist, make it easier for them to find you by having your website optimized using dental SEO. This will help the search engine place your business closer to the top in its search results.
Search engines use algorithms to process a patient's search request which is entered is entered into the search bar using just keywords or as a question.
So making sure your website's pages are optimized for as many of the primary words people are using to find dentists online is imperative to the success of capturing more dental leads.
While you or your staff may feel you can handle your SEO optimization in-office, having outside managed SEO services working for you may be the better route. It's what they do and leaves you and your staff free to focus on the day-to-day business of providing quality services to your patients.
Add Testimonials and Reviews
When it comes to a patient trusting you to perform their dentistry needs, nothing is going to beat a review or testimonial from someone who has had a positive experience with your services. People trust other people's opinions.
So if you have positive reviews on Yelp, Facebook or any other review site, make sure those positive reviews are also posted on your website. Don't just hope your patients will see them on their own.
You can also use a post-visit follow-up with your patients as a time when you can solicit favorable reviews. Not only does the follow-up make your patient's feel like they are cared for, but it's also a perfect time for them to give you quality feedback.
Be sure to get their permission to share their review on your website, then put the positive ones up for others to see.
Begin Optimizing Your Website Today
By incorporating the tips noted above, your dental website should begin to attract more leads to help you find more new patients.
To make sure you are doing all you can to turn those leads into loyal patients, keep returning to our website and blog for more powerful tips that cover everything to do with your practice.