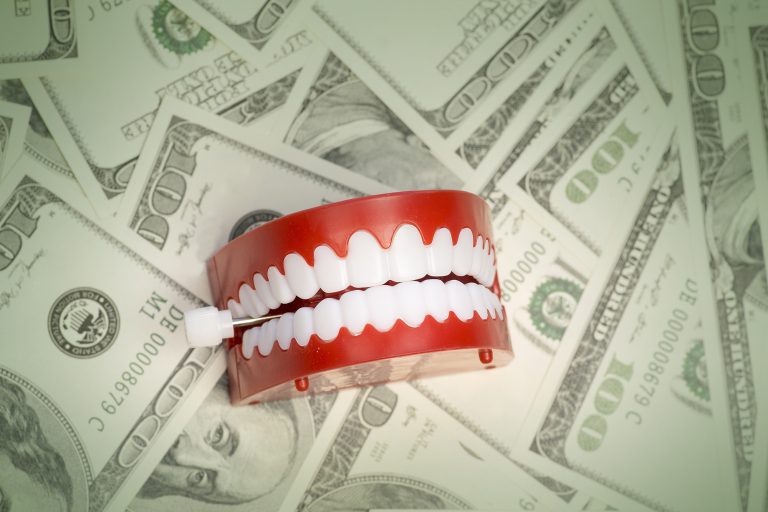 Ready to get your dental practice off the ground — but currently lack the funds to make it happen?
Even if you still have debt from dental school, the good news is that you can still be approved for dental practice loans and other financing options.
In order to keep your head above water, however, you need to be sure you make the right choice.
In this post, we'll go over the two main types of dental practice loans that you'll be the most likely to apply for.
Then, we'll tell you the steps you can start taking now in order to increase your chances of being approved for dental practice financing.
Different Types of Dental Practice Loans
The good news is that there are lots of different dental practice financing options out there.
The most common are SBA loans and Alternative Dental Practice Loans.
ADP loans are meant to be paid back within a year, and come with a high interest rate as a result. This is an ideal loan for those who are looking to finance dental equipment purchases, marketing materials, or other needs while your business grows.
Usually, the interest rates are somewhere between 30-50%, and you can get anywhere from $5,000 to $500,000.
Usually, you should make at least $100,000 a year in revenue and have a minimum credit score of 500 to get approved. You can usually apply for ADP loans online through an alternative lender.
These lenders are loved for their simpler application process.
An SBA loan is actually guaranteed by the Small Business Administration, which means you'll be able to get lower interest rates. However, you'll also have to deal with a longer repayment term than average.
Be aware that if you need instant money, this isn't the best option for you. Expect to wait anywhere between 30-90 days to get approved for an SBA loan.
You'll need to make a minimum of a 10% down payment, have a credit score of close to 700, and you'll likely need to put up some kind of collateral in order to be approved.
You should expect to pay interest rates on the loan that are anywhere between 6-10%. You'll also have to deal with a more complicated application process than you would with an alternative lender loan.
Increase your Chances of Getting Approved for Dental Practice Financing
Now that you're aware of some of the main types of dental practice loans, let's take a look at what you can do to be approves for the top loans for dentists.
First of all, you need to prove that you're a low risk to those lenders. This means your credit score needs to be in good standing, your savings account should be stable, and attempt to pay off any loans you have from dental school as quickly as possible.
You should also be able to show a solid business plan to lenders — one that is backed by statistics, data, and target market/service area research.
Your business plan also needs to highlight your industry experience. It should compellingly argue why your service area needs a new dental practice, and how you'll be different from any that are already present.
Always attempt to get pre-qualified before you apply for a loan officially, as this will allow you to let lenders get a better idea of your overall borrowing capacity. This will also give you a little more room for negotiation when you actually meet with these potential lenders.
Also, ensure that you've collected all the necessary documentation before the process starts. This includes financial records, a list of expenses, business plans, information about your current bank accounts, and much more.
It's smart to work with an attorney, a banker, or even a dental CPA to ensure that you have all the documentation required for dental practice loans.
Finally, if you want to get the best dental practice loan rates, start meeting with banks as soon as possible — sometimes, even before you actually graduate from dental school.
This way, you'll get a better grasp on how much money you actually need.
Dental Practice Loans and Insurance
Finally, it's important to be aware that, especially if you're trying to get approved for a practice loan, you will likely need to have both disability and life insurance.
In some cases, you may even have to put these up for collateral, particularly if you're asking for a larger loan.
This means that, if something happens to you or your practice, the lender will be able to get at least some of their money back.
To get your insurance in proper oder, get in touch with your insurance company to request collateral assignment forms.
Remember that applying for insurance can take anywhere from four to seven weeks because of the underwriting process. So, make sure to start your application well in advance of applying for the loan.
Ready to Apply for the Right Dental Practice Loans?
Whether you're a better fit for an SBA loan or an Alternative Dental Practice loan, we hope that this post has helped you to determine not only which dental practice loans are right for you, but also the steps you need to take to increase your chances of being approved for one.
Remember to always compare your dental practice financing rates, gather together the data and documentation you need, and work with an attorney or dental CPA if needed.
Above all, never borrow more than you can truly afford to pay back — no matter how tempting it may be to do so.
Looking for more tips on loans for dentists?
Be sure to check out our website and blog for more information on how you can finance your practice.