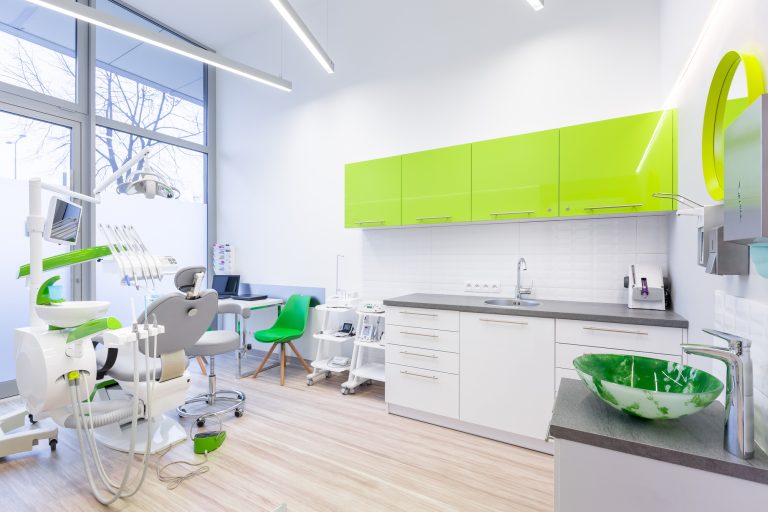 It's not uncommon for people to dread going to the dentist. Sitting in a waiting room or in a dental chair are big sources of anxiety for some people.
But what if there were ways you could make your patients feel more relaxed and comfortable? What if you could do so all by the design of your waiting room and dental room?
Your dental office layout and design have a big effect on patients. But not all designs and decorations have the same effect.
As a dentist, you want to make your patients feel as comfortable and relaxed as possible. That's why we're here to discuss dental clinic designs and the types of perks you can include. That way, your patients will start loving going to the dentist!
Focus on Color & Comfort
The color of your dental room is the foundation of a relaxing experience. People are already overwhelmed by having to go to the dentist. The last thing you want to do is to immerse them in a room that's not comfortable to be in.
With that said, you'll want to choose a soothing paint color that's known to put people in good spirits. Here are some ideas:
Blue with gray or white undertones
Gray with green undertones
Soft yellow-green
Violet
Green with gray or brown undertones
Stone Beige
You could also opt for neutral and ambient patterned wallpaper. Avoid wallpaper that makes a statement or distracts not only patients but your staff. Even if you're a pediatric dentist, you want to keep your treatment room as neutral and as relaxing as possible.
Wall Decorations & Ceiling Mobiles
It's best to have as few distractions on the walls as possible. Still, it may help to keep up a painting or two for patients to look at during treatment. Make sure to keep most of the walls open, however. Having a painting or decorative piece for each wall can feel overbearing.
Personal photographs can give a nice humane touch to a medical room. But be sure to keep these to a minimum, as well.
Pediatric dentists should still hang a ceiling mobile in their treatment room. Ceiling mobiles give young children something to look at during treatment. You should look for wind mobiles that will move gently and in multiple directions.
Take Advantage of Natural Light
Next, you'll want to bring out the color of your treatment room with as much natural light as possible.
If you have several big windows, accentuate them with blinds or light-colored curtains. Leave them open to let in light and turn off the fluorescents as much as possible.
Try including a couple of lamps if you have few windows to work with. That way, you can turn those on and turn off the fluorescent lighting.
On cloudier days, however, you may have no other option but to turn on the fluorescent lights. Try to avoid using curtains with bold, neon colors or loud design patterns. Minimal distractions and headaches are key.
Designing the Dental Room
To give people the best overall experience, you'll want to focus your attention on your dental room. An optimal treatment room is critical not only for people's comfort but for your practice, as well.
It's tough to create a relaxing environment in such a confined space that's filled to the brim with equipment. But this equipment is vital to your practice. And luckily, there are ways to incorporate it without disrupting your patients.
Next, we'll explore ways dental clinic designs incorporate all this equipment. We'll also explore how you can make better use of your treatment space.
Organize & Make Use of Storage
Before we discuss how to organize your equipment, first, let's tackle the little stuff.
Compartmentalizing the small items, like gloves, masks, and everything in between is key. Keep all these off the counters and out of plain sight.
It's likely that you already have operatory cabinets and drawers in your treatment room. But do you find that you still need to store things on the counters and on top of the cabinets?
If so, you may want to look for better operatory cabinets with bigger compartments. Try to look for operatory cabinets that are big enough for the computer and imaging systems, as well.
The less clutter you have around, the less anxious your patients will feel. Not to mention, you and the hygienist will have an easier time navigating around.
Rearrange the Equipment
The dental chair is usually the focal point of every treatment room. After all, it has to be so you and the hygienist can perform from any angle.
But having the dental chair in the dead center could make some patients feel anxious. If the room is large enough, keep it in the center of the room but push it closer to a window.
Next to the dental chair will be the dental station. If yours is movable, try to keep it in a corner. Once the patient settles in the chair, you can wheel it out to begin treatment.
Your dental station may include the dental suction sink and the operatory light. If so, you may not be able to stow it away in a corner. But that's okay!
Keep excess clutter stored away and the periphery of the room clear. The dental station can stay out in the open as long as you, the hygienist, and the patient can move around with ease.
Aim for Ambiance
Last but not least, perfect your dental office layout with atmospheric amenities.
Most of your dental equipment creates buzzing sounds that some patients find uncomfortable. White noise machines can tune out these sounds all while keeping patients relaxed. There are even some ceiling mobiles that come with white noise machines for children.
Some machines create the sound of a fan, while others recreate the sounds of rain or ocean waves. There are white noise machines that create a variety of peaceful, neutral sounds. You can read more here about the best white noise machines to use for your practice.
Create a Relaxing Environment
An aromatherapy diffuser can also create an ambient setting. Feature an assortment of essential oils outside the treatment room. You can have patients choose scents they'd prefer to smell during their appointment.
Some patients may not enjoy aromatherapy, or the scents may be too overbearing. By keeping it in the hallway, you can accommodate everybody.
You can also install a memory foam cushion for the dental chair. Not only are they inexpensive. Most people find them to be extremely comfortable to sit on.
Include Perks That Patients Love
What else can patients look forward to at the dentist besides a relaxing experience?
For starters, young patients will likely want something distracting. It can be hard to find the types of distractions that won't interfere with treatment. Etch-a-sketches and Rubik's cubes, for example, allow children to use their hands while sitting still.
Teenagers and older adults usually don't require distractions like younger patients. But including some perks can certainly give them an incentive to coming to the dentist.
Additional Perks
Consider investing in an iPad for your patients to exclusively use. That way, they can browse the Internet and social media while you go to work on their teeth.
A lot of dentists still play music in their treatment rooms. There may be some types of music you find too distracting to play while working.
But you can ask your patients for music recommendations. Talking about music is a good icebreaker. And their suggestions may be a good fit for your work atmosphere.
You can also run contests like having your patients guess how many toothbrushes are in a large jar. Offer free whitening services or gift certificates to those who guess right.
Update Your Office Furniture
There's nothing more uncomfortable than having to sit in a hard, sterile looking chair. There will be times where you have to meet with patients in your office after treatment. This can unnerve some patients, so you want to aim to make every patient feel comfortable in your office.
Instead, offer a variety of seating options. It's okay to keep around one of those standard chairs around in your office. But you should also include a comfier option, like a couch or a padded chair.
Opt for furniture that has neutral colors and natural, soft materials. But keep in mind that your furniture can reflect the nature of your office as a whole. If you want to appear more state-of-the-art, go for furniture that looks sleek and modern.
Create the Best Dental Office Layout & Design
So often dentists overlook the design and layout of their waiting room and dental room.
You want to create the best practice, and the design of your clinic plays a large part in that. Strive to improve your dental office design and the dedication will pay off in small and big ways alike.
For more tips and ideas on how to improve your practice, check out our blog today!