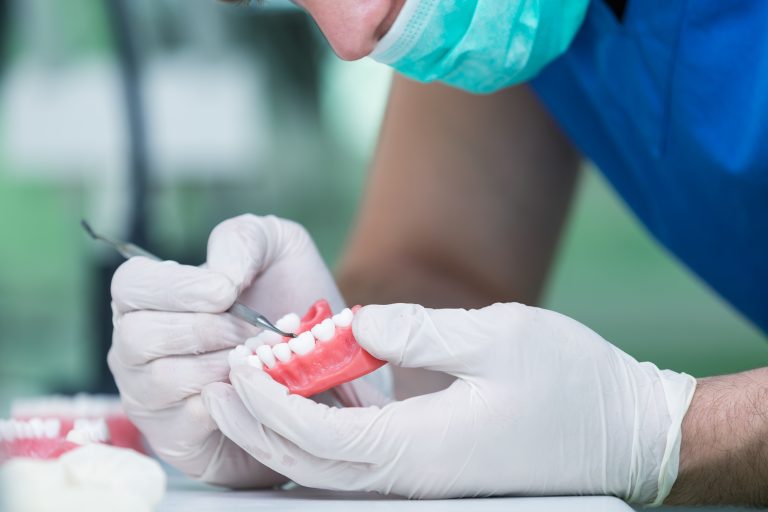 Telling patients they need removable dental prosthetics can be difficult. It's not a matter of simply sticking a pamphlet in their face.
In the many years of study as a dentist, we don't learn how to have these sorts of awkward conversations. It gets easier with practice, but not for everyone.
If you'd like a few ideas on how you can talk to your patients about delicate matters like dental prosthetics, we've got you covered.
Read on for some ideas for effective patient communication.
Unexpected Problems with Dental Prosthetics
Dentures can make a great improvement in someone's life. But it's not just about a functional prosthetic.
While you might expect the technical work involved in a good fit to be your biggest issue, it is often the human element that causes headaches!
Patients might feel self-conscious about the prosthetic. Perhaps they're still mourning the idea of their real teeth. Or still coming to grips with aging.
Maybe their most recent experience with a prosthetic was painful or unsatisfactory in some other way. So how to have the conversation?
How to Talk to Your Patients About Removable Dental Prosthetics
Whatever the case for your patient's concern, communication is key.
This is your opportunity to manage their expectations by explaining the process and final outcome. Time spent in doing this well will save you a whole lot of time later.
Dental prosthetics are a big investment for your patient. Make sure they know what they'll get for their money. Here are our communication tips for difficult patient conversations.
Start Strong
Start as you mean to go on. Make good eye contact with your patient and ask how they are. Don't jump straight into the conversation, give them time to settle.
Then you can begin by telling them what you want to discuss.
If the patient appears too emotional to take in the information, you might consider gently asking if they'd like to continue the conversation at a later time. When they're more ready.
There is no 'making sense' of emotions so avoid unhelpful thoughts like, they 'shouldn't be so upset' – their emotions are what they are.
This is a big deal to your patient. Be understanding, and be patient.
Treat them as you'd want someone to treat you when grappling with new information – that might cost you money you just don't have.
Dentures might be an every-day affair for you, but this could be new and unwelcome news for your patient.
Explain the Situation Clearly
Often those needing dentures are older, or perhaps from a vulnerable group in society. Make every effort to avoid very technical language so they can feel comfortable and truly understand you.
Use basic English, short sentences, and remembering to check in every couple of sentences, e.g. Am I making sense? Do you have any questions?
You are the paid professional here – the onus is on you to be clear, not on them to understand. This is not a moment to show your intellectual superiority. Some dentists get this very wrong and give us all a bad reputation.
Manage Expectations
Our suggestion for managing expectations is to ask the patient about their budget, and what final result they are expecting.
Their perspective may differ greatly from yours, and if you never ask you'll never understand.
This insight gives you a chance to clarify just what sort of dental prosthetic service you can give them for their budget. They can choose to compromise down on the quality or move the budget up.
Again, it's their decision.
You can help with by ensuring it is an informed one.
Ask them what is most important to them – look, feel or price. Some care more about the durability or longevity of the final product. They may happily spend more if it's a long-term investment.
Without asking the right questions you can miss this important information and present your patient with a solution they are unhappy with.
Use Active Listening
When your patient is speaking, show that you are listening. Nod, take notes and make good eye contact.
It's helpful to paraphrase to ensure you have understood, to give them the opportunity to clarify anything you haven't, and to help them feel heard. T
his will build their trust in you as a professional.
Give Them Options
Once you've asked all the right questions and listened to their responses, you can tell them what you can offer.
It is their body, their choice. But you have the expertise. Try to balance these factors.
Let them know what you think they need, and why. Try to give some options here.
Start sentences with, 'I think' or 'in my opinion' or, 'what has worked for many of my other patients' instead of 'you have to/you need/ you must'.
It is less confrontational and will make the patient feel more empowered. You are giving your opinion but leaving the final, informed decision to them – and that is as it should be.
What If They're Still Unhappy?
Let's say you explained the situation in clear, simple English. You gave them the chance to ask questions.
You asked questions about their priorities and budget.
You patiently listened to their responses. You told them exactly what you can offer them for their price.
You gave options. Yet they still want to walk? We say, great.
Imagine getting to this point at the end of the process.
With them threatening bad online reviews. Making awkward moments in the waiting room. Or taking legal action.
If you had excellent, open communication about what you can offer as a final outcome and they didn't like it, then they need to look elsewhere.
In our experience these situations are rare. Often the customer returns in a couple of months when they realize know none else can offer any better.
And because no one else communicated with them with as much respect as you did.
Give a Better Dentist Experience
These sorts of deep conversations take more time in the short-term but truly save you headaches down the line.
The goal is a building patient trust, by helping them feel empowered. This means will guarantee you patients for life – it's a win-win.
Every interaction with your patient is important, as a means to build rapport. If you've earnt their trust from the beginning, difficult conversations will be made easier down the track. Talking about dental prosthetics, for example, will be simpler.
There are some practices that understand the importance of patient trust and communication. They build their business around it. Andrew Thomas Dental Care is one such practice.
If you're reading this article I'm guessing yours is, too.
If you found this article helpful, and want more advice about your dental practice – or wellbeing in general, ADA Marketplace has you covered. Check out our blog for more!