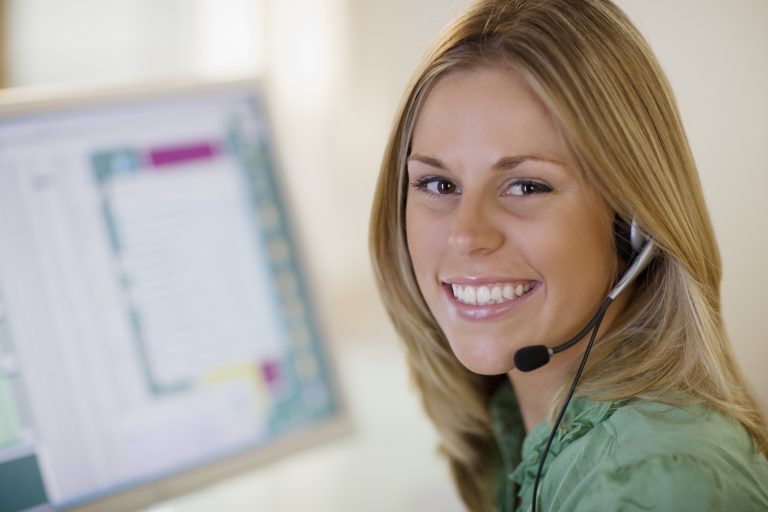 Did you know that 7 out of 10 people will hang up if their call doesn't get through to a live person?
Think about what that means for your practice. Imagine you have 10 patients waiting outside your door when you arrive in the morning. Before you even step inside the office, 7 of those patients have climbed back into their cars and driven away.
This is exactly what can happen when you don't have a telephone answering service for your dental practice.
In this post, we'll discuss what telephone answering services are and how they can drastically improve every aspect of your practice.
What Is an Answering Service?
As the name suggests, an answering service is a specialized service you hire to answer your office's incoming calls.
Depending on the company, an answering service might:
Take and screen incoming calls
Provide basic information about your business
Record and pass along messages
Schedule appointments
Send out appointment reminders
Screen emergency or after-hours calls
An automated answering service is the simplest type. When someone calls your office, they hear a recorded voice offering a series of prompts. Examples include "press 1 for office hours" or "press 3 to leave a message."
Since many people won't bother leaving a message, your best bet is to employ a live answering service. This gives everyone calling your office the chance to speak to a real person about their questions or concerns.
Remember, automation has its place, but nothing can replace the human touch in business.
If you'd like more specifics about different types of answering services (and how they work), you can discover more here.
Do I Need a Telephone Answering Service?
Still unsure whether an answering service is best for your business? Here are a few important factors to consider.
Are you always able to answer every call that comes in?
Do you have a pile of messages to sift through at the end of the day?
Is your work often interrupted because you have to answer a call?
How quickly do your staff answer and forward incoming calls?
Make an honest evaluation of your answers. Chances are you'll see the need for a better and more efficient telephone answering system in your office.
Benefits of an Answering Service
Let's take a closer look at 5 key benefits of hiring an answering service.
1. Improved Customer Service
Before you can improve someone's smile, you first have to get them through the door. If they call your office and can't reach anyone or anything (except an answering machine), you'll never see them in the first place.
An answering service ensures their concerns will be addressed in real time. This is especially important during the busiest parts of your day when you and your staff are attending to patients.
Rather than breaking away from a procedure to take a call, an answering service lets you focus all your time and energy on your patients. It's also quieter for the office and less disruptive for the patient in your chair!
2. Saves You Time and Money
It's obvious that an answering service saves you time–but what about money? How will hiring an outside service reduce your business costs?
Well, how much does it cost you to advertise for, hire, and train a new receptionist or dental assistant? How much does it cost you to give that employee health insurance, paid time off, and other benefits?
Now imagine that instead of bringing another employee onboard, you outsource your phone calls to an answering service. For one low monthly fee, you get all the perks of a highly-trained, professional receptionist–with none of the other costs.
3. Easier Appointment Scheduling
How many times have you played phone tag with a patient trying to schedule an appointment? By the time you answer their message, you have to leave them a message–and then the cycle begins again.
Think of how much faster you could get patients in and out of your office if you didn't have to personally handle every appointment request. No more games of phone tag or accidentally erased messages.
Most answering services allow you to integrate your online scheduling system with their service. This lets the operator view your calendar in real time and schedule appointments as soon as the patient calls.
Many also offer the option of calling or sending out reminders to minimize missed appointments or no-shows.
4. Access to After-Hours Care
How many nights has your sleep been interrupted because of a 2 AM emergency call? How many times have those "emergencies" turned out not to be emergencies at all?
You can save yourself a lot of time and aggravation by letting an answering service screen those after-hours calls for you. As trained professionals, the operators can discern whether a call is truly an emergency before forwarding it to you.
The next time a patient Googles their symptoms and is convinced they're dying, let an answering service handle it (while you catch up on your rest). Of course, if it truly is an emergency, you can trust the operator to pass the call over to you right away.
5. Increased Productivity
What's the result of this highly efficient answering system? You'll notice a marked increase in everyone's productivity around the office.
Whether you're a one-dentist operation or a large team, no one will waste their precious time fielding phone calls. Your assistants and office team can focus on their important tasks while you're free to focus on your patients.
Final Thoughts on Answering Services
As you can see, there's a lot to consider when it comes to answering services.
One thing is for sure, though–a telephone answering service will improve every aspect of your practice. It will also free you to do what you do best–care for your patients.
Looking for more great advice on how to improve your practice? Check out our latest dental business posts for more.