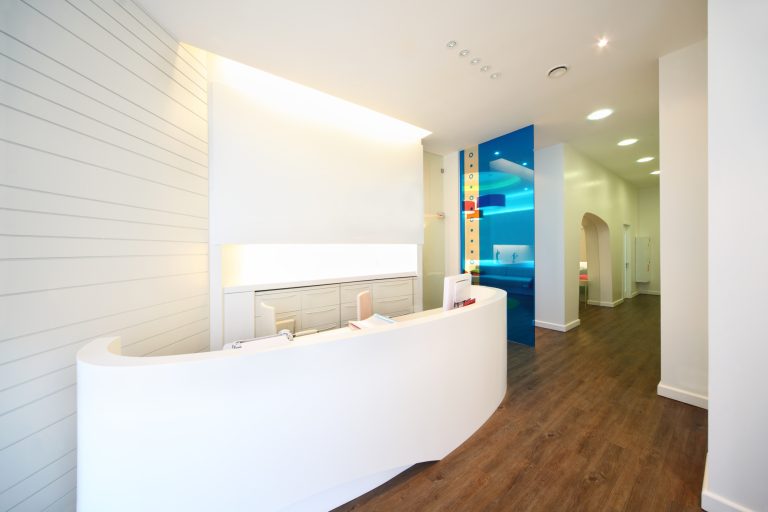 There are nearly 200,000 dentists practicing dentistry in the U.S. these days. A lot of said dentists operate their own office. Being a part-time businessman and full-time dentist can be tough.
There are so many factors of a dentist's office that must be accounted for. After you finish balancing the finances, you have to consider cosmetic issues, too. The level of comfort inside the office should be kept at a certain standard.
Tackling outdated, worn out flooring in your office is an easy way to breathe new life into your practice. Rather than replacing old floors with the same type, consider some new office flooring ideas. It might be time for you to switch to something better, more appropriate for your decor.
Top Office Flooring Ideas
The first thing you need to do is take a look at what you have to work with. Does your entire office have the same floors? Do you have a mix of carpet and hard surfaces?
You may benefit from an entire renovation or simply replacing the most impactful spaces, i.e. the lobby. Here are a few ideas to get you started.
Carpet
This is ideal for waiting rooms and private office spaces. Carpet absorbs sound the best and is the easiest to stand on for long periods. Carpet tiling is a good option for retaining some level of decor and flexibility.
If cleaning carpets are a big problem, consider another flooring solution. Carpet tiles may not cost a lot up front, but the maintenance does add up.
Ceramic Tile
You can get some great mileage out of ceramic tile. It also offers more decorative options if you want a personalized look. Ceramic tile should be bought with at least a 4 PEI rating. This determines the hardness of the tile and how well it withstands repeated pressure.
Overall, ceramic tile is easy to clean and won't require professional work unless stained.
Hardwood Options
For a warm inviting, and extremely durable surface, nothing beats hardwood floors. Hardwood flooring can vary on price based on types of wood and installation. If you feel like your budget is much too low for modern hardwood flooring, check out some of the alternatives.
Laminate Wood Flooring
This is one of the most popular "upgrades" that homeowners make to their floors. While the technology used to mimic wood floors has gotten better over the years, laminate wood still wears out fast. You can purchase more durable laminate, but you'll likely start to see blemishes in just a few years of high traffic.
Laminate wood can be a nice touch for office spaces to make them feel more inviting.
Engineered Hardwood Flooring
This is the best alternative to natural hardwood flooring for commercial buildings. Engineered hardwood is basically a streamlined form of hardwood flooring. The cuts are smaller and thus the installation is much cheaper.
It still isn't cheap in price, but you can get that high-end look without the full cost. There aren't any major drawbacks to engineered hardwood. It's durable enough to not be any concern for long-term repairs or maintenance. This type of flooring also looks good on the resume, as it is more environmentally friendly than standard hardwood.
Natural Stone
Okay, we know this office flooring material is going to fall way outside of most budgets, but it is worth considering. If you could land a nice business loan for your dental practice, natural stone floors could really transform your value. A place that serves dental work and luxurious looks is one to remember.
Upkeep of natural stone surfaces will involve some regular sealing to protect from stains and scuffs. Alternatives such as Corian and quartz materials can help with longevity, too.
Rubber
If attractive textures aren't your priority, consider getting rubber flooring for your practice. It offers extreme durability, easy maintenance, and cleaning, as well as slip-resistance surfaces. Rubber flooring can be the most practical solution to large spaces where people are constantly trafficking dirt inside.
Vinyl
If you want some of the qualities that make rubber surfaces great, mixed in with the appeal of laminate or linoleum flooring, go for vinyl. This type of floor is affordable and can also be scratch-resistant. Vinyl floors are very common in dental offices because they offer style with functionality.
As far as which cheaper floor material is better between vinyl and laminate? Well, vinyl is going to beat out laminate for spaces that receive a lot of moisture. Laminate is generally more comfortable to stand on, but padding can be added to compensate for vinyl.
Both of these budget flooring options are easy to install, care for, and repair. Go for what has the best visual appeal to you.
HDP Porcelain
Lastly, let's cover a more recent addition to office flooring options. HDP stands for High-definition Porcelain, which sounds silly, but is used to describe newer technology. It's high-def because of the printing applied to the surface.
New printing technology has given these porcelain tiles the ability to mimic any natural surface. 500 separate ink injectors apply the patterns to the surface, allowing for less repetition and more detail. This results in 180 feet of completely unique patterns without "seams" or repeats.
If you can't afford natural stone or quartz, HDP porcelain is really competitive in price.
Financing and More Office Tips
As you can see, there's a lot of options out there for office flooring ideas. You can select a new floor that best fits your budget and your needs. Some floors carry more maintenance demands than others, but you should invest in the proper cleaning supplies to protect it.
Don't skim on janitorial needs, that's how staining, fading, and possible mold develops. If you're operating or looking to open a dental office in a rural part of town, follow this guide. The rules and priorities change a bit, so read up on what kind of investments you'll need to take care of first.