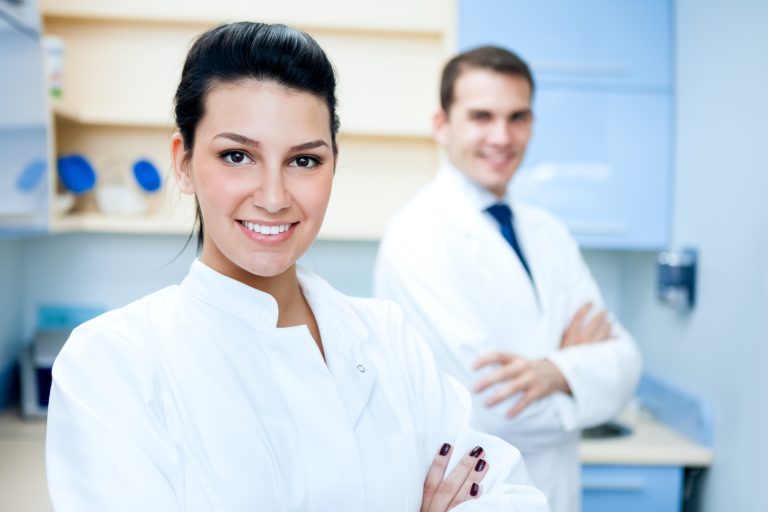 There are almost 200,000 dentists in the United States, many of whom own their own practices.
Considering that reality and adding to it the fact that roughly 5,000 new dentists will graduate from school each year means there is staggering competition in the oral care marketplace.
The best way to get ahead of the competition? Build a stunning practice that leaves patients always feeling taken care of and always willing to recommend you to their peers.
Creating an excellent dental practice isn't something that just happens though. It's something that comes from you, your dental employees, and your collective culture of accountability.
Building a culture of accountability in any business can be hard but is a necessary step to getting the most from your team day in and day out.
Below, we share 6 strategies you can leverage to start making accountability a staple in your practice.
1. Set Standards
The very first step to building an effective culture in a dental office is to make sure everyone understands what your standards are and what your practice's mission is.
What sets you apart from other dental practices? What are your practice's goals? How are you going to achieve them? What are your employee's roles in achieving goals?
The more information you can give employees in regard to what your expectations are, the less room there is for errors or confusion.
At the core of all successful practice's standards is creating an optimal consumer experience. Because of that, we always recommend instilling in your dental employees the importance of customers and how it's their job to always do everything they can to accommodate them.
2. Let Employee's Know How They'll Be Measured
Nobody likes to be surprised by failure. In a perfect world, employees in your dental office will always know what their responsibilities are and how they're being measured in their ability to fulfill those responsibilities.
While we get that some responsibilities a dental employee will be asked to fulfill are not easily measured (like providing high-quality customer service for example) any procedures you can put in place to give people an idea of how they're tracking is extremely helpful in maintaining accountability.
At very least, be sure to have bi-annual assessments where you can sit one-on-one with employees, let them know how you're feeling about their performance, and what goals they can work towards in the coming months.
3. Clarify Before Reprimanding
Making mistakes is part of the learning process. If mistakes were made earnestly and are more than likely a by-product of inadequate training, bridge that learning gap.
You'll get a lot more out of employees who you work with to fix issues than ones you immediately chastise for making errors. While consequences is an important part of the accountability process (more on that next) learning is a bigger part.
Always make sure your employees feel safe to fail from time to time. If they don't, you'll end up with a high turnover rate.
4. Make Consequences Known
Some mistakes in your dental office will warrant consequences. Things like making errors on the same task on a repeat basis or completing work late (which you can click here to learn more about) are both examples of issues that should result in punishment.
To make sure that you achieve nominal push back when consequences come down the line, make them known before they're administered. For example, maybe a certain amount of tardiness means getting put on probation and further tardiness results in termination of employment.
The more transparent you are in your consequences, the more respect you'll receive from your dental employees.
5. Create Trust Through Open Communication
If one of your dental employees is struggling with a task, they should feel comfortable to ask you for direction. Too often in the workplace do people misunderstand directions and think that asking for clarification will result in them losing stock in their office.
That fear often leads to perpetual errors which can cause a number of other issues.
To avoid that vicious cycle of fear and mistakes, always make clear that your doors are open and that any time anyone needs guidance, they should know you're willing to step in and help.
6. Be Open to Feedback
An accountable practice is one where employees are able to speak their minds. Remember, not only are your employees accountable to you, but you're also accountable to them.
Create a time where employees can question procedures or voice concerns. Be open to respectful debate and always make clear that your employee's feedback is valuable.
If your employees feel like they have a voice in their career, they'll become more vested in what they do and you'll reap benefits in the way of more productivity.
Wrapping Up Effective Strategies for Holding Your Dental Employees Accountable
An accountable dental practice is a successful one. To that end, we recommend you leverage our holding dental employees accountable tips above.
Creating clear guidelines for job responsibilities and protocols around them will make it so everybody is always on the same page about what results will be when certain actions take place.
That lack of ambiguity makes it easy to hold your employees accountable and hard for them to object when you remind them of what your expectations are.
Running a successful dental practice can be hard. Our aim at the ADA is to take some of the pressure off by providing you with valuable information to streamline your processes.
Check out more of our educational content in the ADA learning center today!