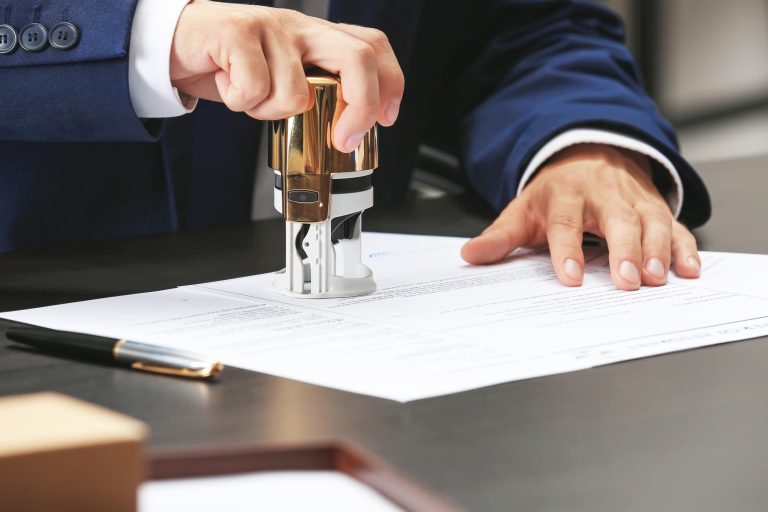 Operating a business in today's marketplace can be a headache. Between taking care of your own clients, getting new ones, and handling back-office functions it is easy to have a lot on your plate.
But one aspect of business too many entrepreneurs forget is having a notary close by. What does a notary do?
A notary protects you and saves time by offering these services:
1. Contracts
Signing a contract is not enough to protect you. The other party can come back and deny agreeing to the contract, try and renegotiate the terms, or claim fraud on your claims.
What could be worse than entering into a contract only to see it voided by a technicality? A notary offers protection in these cases.
They will assure third parties that both entrants into the agreement were who they claimed to be and signed under zero duress.
2. Offering Services To Third Parties
In many states, you will need a notary to authorize your signature if you are offering services to some agencies. Before you even get to the contract stage you will need a notarized signature.
A notary can assure the agency you are attempting to do business with that you are an agent of the company. This may be in regards to the financial statements of your company or the type of offer you are making.
State agencies, city government, and other municipalities require a notarized signature in some cases when it comes to bidding on public work. That way each bid is authorized by an officer of the company and a matter of public record.
3. Prevent Fraud
Protecting yourself in every business transaction should be paramount. In today's economy, there are new and unique scams invented every day to try and separate people from their money.
This can arise when you are selling or buying an asset or entering into an agreement with another party. The old saying "if you believe that, I have a bridge to sell you" is a cautionary tale.
You want to make sure anyone who is selling you something has the right to sell it. A notary will provide reassurance that fraud is not present in the agreements you enter.
4. Prevent Litigation
Personal injury claims are only one type of litigation business owners deal with. When you enter into contracts, purchases, or other business arrangements there is always the risk of a legal claim.
Having the right insurance, great legal advice, and a strong business ethic will all lower the chance of litigation.
A notary will help as well. A notarized public signature will make contracts, sales, and agreements that much harder to contest.
What is the purpose of a notary? In part, a notary is an investment against legal action down the road.
You will be protected on the agreements you enter into.
5. Streamline Service
Whether you are applying for a loan or transferring a vehicle, a notary can help things go faster. In fact, in some states, a notary may offer electronic notarization services.
Think about the last time you stood in a long line at a state agency or bank trying to get some piece of business or certification complete. With a notary, you may be able to mail in or email in those documents.
Whether you are involved in a real estate transaction, a new contract, or are trying to complete a legal document, a notary will streamline the process.
6. Legal Documents
Almost every type of legal document may require the signature of a notary. This can cause delays in the process if you don't have access to a notary.
Because a notary won't notarize incomplete or false documents there is a level of protection for everyone involved when a notary is present.
Incompetence or undue influence are 2 of the main reasons wills get contested. But with a notary, you can limit the chances of probate. A notary is present to assure that the person is present and under no undue pressure to sign an agreement.
A Variety
Buy notaries handle a variety of legal documents. Everything from passports to gaming applications to certifications to requests for birth certificates require a notary.
See more here about the types of services a notary provides.
7. Financial Documents
Companies of all sized need certified financial documents. The same is true for individuals applying for loans or expanding their personal belongings.
For companies that are public, a notary may be required to certify the earnings. When they are attempting to receive financing or enter into business partnerships a notary will attest that the financial documents were signed and witnessed by an officer of the company.
If you are transferring funds to an individual or transferring larger assets a notary will likely be required as well. The notarized document will prove that the transfer was made willingly by both parties.
8. What Does a Notary Do? Marriages and More
One of the biggest stresses is getting married. You want to enjoy your life with your loved one but have to get over the hurdle of the wedding.
In fact, planning a wedding and budgeting for the ceremony can often delay the proceedings. Busy couples are looking for easy ways to get married without breaking the bank.
You may be surprised to learn that in some states a notary can marry people.
Weddings are stress factories for brides and grooms. A notary can ease stress and offer other services as well.
A Notary You Can Trust
For any business owner, a notary is a vital asset to have access to. Some businesses may even encourage an internal employee to become a notary for greater access to their services.
What does a notary do? Save time and money.
That's a great investment for any business owner. You can trust a notary because they have to meet strict requirements in every state just to apply.
Plus, they have to complete training in most cases. In addition, a notary has to provide a surety bond to protect the public.
When you use a notary you know they have the backing of the state.
Find out more about the support you need if you are considering buying a dental practice.