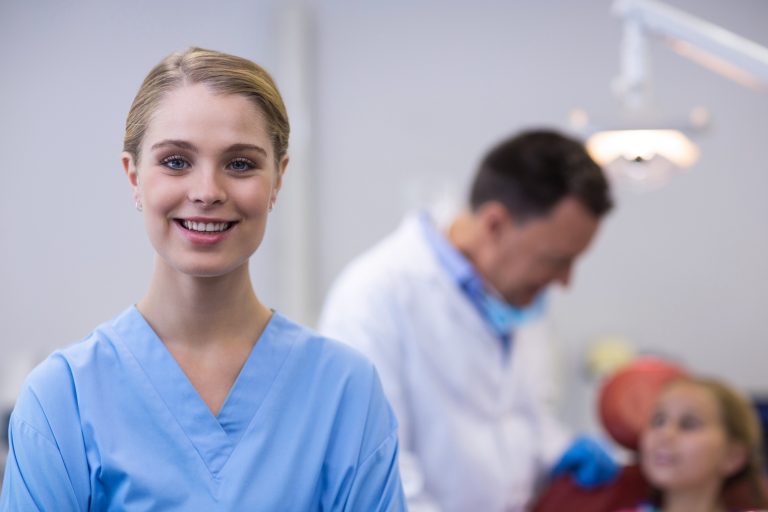 The average cost of a dentistry degree in the USA is $241,000. That's a lot of money to throw away if you've realized that you may have made the wrong career choice.
Fear not. If you've decided to hang up your surgical gloves for good, you can still use that expensive degree.
Here are some alternative dental careers for you to consider.
1. Academic Dentistry
It's a well-known adage that those who can't do teach. If you aren't suited to the 9 to 5 of working in a dental practice, there is hope for you.
You could help students along their dentist career pathway by teaching at a college.
Effective communication skills are essential to succeed at being a dentistry professor. Your experiences can help guide your students' healthcare career choices.
You'll stay in touch with all the latest industry developments. You'll also get the satisfaction of watching your students learn and grow.
Many colleges will accept qualified dentists into these positions. The more experience you have, the better your chances of getting in.
2. Organized Dentistry
A career in organized dentistry is perfect for those who want to stay involved in dentistry behind the scenes.
Organized dentistry refers to all the governing bodies that work together for the benefit of dentists. The ADA is one of these organizations.
Those involved in organized dentistry take part in watchdog functions. These include product research and monitoring standards of care given to patients.
To find out more about a career in organized dentistry, contact your district dental society.
3. Dental Consulting
Dental consultants help other dentists to set up their practices. They do this by offering advice and showing them how to set up systems for success.
This field is a wonderful way to share your experience in the industry. You can help them to avoid the mistakes you made when starting out.
This is one of the few works from home jobs for dentists, giving you the flexibility you crave.
Large business consulting firms also provide employment for dentists. These firms offer practicing dentists advice on the following aspects:
Gaining more patients
Improving patients' satisfaction levels
Getting more patient referrals
Increasing their profits
In this way, dental consultants give dentists more time to focus on their patients. Dental consultants take care of the finer details of running a practice on their behalf.
4. Dental Products Industry
Jobs in the dental products industry include sales and research into new products. Dental technology which involves designing dental prosthetics is another aspect of this industry.
Your dental degree is a solid foundation for any further qualifications needed to enter these fields.
A dental degree is invaluable in understanding the needs of clients in this industry – whether they are patients of other dentists.
5. Dental Insurance
Private dental insurance companies rely on dentists for many aspects of their business. These include:
Claims review
Scientific analysis
Administration
Research
Your practical experience in the field of dentistry can do much to assist insurance providers. You can help them to add value to their products so that patients can benefit.
To reach the top levels in these careers in dentistry, you may need to add a financial or business degree to your portfolio.
6. Dental Careers in Research
Dental products undergo thorough testing before emerging onto the market. Pharmaceutical and biotechnical companies hire dentists to help them with this type of clinical research.
The National Institute of Dental and Craniofacial Research uses dentists for conducting research. This takes place alongside experts and community members to address and solve common oral health problems.
Other research-related positions for dentists include working as clinical investigators and quality-testers. It can be very rewarding working with other professionals to shape the future of dentistry.
7. Federal Services
The army, air force, and navy offer career opportunities in several areas of healthcare. Dentists fulfill important roles in the federal services by keeping soldiers and support personnel ready for action. Other roles include humanitarian missions, research and product evaluation related to the military.
As an enlisted member of the forces, you enjoy all the same benefits as other military personnel. These include health and life insurance, paid annual leave, and a generous good plan.
Working as an army, navy or air force dentist gives you the freedom to practice dentistry without the hassle of running your own practice. You also have the opportunity to further your studies by means of a generous scholarship programme.
Dentists are also employed by the US Department of Veterans Affairs to care for retired soldiers and their families.
8. Public Health Federal Services
Working as a member of the commissioned corps of the US Public Health Service you will receive all the same benefits of a dentist working for the military. The only difference is that you will be working with disadvantaged people from the country's under-served communities.
There is one of the most rewarding jobs in the dentistry field since you get the satisfaction of helping those who need it most.
9. Forensic Odontology
If you've always wanted to channel your inner Sherlock Holmes, this could be the dentist career pathway for you. You can get certified through the American Board of Forensic Odontology as long as you already have a dental degree.
This career allows you to work with top investigators to identify human remains and find missing people. You could even assist in nabbing a suspect by means of bite mark identification.
10. A Career in Accreditation
The Commission on Dental Accreditation (CODA) develops and implements the standards by which dentists become accredited to work in the USA.
CODA employs a panel of highly-qualified dentists to evaluate all the courses offered to aspiring dentists. They work together during on-site visits, interviewing teachers, and reviewing course material before submitting their findings to the annual CODA commission.
Based on this information, CODA then decides whether to grant the applicable institution accreditation for educating future dentists.
Members of CODA are elected by their peers in the American Dental Association. Serving on this commission is an honor and a privilege which you can only aspire to after many years in practice.
Finding the Perfect Dentistry Career
Choosing a career in dentistry that doesn't involve private practice may be something you consider right out of college.
There is no reason why you can't embark on a different dental career right away. Some fields only require your academic knowledge and will overlook your lack of practical experience.
It is important to do what you love for a living, check out our career center to see if we have a match for you.