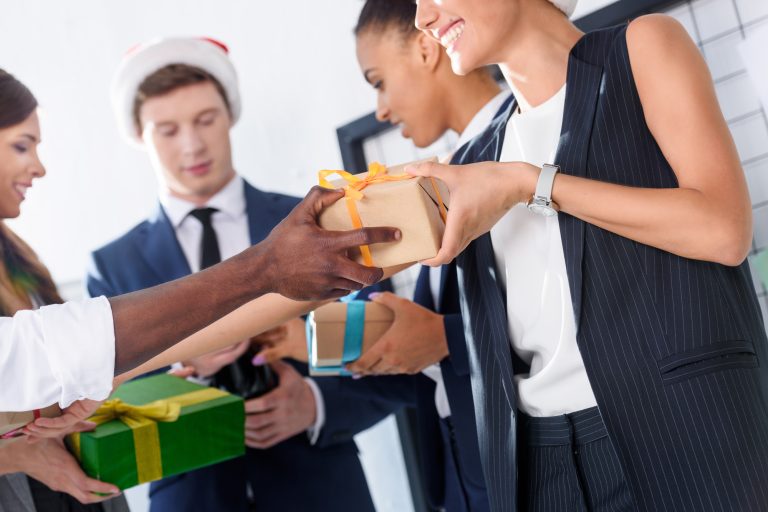 "Individually, we are one drop. Together, we are an ocean" – Ryunosuke Satoro.
Teamwork is the key to a happy and productive workplace. A great way to show your appreciation and care is to give gifts and cards during the holidays, or when they're celebrating something or just to simply say thank you.
It sounds easier than it actually is!
When your colleagues birthday comes around, it can be tough to decide what to buy, as you may not know them very well. You want to give them something they need, but also something they will enjoy. Something that is light-hearted, but not something that will offend them.
But no need to get your head in a tizzy! We have come up with 10 awesome gifts for coworkers on their birthday, or for any other special moment!
1. Get Practical
Sometimes the best thing to do is to buy something practical, something the recipient really needs.
For instance, buy your multitasking colleague a desk accessory holder or desk organizer to keep all those pens and papers in order. Go for something bright and funky so that they feel motivated to keep organized.
2. Say It with Flowers
For the boss who seems to have everything, why not say it with flowers?
A flower bouquet always appreciated, but a potted plant is even better. Expensive looking orchids in a ceramic pot can be pretty cheap to buy, but give off a classy vibe. Alternatively, succulent plants, such as a mini cactus or aloe vera plant can give life to any office space.
You can even make the plant pot a gift in itself. For instance, you can buy a "tooth planter" (a ceramic plant pot in the shape of a tooth) for your fellow dentist. It's kind of a novelty gift, but looks super cool too!
3. Tech Savvy
Technology is obviously one of the best gifts for the "tech wizards" of the office.
Buy a ten-foot long iPhone cable for your colleague who is addicted to social media. Keep their well-used smartphone and computer monitor squeaky clean and streak free with screen sprays and microfiber cloths.
If you're buying a gift for your best work buddy or your "work spouse", the best gift you can get is a set of walkie-talkies. They will let you stay in touch, even if the phone lines are down. And you can reminisce of childhood times too.
Over and Out!
4. For the Foodies
Every workplace has its foodies! "Yes Carol, we know you're vegan!" Most of the best gift ideas for coworkers include food glorious food.
For those coffee lovers, buy them a travel mug so they can bring their own blend in. Or even a coffee machine, if you're feeling generous. For the odd tea lover, give them a cute tea infuser instead.
Chocolate anyone? Chocs are normally well appreciated no matter what the celebration! However, if you're working at a dentist, can you get away with giving chocolate as a gift?
Yes! Buy them dark chocolate instead. According to some studies, the compounds in the superfood dark chocolate may even be able to fight tooth decay!
5. A House Away from Home
If you and your colleagues spend more time at work than at home, then the perfect coworker gift ideas should stem from things that make the office more homely.
For your co-worker who is always complaining it's cold, give them a fancy blanket, or better yet, buy a cubicle space heater. On the other end of the scale, if a colleague is always hot, buy a personal fan that connects to their USB.
For the colleague who is always cleaning up after everyone, buy them a mini desktop vacuum cleaner. Then their desk will always be crumb free, even if the staff room isn't!
6. Beautify Your Team
Next on our list of cool coworker gift ideas are things that can make your team beautiful!
From perfume sets and makeup boxes to cooling facial sprays and bath salts, your coworkers will appreciate anything you give to pamper themselves.
7. Get Physical
For those colleagues who are always active, buy them things to stop them from fidgeting during work hours.
Desktop basketball is great to have in the break room. If basketball isn't their thing, how about golf? A mini desktop golf game can give them much-needed downtime, in their break time of course.
Another active gift is an under-desk exercise machine so that your colleague can pedal under their desk while they are working.
8. Happy Hour
For the coworker who is always organizing excursions and nights out, why not buy them a corkscrew? Get something classy, or even comical that they can keep on hand for when its happy hour time!
9. Be Generic
Some recipients are easy to buy for. Others are really tough! If you can't decide what to buy for your colleague, try something random but useful.
One of the best coworker gift ideas is to give a gift basket full of a variety of office goodies. Another random, yet practical gift is a personalized mug with the words "Best dentist ever" or something similar. It might seem generic, but you can be assured they will always use it.
10. Novelty Gifts
Novelty gifts are always appreciated in the workplace, especially if you're a close-knit team and have good relations with your boss.
You can buy funny gifts that make the decisions for you. For instance, a spinner that has a few options for decision making "Yes" "No", "Think on it", "Maybe", and more. You can be sure that there will be some hilarious outcomes due to the spinner!
More Gifts for Coworkers
So, now you have a few ideas. But what if you still can't make your mind up about what kind of gift you should give your coworker?
Read more here about the best kind of gifts to give on each occasion.
Ready to Hit the Shops!
Whether you're showing your appreciation by giving a simple prezzie or you're finding lavish birthday, wedding, or Christmas gifts for coworkers, it's not that easy. But with these ten gift ideas, you'll be off to a great start!
For more workplace advice, especially regarding the dental field, check out our blog.