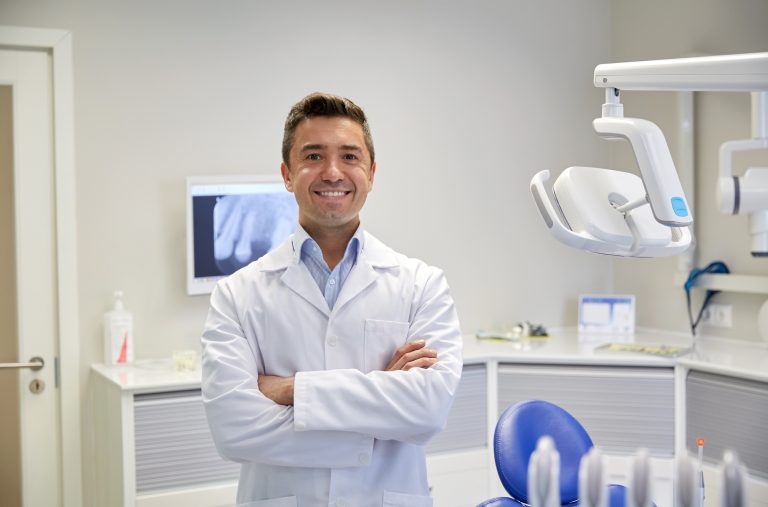 Most people think that medical professionals don't have to worry about what to wear to work. They throw on some clean scrubs and they're ready to walk out the door.
That may be true for doctors and nurses in emergency rooms, but for dentists, it's a little more difficult.
Most dentists aren't in scrubs unless they're doing a procedure. They need to build a professional wardrobe that can function in the workplace to wear with important safety equipment.
Finding professional work clothes can be tough, but we're here to help. We're going to you the must-have items every dentist should have in the wardrobe.
Nice Shoes
We know that dentists spend a lot of their day on their feet. You may feel tempted to wear sneakers but if you want to look professional at work, stick to a pair of comfortable dress shoes.
If you find a brand of shoes you love, buy pairs in a few different colors so you can mix and match. Comfortable dress shoes can be tough to find, so when you come across them be sure to snatch them up!
Ladies often wonder if heels are appropriate for the office. You may feel uncomfortable standing in heels most of the day, but they're absolutely office appropriate.
Ladies that want a comfortable and professional footwear option should consider flats. Be sure to buy inserts for improved arch support so you can stay comfortable all day.
If you happen to buy a pair of shoes that aren't comfortable, try breaking them in before you buy a new pair.
Button-Ups
Button-up shirts are ideal for almost every professional situation you're in. You'll always look professional and polished in a button up, and be ready for any occasion.
When you're buying button ups be sure to buy them in an array of colors and styles. Also look for blazers or jackets to match.
When you're looking for professional button-ups, don't be afraid to pay a little more for quality.
These button-up shirts are going to make up the bulk of your work wardrobe. They'll need to survive several washes, ironings, and wears.
Buying a high-quality shirt can help ensure that your shirt colors stay bright and that your threads stay un-frayed.
Watches
You use your computer or cell phone to keep the time, but you can't pick up your phone when you're working on a patient.
Watches can help you make a professional fashion statement and help you keep time during a busy day.
When you're choosing your watch you may want to go with a plain lightweight design. A bulky silver or gold watch can look nice, but it can make moving your arm around a little awkward.
If you're interested in learning how to buy watches, learn more from the experts.
Tasteful Ties
Ties can make the outfit, but only if they're the right kind of ties. Novelty ties can be fun for certain occasions, but not for work.
A children's dentist may want to consider wearing fun ties to put their patients at ease, but dentists with adult clients should keep things as professional as possible.
Look for solid colors ties instead of striped ties. There's nothing unprofessional about ties with stripes, but solid color ties will be easier to match to shirts.
Like with your long sleeve button-ups, be sure to shop for quality ties. You'll be wearing them often and you'll want ties that you know can last.
Tie Clips
If you're going to wear a tie to work, make sure to wear a tie clip.
Your day is going to involve a lot of bending and leaning over to access patients and tools. The last thing you'll want is your tie to contaminate your tools or possible even touch a patient's mouth or teeth!
Tie clips look stylish and they can help keep your tie firmly on your body.
Like with other articles of clothing, keep the tie clips professional and save novelty ones for time with friends.
Polos
Long sleeve button-up shirts will work throughout the year, but offices can get hot in the summer.
If you're going through a heat wave and don't want to mess up your nice button-ups with sweat, you'll be grateful to have a few polos in your closet.
Polo shirts look nice and professional on men and women and can help keep you cool when the weather turns hot.
If you want to add a little personal branding to your polos, get them embroidered with your company name, logo, or even your personal initials.
Dress Pants
Some dental offices have a casual dress code for their staff. It may not bother you if your receptionist that spends most of the day seated wears jeans, but dentists shouldn't wear casual pants.
Jeans and sweatpants shouldn't be a part of your professional wardrobe. A pair or two of khaki shorts are fine for the summer, but in general, your work attire should always include dress pants.
If you want pants that are comfortable and fit well consider going to a tailor. They can ensure that everything fits right so that you look and feel great in your pants.
A Crisp White Lab Coat
Lab coats look professional, and there is an expectation that medical professionals wear them. They can help reassure patients of your professionalism, and also give you an extra place to store things if there are pockets.
We know that most dentists wouldn't dream of wearing a dirty lab coat. Aside from OSHA standards, unclean lab coats look unprofessional.
Dentists may not wear dirty lab coats, but some may wear coats that have lost their whiteness over time, have a missing snap button or two, and have frayed threads.
Don't wear lab coats until they're almost falling apart. Invest in new lab coats and toss them out when they start to show their age.
Going Beyond Must-Have Items
Now that we covered must-have items for your wardrobe, it's time to focus on other must-haves for your success.
You may be an ADA member, but you may not know about all the perks that come with that.
If you see laptops, cars, and bank accounts a professional must haves, check out the member advantage page and see what discounts and deals are available.