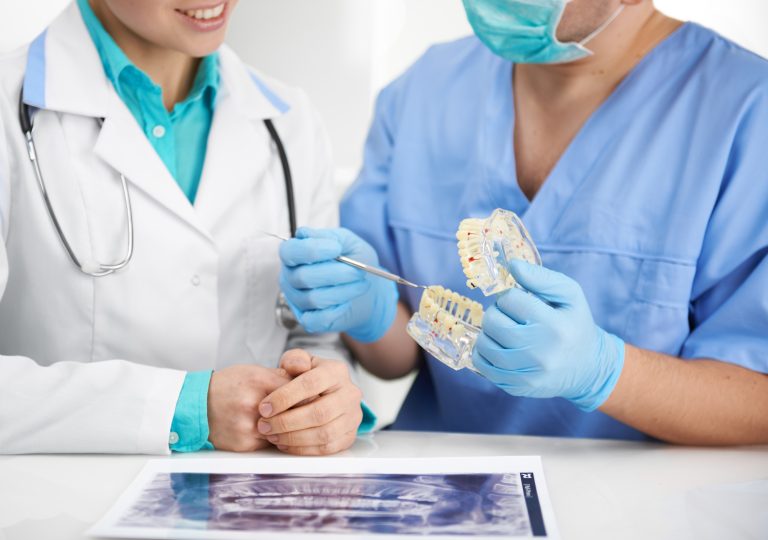 There's no doubt that first impressions count. They count even more when people are putting their health in your hands.
According to the famous psychiatrist Dr. Leonard Zunin, the first four minutes of any interaction set the tone. This applies to all relationships, including those with your clients.
You only have a small window of time to get it right, here's how you can beat the clock in your dental office.
1. Look Sharp
Planning for your first day or that all-important client meeting starts before you leave home.
Paying a little extra attention to your appearance never hurts. It's imperative to arrive at work looking professional and well-groomed.
If it's your first day on the job, knowing that you look your best will give you a much-needed confidence boost. This spills over into your interactions with clients and colleagues.
Although the medical industry has some norms when it comes to what you can wear in the surgery, there's no reason to stick to boring traditions. There are lots of options when it comes to modern, appealing scrubs, so read more here.
2. Arrive at The Dental Office Early
Tardiness creates a bad impression. Show your enthusiasm and dedication by arriving early to start your work day and for appointments.
Nothing will kill your reputation quicker than keeping people waiting. Being late implies that you don't respect the other person's time.
3. Customer Service Advice
Like any business, a job in dentistry relies on impressing your clients with your expertise as well as your people skills.
This may come as news to you, but many people hate going to the dentist and are fearful of it. Ease them into the process with our charming, kind demeanor.
Take time to get to know your patients. Make an effort to remember their names. Are you terrible with names? Make a note of the patient's name next to their appointment time in your diary and refresh your memory before they arrive.
4. Workplace Culture Counts
The people you work with are just as important as your clients. After all, you're going to spend most of your waking hours with them.
When conflict arises, try to be a part of the solution, not the problem. Avoid being annoyingly sunny, it will seem fake, but try to remain positive and level-headed in testing situations.
Don't take sides when colleagues have a spat, especially during your first few weeks of employment. Avoid gossip at all costs.
If you have subordinates working under you, treat them with respect.
Try to figure out the workplace culture as quickly as you can. Are colleagues on first-name terms with the dentist? Is it standard practice to work through lunch or stay a few minutes after work? You don't want to look like a clock watcher or overstep your boundaries.
Ask about the chain of command. Every workplace has its own rules about who to ask for what. For example, who do you go to for your stationery needs and where do you hand in your leave form?
It helps to identify a mentor and ask them to show you how things work. Thankfully, most workplaces have one of these 'mother hen' personalities. Try to find them.
No matter how self-conscious you feel, greet everyone and introduce yourself. The sooner you fit in the better.
5. Go the Extra Mile
Whether you are dealing with customers or colleagues, it pays to go above and beyond in your duties. Be that person that everyone can count on.
Never say, "It's not my job." Empty the trash can if you must, make coffee, and go out of your way to make patients feel at ease.
The recognition you'll get for your efforts is satisfying and far outweighs the extra responsibilities.
6. Organizational Skills are Important
Show off your dental office management skills right from the start. Get organized and stay that way. If you have your own office or desk, keep it tidy past day one.
An open-plan dental office design means your spaces are in full view all the time, don't let the side down with a messy workspace.
Apparently, a tidy desk is a sign of a tidy mind. Use a diary or online time management app to ensure you always know what's expected of you and when.
7. Keep Learning
Asking questions is the best way to stay out of trouble. If you are unsure about what a client wants, what your boss has asked for, or what to do next, just ask.
Questions are one of the easiest ways to learn. There's also the internet.
When you have to assist with a new procedure, google it beforehand. It's surprising how many YouTube videos center around dental treatments. Look them up to get a head up on what to expect.
Have you forgotten how to use a particular product? Check the label or look it up online.
8. Remember Why You're There
Keep your enthusiasm for your new job going.
Think about why you chose a career in dentistry in the first place. Reminisce about your excitement when you first got the job. A little gratitude goes a long way.
We all have bad days, but you can weather these better if you have formed positive habits and strong relationships in your workplace.
Starting a new career is an exciting time. You're bound to meet new friends, learn more about your chosen field, and experience personal growth almost every day.
9. Get the Best Career Advice
All the above aspects soon become second nature and can contribute to creating a great impression for yourself and your dental office.
Keep reading our blog for the best and latest advice on anything to do with careers in dentistry.
Whether you're running the show, looking for jobs in the field of dentistry, or starting out as an assistant, you'll find something informative in these pages. Keep checking back for new items daily.