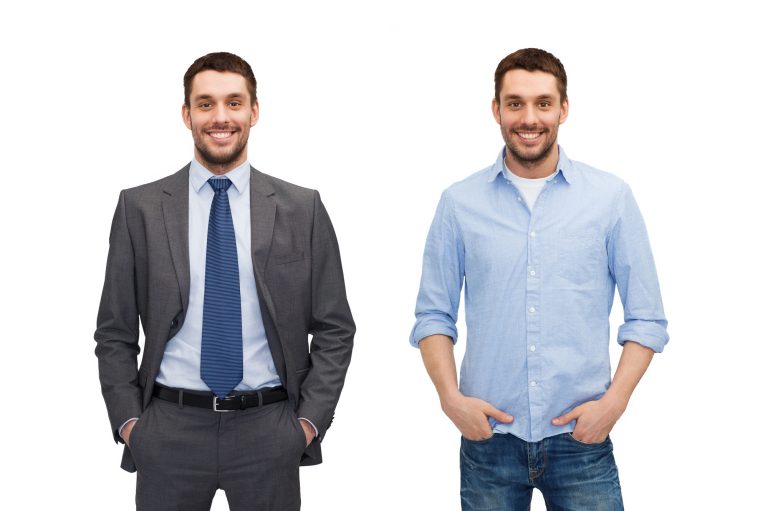 Making your dental practice successful takes more than giving your patients great care. There's a business aspect to it as well. Whether you're just starting your dental career or you've been a dentist for decades, first impressions are key.
Every time you attend an event, meeting, or another occasion as part of your professional life, you're walking into an opportunity. You never know what patients, business partners, investors, or other associates you could meet. You should always be prepared to "wow" them, and part of that is making a great first impression with the proper attire.
It might sound easy, but dressing for the situation can be a challenge for men and women alike. Here's your definitive guide to apparel for business events outside your office.
Proper Attire for Professional Events
If you have an event or meeting coming up, here's what you need to know to dress to impress:
Professional Conference
Medical and dental conferences help dentists in several ways. They bring you up to speed on the latest in dental technology and techniques that can help your patients. They also connect you with a community of potential resources and business associates.
For these events, business casual is the way to go. In general, that means dress slacks, khakis, or skirts, but no jeans. For men, choose a polo shirt or a button-up shirt. A tie isn't necessarily inappropriate, but it's not necessary for a business casual setting.
For women, pair your pants or skirt with a button-up shirt or another professional-looking top. While business dresses are appropriate, stay away from cocktail dresses.
Community Health Fair
A local health and wellness fair is a great place to meet new patients and even other physicians in your area. While some of the exhibitors may wear jeans, dentists and other medical personnel want to stand apart and show themselves as professionals.
At these events, aim for the more casual end of the business casual spectrum. Khakis are perfect for men and women, along with a clean-cut shirt or top. If your practice has branded polo shirts, this is a great place to wear them.
Charity Benefit
As an esteemed member of your community, you may be invited to a charity benefit from time to time. Whether you were invited as a dental professional or as part of your personal social life, you still want to make a great impression.
Your attire will depend on the type of venue. However, many of these events are black tie. For men, that means a black tuxedo. Make sure you understand the difference of a tuxedo vs suits as suits are generally too informal for a black tie event.
For women, you should wear a full-length formal gown. Cocktail dresses are typically too casual for these types of events.
Networking Event
Many cities have networking groups where you can get together with other dentists, medical professionals, entrepreneurs, or other groups. These events can be a great way to make connections and build your practice. They can even be a way to meet new patients, but don't spend the event giving everyone a sales pitch.
Your attire for a networking event will depend on the venue. However, you should usually aim for a business casual style or even a step above. This is true even if the event is at a more casual location like a coffee shop. The purpose is to show yourself as a professional, so dress with this in mind.
At the more casual end of the spectrum, khaki pants or dress slacks with a semi-professional shirt are appropriate. However, feel free to wear a business suit to give off a more professional look. This applies to men as well as women.
Business-Related Dinner Meeting
When you're running or buying a dental practice, there may be more "business" involved than you expect. From time to time, you may have a dinner meeting. You could be meeting with a representative from a dental product manufacturer, or perhaps a potential partner or investor. Regardless, you need to make a good impression with the proper attire.
In these cases, the venue will determine your style of dress. These dinner meetings usually take place at classy, high-end restaurants. If you're tasked with making the arrangements, look for this type of restaurant.
In this case, you should aim for business attire. A suit is usually appropriate for men and women alike. Even if the venue is more casual, the higher end of business casual will give you a professional look.
Continuing Education Courses or Seminars
Continuing education should always be at the back of your mind, whether it's a seminar here or there or a more organized course.
In some cases, casual attire is considered appropriate for these courses. This is especially the case if you're taking a class at a college where your fellow students will be dressed casually.
If you're attending a seminar with other dentists and professionals, however, business casual is the way to go. Look at the events as both continuing education and networking opportunities.
If your continuing education involves a series of lectures or sessions, take note of the attire at the first session. If you didn't choose the right style, adjust your attire for the next time.
Giving Off the Right Impression with Your Attire
As a dentist, you're an expert in your field and you're a well-educated professional. Some people resent the fact that appearance can overshadow their intellectual accomplishments and resist putting thought into their attire.
While your expertise is important, you need to first use your appearance to appeal to people and show them that you're a professional. If they see someone who looks underdressed, they may not take you as seriously. The fact is that choosing the proper attire can open doors for every aspect of your dental practice. With the guide above, you now have the tools you need to do so.
If you're looking for more tips to improve your dental practice, check out our blog for dentists.