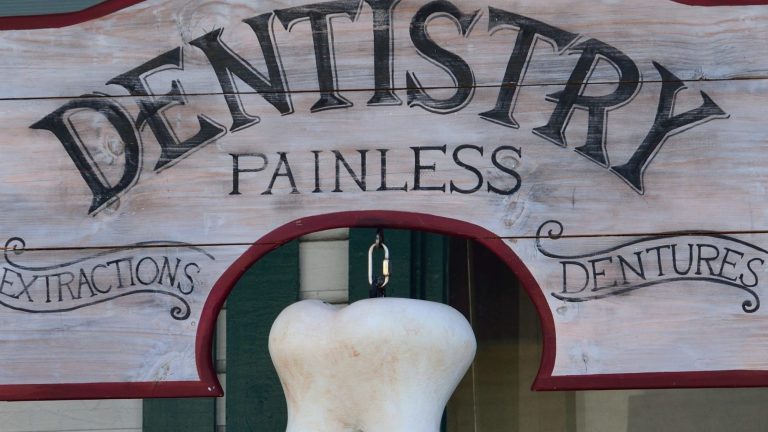 Medical professionals learn a lot in medical school to ensure their patients successfully have excellent health. Still, one big topic tends to get pushed to the side in medical school: Content Marketing. It may come as a surprise for most people that content marketing should be discussed in medical school. But for medical professionals aspiring to open their own practice, there isn't nearly enough time spent on it!
Patient health success is essential for medical professionals — but successful marketing is just as important — otherwise, no patients are walking through the doors, seeking treatment!
How do new patients today find dentists and choose which to work with?
Today, the Internet is — by far — the most vital tool for finding businesses and services. The speed at which information is available makes it superior to the "phone book." Therefore, when someone needs to see a dentist, the first place they visit is the Internet.
One of the most popular current trends is patients making appointments, communicating with their doctors, and learning about health online, allowing easier access to medical care than ever before.
We will discuss 7 content marketing methods that will ensure your dental practice's presence is noticed online.
1) Keep an up-to-date Dental Blog:
Creating and maintaining an updated Blog is critical to having a successful online marketing campaign.
Blogs are webpages that act as a type of "information hub" for individuals and businesses to create and post content. If your dental practice does not keep an up-to-date blog, you are not utilizing the best tool available for content marketing.
Most dentists are stretched on time, treating patients and running their business, which is why our next tip is just as important.
2) Hire a Content Marketer:
Again, there is not nearly enough time spent in medical school on how to run a successful business. You are the C.E.O. of your dental practice, and hiring is one of the most critical aspects. When you're treating patients, you must delegate some tasks for others to complete regarding business management.
Hiring a digital marketer (also known as a Content Marketer) to create and maintain an up-to-date website, and blog, will ensure your content is relevant, and people are seeing it. Content marketing and content writing services specialize in writing your dental website's content, making it easier to get noticed — generating more customers — allowing you to focus on patients and your business.
3) Know Your Market:
Even if you hire a content marketer to manage your online content — you, as a business owner, must know who your "target market" is.
Surveying your businesses location and demographic is critical to generating customers through online content. Content marketers will research this for you — but, when hiring a content marketer, they need to know precisely who your customer is. Otherwise, your content will go missed by the intended customer.
4) Create Content for your Customer, Not Yourself:
Whether you're keeping your own blog, or took our advice and hired a good content marketer, you must understand that the content you put online is for the customer, not yourself. Ask yourself: "Will my target market enjoy the topic?"
This makes a digital marketer even more valuable to your dental practice. They often tailor content — based on reports of the local demographic — and continuously refine the material the proper demographic has enjoyed the most.
5) Include a F.A.Q. on your Website:
F.A.Q's serve as an understandable list of facts about your practice. Customers will feel more confident in what to expect from specific procedures, and the approach your practice takes to perform them.
Additionally, this list can serve as ideas for future blog posts, providing detailed information about each topic.
6) Send Email Blasts and Newsletters:
Sending emails to customers is an excellent way for them to keep up with information on their dental hygiene, and reminding them to schedule appointments. This also helps them keep their dental health fresh in mind, boosting the level of care you provide, and their quality of life.
Newsletters are also a great way to let customers know about special promotions, contests, news, and new services you provide.
7) Care Guides and Free Dental Reports
Relating to emails and newsletters, sending customers free dental reports ensures that your customers stay up-to-date on insurance information, laws, and advances in dental procedures.
Additionally, free care guides serve as a way for customers to increase their at-home care and personal dental hygiene. These can be about various topics, such as what products and self-care practices you recommend your patients use.
Conclusion:
All of the methods discussed have similar qualities. They are based on how your target market will find your practice and how they receive vital information regarding dental health.
To have a successful dental practice, implementing these strategies will ensure the right customer base knows about your practice, later becoming patients. As your patient, they depend on your practice to take ownership of their dental health. This is why good content marketing is one of the most important ways to ensure your dental practice is successful, and your patients remain healthy under your care!
By providing something different and setting yourself apart from other dentists in the area — you give your customers confidence in the level of care you provide, while also attracting new patients to your practice. Hiring a content marketer ensures you run a successful business overall, and that your patients remain as healthy as possible.
Use these methods at your practice, and let your patients know you care. It will help your business succeed and boost your dental practice reputation, attracting new customers consistently.