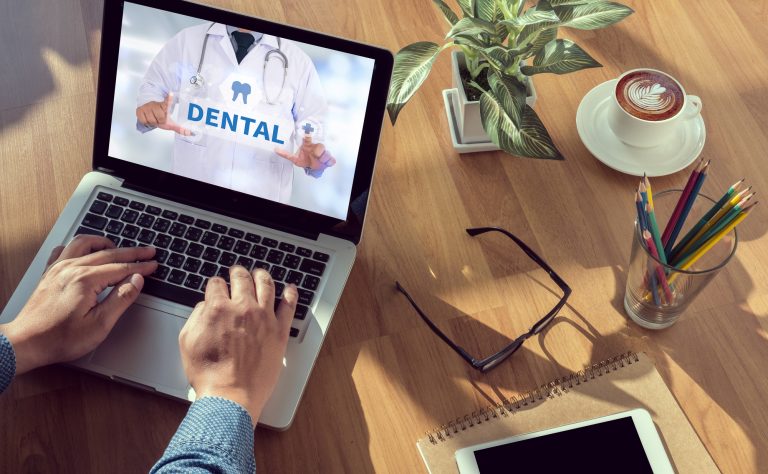 In order for your dental practice to consistently attract new patients, you need a strong online presence. This starts with a high-quality website.
People turn to the internet to find local products and services more than ever before. As a business owner, a website is your chance to show people what you're all about and let them know how you can help with their dental issues.
However, your site needs to include a number of things in order to be effective. A few basic landing pages simply aren't good enough.
Let's have a look at six important elements all dental websites should have.
1. Engaging Content
The content on your site needs to do a few things. It must quickly inform visitors how you can help them and also convey what the core principles of your practice are.
You'll need to have a separate page for each service you provide. The content should include a brief description of the procedure and some medical information so visitors understand if the service is right for them.
Avoid writing dense content that goes into every detail of the procedure. Instead, your content should be to the point, positive, and compassionate. If you're having trouble with this, think about hiring a professional content writer to help you out.
Your site should also contain a bio page for you and any other dentist working at your practice. Many people are nervous about going to the dentist. Letting them know who'll be working on their teeth can set their mind at ease.
Content plays an important role in establishing your authority, building a good relationship with your market, and boosting your credibility. These are some of the primary benefits of having a website for your practice.
2. A Strong Call to Action
Once a visitor is on your site and understands how you can help, they need to know what their next step should be. Don't assume people will automatically reach for the phone and call you.
A call to action directs current and new patients to your contact material. This typically involves a link to a page with a contact form and phone number.
There are a few ways to implement a strong call to action. One of the most effective ways is with a small graphic or button that links to the contact page. This button should remain in the same place throughout your site.
The text you choose for your button depends on the method of contact you prefer. Some examples are "Contact Us Today" or "Schedule an Appointment."
You should also include your address, phone number, and office hours in the sidebar or footer of every page.
3. Contact and Intake Form
Once a person is on your contact page, they need to easily be able to reach out to you. A common tool is a contact form. This is a small form that patients can fill out and submit to you from your site.
A contact form adds a level of convenience for both you and your patients. Once the form is filled out and submitted, the information will go to an email address in your office.
Think about the information you need from new patients. You can then have a custom form created with fields for things such as desired appointment times and the type of service they require.
In addition, consider offering your new patient intake forms for download on your contact page. This cuts down on office wait times and helps streamline your front office process.
4. High-Quality Visuals
If your dental practice website looks outdated and unattractive, there's a good chance visitors will leave quickly. You need to have a professional, modern design that creates a warm, inviting vibe.
If you don't already have a logo, have one created and make sure it's displayed prominently throughout your site. However, it shouldn't be overwhelming or come across as pushy. People shouldn't feel like you're trying to sell them your service.
In addition to a high-quality logo, consider including a before and after page with images of work your office has performed. This is especially important if you practice cosmetic dentistry.
Your site should also contain professional photos of you and your team. It's also a good idea to include photos of the inside of your office. When people see you're offering a warm and inviting environment, they'll feel better about visiting your office.
5. Professional SEO Elements
Your website isn't doing much good if nobody can find it. This is where search engine optimization (SEO) comes in.
SEO is the process of improving your site's visibility through better search engine rankings. This is a complicated process, so think about hiring a digital marketer to help you out.
The content on your site will need to contain keywords you wish to rank for. For example, if you provide pediatric dentistry in Dallas, a keyword phrase people may search for is "Dallas children's dentist." By including that phrase within your content, you increase the likelihood of getting found for it.
Your site will also need to include well-written meta descriptions for each page. This tells search engines what the page is about so they can rank it accordingly.
Another helpful tool is a blog. Think about incorporating one into your site and publishing informative content on a regular basis.
6. Responsive Design
People now perform online searches on their mobile devices more than they do on their desktops. This means your website must function well on tablets and smartphones.
This mobile functionality is referred to as responsive design. It allows your website to display and function perfectly across all platforms.
Incorporating responsive design is now a necessity. If your site doesn't have it, you're missing out on potential business every day.
If your website isn't mobile-friendly, talk to a web developer about converting it.
Don't Exclude These Important Elements for Dental Websites
Your website is the flagship of your online presence. Its quality has a direct connection to the amount of new business you attract.
All dental websites need to include the elements discussed above. By incorporating them into your site, you're helping support a growing dental practice.
For more information on expanding your practice, contact us today.