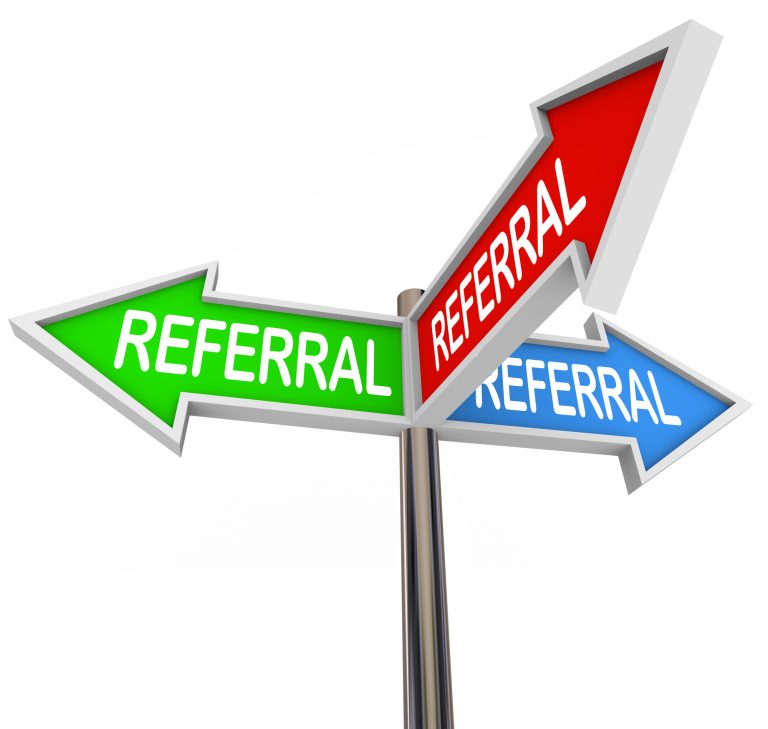 Do you need to how to get referrals from your patients?
For many dentists, between 70% – 80% of new patients are from referrals. This sole source of revenue often holds untapped potential.
Dentist offices don't tend to have a system in place for referrals. They assume that their patients know what they do from experience and will tell their family and friends.
That's not always the case.
If you want to know how to get more referrals to your practice, read on.
These are the top 5 tips to increase referrals to your dental practice.
1. Ask Your Patients
The only way you're going to get referrals on a regular basis is by asking your patients for them.
That seems obvious, but it's often overlooked.
Almost 83% of consumers would refer friends and family to a business after a good experience. Only 29% of them actually do.
What stops people from making referrals?
They're not asked.
How can you ask for a referral without being pushy or salesy?
Focus on helping people have a healthy life. That starts with healthy teeth. It also starts with an authentic conversation.
Start with a simple statement like "You've been a great patient for us and I want to thank you for that. Why don't we see other family members in here more often?"
It's a way that's warm, authentic, and it breaks the ice in a potentially awkward conversation.
Your patient might open up as to why other family members avoid the dentist. They could have some kind of fear around needles.
You can then put those fears to rest and offer a card for a free dental exam.
2. Acknowledge Them When They Give Referrals
People love acknowledgment when they help someone out.
It's no different for people who refer others to your dental practice.
There are ways to reward patients for being loyal to your practice that doesn't break state regulations.
For example, you can have a board in your office full of names who give referrals. This can encourage others to do the same. It also shows appreciation for people who follow through with referrals.
You can also give away promotional items like mugs and water bottles. These items don't cost a lot of money, and they're a way to get your brand out in public.
3. Have a Referral System
You probably have a system in place for renewing your license and continuing education classes.
You may have other systems in place for patient care, but you need one for referrals. Here's how you can make it work.
Start by having one, and only one person in charge of referrals. This can be your marketing coordinator or a patient care specialist.
You want to make sure that they have the time to devote to generating referrals on top of their other duties.
That one person will be responsible for the entire program, but they can delegate tasks to others on your staff.
Buy-in from the entire staff is going to be critical for the success of the referral program.
Do you hold morning meetings to go over the day's schedule? It's a perfect time to coordinate asking for referrals.
You can go over the scheduled patients and you'll know which family members are your patients, and which ones aren't.
Then decide who will be responsible for asking for the referral. It could be the hygienist who has a great relationship with the patient, or the receptionist if others on the staff are too busy.
It doesn't have to be a long speech. It could be as simple as giving a patient a card and explaining what referrals mean to the practice.
Doing this on a consistent basis will result in an increase in patients.
4. Build Partnerships within Your Community
You don't have to just rely on patients for referrals. You can get referrals from community partners, too.
These referrals can come from networking groups and chambers of commerce. You and your staff can get involved in the community to show that you have an interest in making a contribution
The more that people see you out and about, the more they trust you. That's how they'll refer business to you and become patients themselves.
You can also develop co-promotion partnerships with businesses that target the same audience as you. You can send an email campaign to your lists promoting your respective businesses.
5. Have a Strong Online Presence
If you're wondering how to get referrals from your patients, take a look at your website. When someone refers someone to your business, that person will look your practice up online.
If they can't find you in search results, odds are that they won't pick up the phone to schedule an appointment.
You'll want to make sure to fill out your information in the main online directories. That includes Google MyBusiness, Bing Places, and Yelp for starters.
The website for your practice must also be in tip-top shape. You have very little time to make a first impression, and that first impression is going to be your website.
The overall design of the site matters as much as speed. About half of your site's visitors will come from mobile devices. It needs to be a clean site with enough information, but not so much that people can't find information.
Your site should be set up to welcome new patients. Making it easy for them to find information and schedule appointments will help your new patients get started.
Read more here if your site needs a makeover.
How To Get Referrals from Your Patients
Referrals are the lifeblood of your dental practice. Without them, your business will suffer.
Out of all the marketing tactics out there, this could be the most important. You should set a goal for referrals, at about one referral per year from 60% of your patients giving referrals.
If you create a system where you ask patients for referrals and follow up without being intrusive, your practice will thrive.
Would you like to know how to get more referrals?
Check out our ads for professional services.