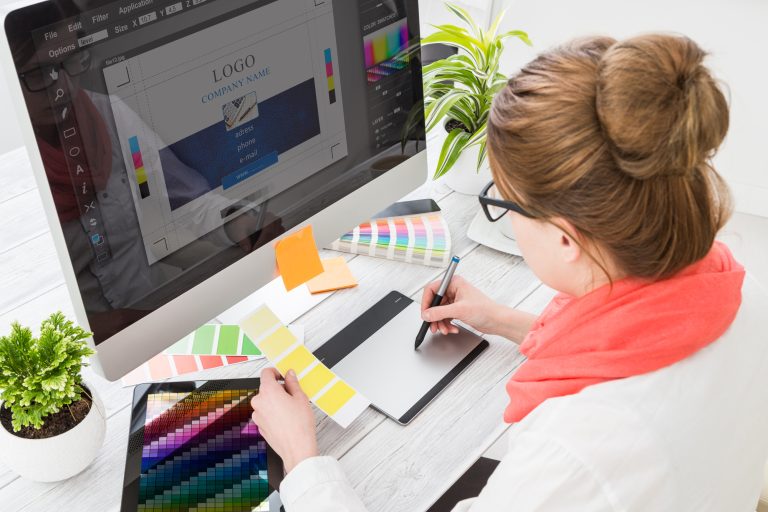 If your business card uses the same shape, font, and colors as your competition, it's not going to stand out.
But how can you change these things around without losing the professionalism of a simple business card?
All it takes is a bit of creativity.
Take a look at these business card design ideas that will leave your customers with an amazing first impression.
Add Color that Represents Your Business
Black text on a white background isn't going to attract a lot of attention on its own. That's why it's important to add color. The right color in the right places is eye-catching. Think of your color as the part of your card that's going to be screaming your business name.
You might think color distracts from a sleek or professional design. But that isn't always true. If you understand what colors work for your brand, they can be an effective tool.
Not all colors fit all businesses.
For example, if your business works with finances, you might want to use different shades or blue. This color gives off feelings of calm and trust.
The color green represents growth and nature, so it's a good option for businesses that are environmental or work with plants, such as gardening. Black, white, and grey work for executive companies.
Spend some time getting familiar with basic color psychology and add in the colors that fit with your brand.
Mix up Your Font
You don't have to stick to the same type of font for your entire business card. In fact, mixing it up can draw more attention to important information, like the company name and business logo.
The style of font can also say a lot about your business.
If you want to portray a sense of luxury, you can match boxy fonts with flowing letters. A handwritten font can give your card an artsy appearance, and out-of-the-box fonts work well for fun and creative businesses.
You can even design your own typography that's a custom fit for your brand. This will allow your business card to stand out because no one else will have the same font. A custom font also shows the unique personality of your business better than fonts you can download.
Make Your Business Card Useful
Of every 10 billion cards printed every year, 8 billion get thrown away within the first week. That means 88% of your business cards end up in the bottom of a trash can.
If you find a way to make your business cards useful, customers may not be as fast to get rid of them.
But what does this mean?
Your business card isn't limited to a 3.5 X 2 piece of paper. Get creative. Turn your business card into something people will actually use.
For example, if you own a gardening business, you can turn your business card into a small packet of flower seeds. Do you work in the IT or computer department? Pass out flash drives with your business information on them. Do you sell appliances like refrigerators? Turn your business card into a magnet.
Find different ways your business card can represent your business and be useful to your customers.
Change the Shape
A rectangular shape isn't your only business card option.
You can design your business card however you want. If you're in a photography business, you can turn your business card into a circle, like a camera lens. Make your card octagonal. Flip the card onto its side. Design it in the shape of a dog bone.
Each of these strategies helps your business card stand out from the competition. But you don't have to go to extremes either.
Another good way to make your business cards look different is to round the corners. This design will give your card a sleek look that will keep people's attention.
Design Your Card with Unusual Materials
Changing the material of your business card gives it a unique appearance and feel. You can use wood, plastic, leather, metal, fabric, and anything else you can think of.
One of the best things about these unusual materials is the sensory aspect they bring to the card. A wooden business card might look nice, but it also has a different texture.
When you're using non-conventional materials, you can build texture into your card. This will make them memorable and interesting for people to hold.
Keep It Small
It's good to get creative with your card, but remember, it needs to fit inside a wallet or pocket. If people have a hard time carrying your business card, they may not want to hold on to it for very long.
Bulky designs are something to stay away from when it comes to business cards. Folded cards or pop up designs might look cool, but they take up a lot of space. Your card shouldn't be thicker than a credit card or driver's license.
Stick to These Design Basics
No matter what type of business card you choose, every card should follow a few basic principles. These guidelines will ensure your design is clear and attention-grabbing regardless of the shape.
All your important copy should stay at least 5mm away from the edge. Otherwise, some of the writing or artwork could get cut off during the printing process.
Your design will have the best image reproduction when you work at 300dpi. And your text should be any smaller than size seven font. Important information can be as large as size 10 or 11 font. If you get any bigger, you might not have enough space for all your information. Any smaller and the text won't be readable.
If you are struggling with design ideas, you can start with a grid. This will help you get all the important information on the card while keeping everything in alignment. Not sure what that information should include? You can read more here.
Business Card Design Tips That'll Make Your Card Stand Out
When it comes to creating your business cards, you don't have to stick to a traditional format. By changing up the colors, font, and shape, you can attract more attention to your card and prevent people from throwing it in the trash as soon as they walk away. Get creative with your business card design ideas. If you can, turn your business card into something people can use in their daily lives.
Want to give your business a fresh start by relocating? Click here to learn why moving to San Diego is a smart choice.