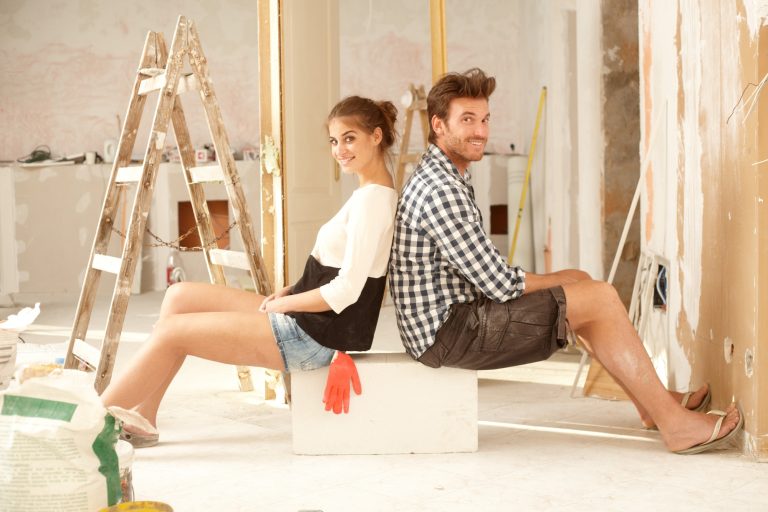 There's nothing better after a long day at the office than coming home to your own little piece of heaven.
Sometimes, that piece of heaven is a work in progress with every new home improvement project bringing you closer to your dream home.
With the right planning, you can not only increase the value of your home but also maximize the quality of the time your family spends there.
Check out these awesome home improvement projects so you can bring brighter smiles to your loved ones at home after spending most of your time creating brighter smiles for clients.
Home Improvement Projects for Fun Family Time
It doesn't matter what your family is passionate about – it's always hard to find time to do it together.
So why not bring the fun to you?
Not Your Typical Home Gym
Thousands of people pay for gym memberships month after month, and yet, they never get there. Something that was supposed to be fun and good for your health ends up being a source of guilt and stress.
There's never enough time to exercise, and you often end up leaving your family behind to sneak in a workout.
You have to fit in a game of golf or a spin class when you get a chance and work around the hours of the facility or everyone's schedule.
Why not make the activities you love easier for you to do and to share with the people you love?
Basketball Half Court
It can be almost impossible to find a good basketball court you don't have to cross your fingers and pull out your wallet to get time at.
Why not make your new home improvement project a slam dunk?
You can come home and dribble your stresses away instead of just vegging in front of the television.
Rain or shine you and the kids can get exercise and have fun instead of planting themselves in front of electronics for the entire day. Winter and location are no longer an issue with an indoor basketball court in the next room.
With an indoor or outdoor basketball court, for instance, you'll have the most popular house in the area.
Whether it's your college buddies playing a little one on one, your wife's yoga class, or your daughter's cheer squad, they can all discover their talents. It's also a great way to inspire their passions and perfect their skills in a fun, comfortable, and loving environment at home.
Squash, gymnastics, dance, and anything else your family loves could be just a room away anytime night or day.
Extreme Backyard Recreation
You don't always have time to head out to the woods camping when you want to enjoy the great outdoors. Why not redefine what the great outdoors means to your family?
You can turn your backyard into your family entertainment hub with a covered gazebo that includes an outdoor movie screen.
Include a barbeque pit, pool, or inground trampoline to bring smiles to family young, old and every age in between.
Hobby Room
Whether your family loves video games, art, crafts, or music, dedicate a new home improvement project to creating a space for the things you all love to do. A hobby room can bring hours of relaxation while encouraging each family member to get in touch with their creative side.
It's easier to enjoy the activities you love if you don't have to take an hour clearing a spot to do them.
Hang board games in frames on the wall, include a foosball or pool table, or add a crafting storage unit for the budding artists in the family.
Study or Reading Room
Many of us spend family time sitting around the television or staring at our phones or computer screens.
Why not create a space that brings back the art of conversation and reading? We collect books that sit in the back of closets or piled high on shelves but are rarely appreciated.
Add a room where the kids can study, you can finish your paperwork, or your spouse can get five minutes of solitude.
Make it an electronic free space filled with imagination and discovery through the pages of books.
Add a work table or desk with good lighting for studying, writing letters, or journaling.
A Sensory Room for Young or Old
Design home improvement projects that cater to your family member's needs. One in 65 children in the U.S. has autism spectrum disorder. It's estimated over 46 million individuals suffer from dementia worldwide.
If your family is facing these or other physical or mental health challenges, then a sensory room or physical therapy room may relieve some stress for everyone.
A Home Spa
Turn your bathroom into a luxury spa and take relaxation to new levels. It's hard to let Calgon take you away in a bubble bath that only covers half your body at a time. Plus, it's almost impossible to feel refreshed by a shower that only trickles water over your soapy hair.
Bathroom renovations are often at the top of the list for home improvement projects. Small changes like adding more counter space, track lighting, or new fixtures can make a huge difference in comfort and how well it meets your family needs.
Adding a second bathroom can solve a lot of family battles. It will also ease a lot of tension on busy mornings as everyone is trying to get ready for the day.
It makes those horrible times when the flu hits the entire house easier too.
Laundry Room Upgrades
While it doesn't sound luxurious or romantic, you can earn a lot of brownie points from the family member responsible for laundry by creating the ultimate laundry room space.
A sink, energy efficient washer, or ironing space can make laundry seem less like a chore.
Storage and Closets
No matter what room or home it is, one of the biggest issues is always storage or closet space. Why add a room when you really just need to organize the ones you've got?
Do a storage and closet overhaul. Create shelves, cupboards, or organizational racks to optimize the space you already have so you can fall in love with your entire house all over again.
Kitchen of Your Dreams
For many families, the kitchen gets the most use. It's where midnight snacks are shared and family celebrations are prepared. It's the start and end of each day as well as the center of activity.
One of the biggest complaints people have about their home is that their kitchen isn't functional enough to meet their needs. Not enough cupboards for storage, burners for cooking, or counter space for chopping can make preparing a family meal less like a treat and more of a stress.
Adding a bigger fridge, an island with storage, or a stove with extra burners can help make mealtime more about family.
It's easier to prepare healthy meals when you have the space and tools to enjoy cooking. A kitchen renovation can help the Masterchef in your family reach new heights.
Save Energy and Go Eco-Friendly
Solar panels, recycling stations, and energy efficient windows can save you money while you do your part to save the world.
A lot of people don't know how easy it is to save money and energy.
If you have questions like:
What are the best light bulbs to buy?
Which windows are the best?
There are several resources online and even government initiatives to help you get information and make smart energy choices.
While this seems like a large home improvement expense, it can actually save you a lot of money in the long run. It will reduce your carbon footprint, saving the world and environment for your children and future generations.
Don't Worry, Be Happy
Home improvement projects can seem like a lot to take on, but you and your family will have years of happy memories in a space designed to meet your needs.
For ideas on vacations to take while the renovations are being done, marketing tips for your dental practice, or other great resources, check out our blog!