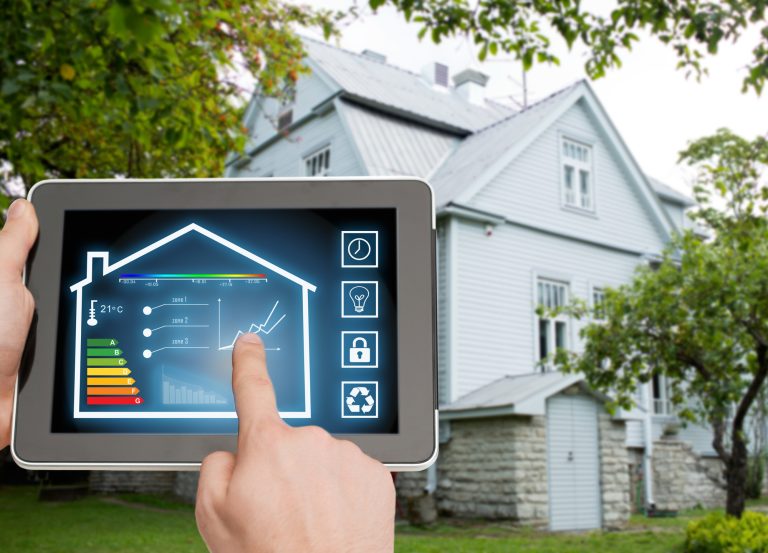 Smart devices are taking the world by storm. At the beginning of 2018 39 million people owned a smart speaker. Slowly but surely, the era of the smart home is coming into view and the future is looking promising.
Are you interested in turning your house into a smart house? Which devices are best, and which ones could you live without? Are they worth it? Do they really make our lives easier?
Let's explore which smart devices are a 'smart' choice for your home.
What is A Smart House?
A fairly new term coined by many technological advancements, a smart house is a home with gadgets and devices that communicate with each other using the internet and are controlled by a remote or app, in the home or away.
The aim of a smart house is to be convenient, save energy and time, and increase efficiency. Learn more about all the benefits of converting your home to a smart home.
10 Smart Home Gadgets to Transform Your Home
Smart house sound…smart? Here are 10 ways to start integrating smart house devices today.
Smart Speaker
Smart speakers like Amazon's Alexa or Google Assistant works as a virtual assistant, by voice control. Simply say, "Hey, Alexa," or "Ok, Google," to activate the speaker. Either of these acts as an overseer of several functions in your home:
turn on and off lights
power on music
controlling temperature
place online orders
power fans
If you are just dipping your toe into smart house devices, a smart speaker is a great place to start.
Thermostat
Smart thermostats are watching you…probably.
With a traditional thermostat, you are responsible for adjusting the temperature. What makes a smart thermostat standout is that it's self-learning, meaning it notices your behaviors when it comes to temperatures. You can also control the temperature remotely and view your energy consumption and humidity in your home.
They are also programmable, can save you money, and work through WiFi.
Roomba
If tripping over that vacuum cord is troublesome, or you are constantly forgetting to vacuum your floors, consider getting a Roomba.
Roomba is a robot vacuum that travels around your home cleaning your floors. It's full of sensors that work around obstacles to clear your floor of dust, crumbs, and other small debris. Control it through an app or remote, or program a time for it to clean.
Phillips Hue System
Just when you thought the lighting couldn't get any smarter, it does.
The Phillips Hue System is a smart lighting system designed to adjust the mood of the room using lighting. Simply replace your existing bulbs with smart bulbs.
It comes with a hub that connects to WiFi and this is how you control the colors and light. Set a timer or dim the lights all through voice control or app on your phone.
Security Camera
In the next 20 years, 3 out of 4 homes will be burglarized.
If you've ever wondered what's really going on when you're not home, a smart security camera could be your answer.
Several smart devices are available for spying on your own home. Features usually include getting updates on your phone when motion is detected, watching footage from your phone, saving its recordings, two-way audio, and the quality of the field of vision.
If you don't want a complete security system, there are devices available that work purely at your front door to inform you when you have a visitor.
Detect Destruction
Water can destroy a home quickly. Thankfully there's a smart device for that! Simply plug in a WiFi water sensor leak detector, pair it on your smartphone, and you'll receive a notification when water is detected. The water sensor will also blink if it finds water.
Stay on top of carbon monoxide leakage or fire with a smart detector. These will send you an alert on your phone at the first hint of CO or heat.
Wink Hub
Controlling all your devices is tricky unless they're all in one in place.
The Wink Hub makes managing all your smart devices easy, whether you're at home or not.
It works with Amazon Alexa and Google Assistant and is compatible with over 400 different devices. With the Wink Hub app downloaded onto your smartphone, you're able to handle all your gadgets simply and effectively without juggling them one by one.
Door Locks
Don't worry about losing your keys again.
The August Smart Lock locks your home using a remote-controlled lock. With the August Smart Lock, you don't have the hassle of replacing your deadbolt; just place it over your current deadbolt and you're up and running.
A Connect accessory allows you to let people into your home when you're not there, simply by using your smartphone.
Wemo Mini Smart Plug
WeMo Mini Smart Plug is a sleek gadget that works with Alexa or Google Assistant and your smartphone to turn any electronic device into a smart device. It runs purely on WiFi.
Plug in WeMo, download the app and begin controlling parts of your home like lights, fans, and more. Schedule lights to be on when you're not home or pair it with your smart thermostat to save energy. Use the app when you're at home and when you're away for ultimate control.
WeMo also has a variety of different plugs beside the smart plug that is worth considering.
Shades
Do you ever get irritated when you fumble with your shades and the line becomes a tangled mess? No more with remote control shades!
Remote control shades come with a variety of features, including scheduling them, controlling them with an app or your smart speaker. They're a little on the pricey side though, depending on brand and amount.
Smart House: The House of The Future
With all the devices and gadgets available on the market today, you should have no trouble setting up your home to be a smart home. A smart house can give you peace of mind, save you money and energy, and enhance your home. It's fairly easy to get started, and once you discover how seemly it can be, you'll never look back.
Looking for more lifestyle advice? Check out our page for more information!