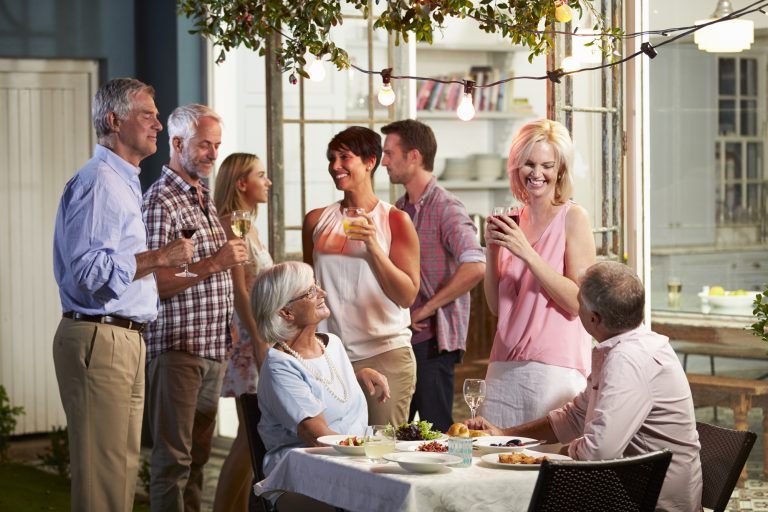 Hosting your colleagues at home can be a great way to bring a group of people together to celebrate any occasion. While parties can be a lot of fun, many do end up being a little bit more boring than the party planners would like.
Fortunately, there are several types that can be followed that can help to make any dinner entertaining and ensure that all of the guests have a great time.
Here are tips for entertaining at home.
1. Don't Skimp on Entertainment
When you are putting your party together, it is also important that you consider entertainment. Having some type of live entertainment will help to give people something to focus on.
Some of the easiest types of entertainment you can have include a DJ, a band, or local comedian.
2. Feeding the Team
What is entertainment without treats? The best part about a theme is its simple and inexpensive food options. Cooking up a bunch of hot dogs from the grill and hosting fun stations like cotton candy and popcorn will put your guests in the carnival mood.
You get bonus points if you have fun popcorn or hot dog toppings.
For drinks, fill a trough with ice and both kid-friendly and adult-friendly beverages, including carnival classics like glass coke bottles and root beer. You can also create a fun lemonade stand using drink dispensers.
Make sure to have fun striped straws for your guests too!
For serving, you can use the tent as a makeshift 'food tent" using long tables with colorful linens and make your own fun signs that explain each dish. Tie balloons to a rope, then anchor it down with a golf tee to line the area.
Use those same balloons and rope on the backs of your chairs to add more fun to the area.
3. Wheel of Fortune
Using a Wheel of Fortune spin board, give your guests a chance to win fun prizes by assigning each number a type of prize. For example, 1-15 wins a bag of candy, 16-25 earns a small stuffed animal, and 26-40 wins a fidget spinner.
Ultimately, the gift should be simple but worth playing for. Use bulk stores like Oriental Trading to buy a variety of gifts at a good price.
4. Face Painting
This can be as easy as hiring an aspiring young artist or recruiting someone you know to paint butterflies or other simple drawings on children's faces. For most children, they won't care if the quality is top-notch as long as it's the colors they prefer.
5. Spray Away
All you need for this is a small table covered in linen, a piece of foam board, golf tees, ping pong balls, and water guns. Cover the foam board in leftover construction paper from your game signs and insert 10 golf tees one inch apart.
Put a ping pong ball on each tee and arm your contestant with a filled water gun. The goal of the game is to knock off as many balls as possible before running out of the water.
6. Knock Down
After a few of your guests have finished their sodas, grab the empty cans or bottles to reuse for a game of knockdown. Simply stack the cans or bottles, set on a table, and use a plastic ball to try and knock them down.
Just make sure to test first to make sure it's easy enough.
7. Set the Stage
A folding table, card table, or your patio table and chairs will work great in your sunroom. Get a few yards of dark green felt from your fabric store to lay over the table for an authentic game room look that also minimizes the noise of rolling dice.
Buy a pack of markers and draw up a scoreboard on your sunroom windows. These markers write and erase perfectly on windows and create a fun way for everyone to track their scores. They also work double duty to label your guests' beverages.
8. Serve Winning Munchies
Winning needn't mean elaborate, just something to suit many palates. One beautiful platter of cheeses, crackers, meats, nuts, and grapes will likely accommodate everyone.
You can also consider a snack that matches your game. For Yahtzee or Bunco, you could rent a popcorn machine, or decorate cupcakes to look like dice. For Mahjong, consider an Asian theme, with sushi or mini egg rolls.
9. Create a Themed Beverage
Set up a beverage station in one corner of your sunroom, featuring a game-themed refresher. For Mahjong, a Mai Tai "mocktail", with 1/2 cup Sprite, 1/4 cup pineapple juice, 1/2 cup orange juice and 1 tablespoon grenadine, looks beautiful garnished with cherries and oranges. If your guests prefer something stronger, then read more here about the types of whiskey you can use for a themed beverage.
For Yahtzee or Bunco, a Mojito "mocktail" uses sugar cubes to represent dice. In a small shaker, muddle 10-12 mint leaves with 2 teaspoons of sugar, add 11/2 ounces of fresh lime juice and shake.
Strain into a highball filled with ice and top off with club soda. Drop 2 sugar cube "dice" into the glass. Both of these "mocktails" are easily converted into cocktails, as well.
10. Up the Ante
Not every guest will win the game, so up the stakes with a door prize tree. Decorate your sunroom ficus or palm tree with lights, and hang numbered tags from the branches.
Have each guest take a tag from the tree, and draw a number (or multiple numbers) at the end of the night to award door prizes to the lucky tag holders.
Entertaining At Home
When you are entertaining at home, you should also look for a way to make it a more active affair.
All fun events should have something for the guests to do during the event. Some fun activities that you could include would be having karaoke, playing some type of trivia, or having a dance competition.
All of these activities should help improve your company's culture.