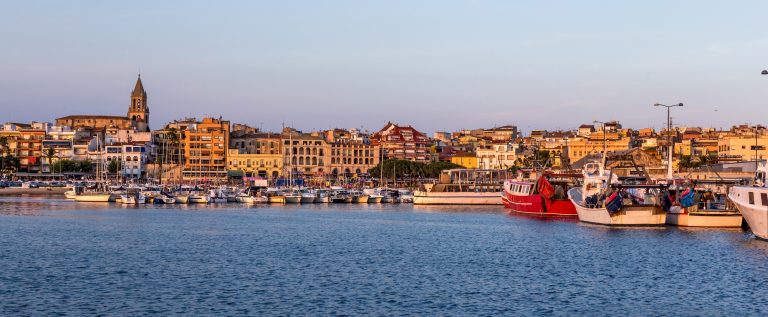 When you hear Spain, what's the first thing that comes to mind? The mind-bending architecture in Barcelona? Or, the stately Plaza Mayor in Madrid?
If you are planning places to visit in Spain, there's no question there are more than a few amazing destinations. What you may not realize is that Spain's much more diverse than what initially meets the eye.
Rather than visiting the top destinations in Spain, consider areas that are off the beaten path. The fact is, there are more than a few cool places to visit – some you have likely heard of and others you haven't.
1. Girona
Have you ever visited the walled city in Catalonia? If so, then you've been to Girona.
Located just about 45 minutes to the north of Barcelona (which you can learn more about here) and 30 minutes away from Costa Brava's coast, this medieval-esque city embraces the ancient Catalonian heritage.
The downtown area is great for walking, with several highlights to enjoy.
Be sure to take time to visit El Call, the old Jewish quarter, and take in the views seen on the Onyr River.
If you love the "Game of Thrones" you won't want to miss the Girona Cathedral (called the Free City of Essos in the show).
If you want to learn the full history of the area, consider a walking tour, which will let you explore all the history of the area.
2. Madrid
The third most populated metropolis in Europe, coming in after London and Berlin, Madrid feels like several cities all in one. Featuring Old World elegance, with royal palaces, manicured parks, and wide boulevards, this is a city you'll want to spend some time in.
However, don't hesitate to venture into several up-and-coming neighborhoods, such as Lavapies and Conde Duque, where you can find some of the latest design and fashion trends in all of Spain.
When night falls, the entire city becomes a raucous fiesta that doesn't die down until the sun comes up. If you are feeling festive, stop by Kapital, a world-famous nightclub made up of seven different floors and music scenes.
3. Ronda
Perched dramatically above the El Tajo gorge, Ronda is a unique village and worth some of your time.
Visiting this city lets you get an amazing view of the three bridges and witness the architectural skill needed to accomplish these structural feats.
The tallest of the three, Puente Nuevo, rises more than 390 feet over the canyon's base. The town is also the home of the oldest bull ring in all of Spain, and the Arab baths are best preserved in all of Europe.
While visiting, consider dining at one of the many restaurants in the area and enjoy an amazing view while savoring some of the regional dishes washed down with the local Crianza wine.
4. San Sebastian
With more Michelin stars per capita than any other location on earth, San Sebastian is one of the most picturesque cities on the Bay of Biscay. In addition to the amazing scenery, this city is extremely affordable if you want to experience the local fare.
If you want to not only feed your stomach but your mind, too, think about signing up to participate in the Secrets of San Sebastian food tour.
To make the most of your visit and be able to enjoy the pristine beaches, visit this city during the summer months.
5. Granada
Nestled at the base of the Sierra Nevada mountain range, Granada attracts visitors from all around the world to experience the Moorish palace, Alhambra.
What you may not realize is that Alhambra isn't an ordinary fortress. It's actually a massive complex that is built on top of La Sabica Hill by 13th-century Arab kings.
This area takes a day to explore (at least) thanks to the presence of all the buildings and the ornate gardens and courtyards. It's also worth visiting Granada's Cathedral to get a glimpse of the tombs of Queen Isabella and King Ferdinand and the amazingly ornate d?cor.
Take a trip into the old Arabic neighborhoods of Sacramonte and Albaycin, where you can run into gypsy caves or see a flamenco guitar show. It's a city you can spend quite a bit of time in (and you may even get lost!).
6. Extremadura
Located near the Portuguese border in the arid portion of southwest Spain, the city of Extremadura is one of the most exciting frontiers when it comes to tourism.
Consider spending an afternoon in the capital of the region, Merida, or tour the gargantuan, which is a preserved Roman amphitheater.
For the best experience and amazing scenery, try to visit between March 20th and April 10th. During this period, the pink cherry blossoms erupt, covering the region in color.
If you are planning a destination wedding in Extremadura, then try to schedule it between these dates. The scenery will be amazing.
Places to Visit in Spain: What's on Your List?
Regardless of your profession – dentist, doctor, writer, etc. – you will find the cities of Spain offer something for everyone.
Who knows, you may even want to relocate your business to this area or purchase a retirement home in Spain once you have visited.
When it comes to places to visit in Spain, the list never ends. The amazing architecture, beautiful scenery and festive environment will have you wanting to come back time and time again.
Consider putting the cities on this list on your next itinerary. You won't regret it!
Are you a dentist searching for information about relocating your practice? Or, trying to find new business opportunities? If so, visit our site. You will find all types of resources, information, and opportunities available to browse and use.