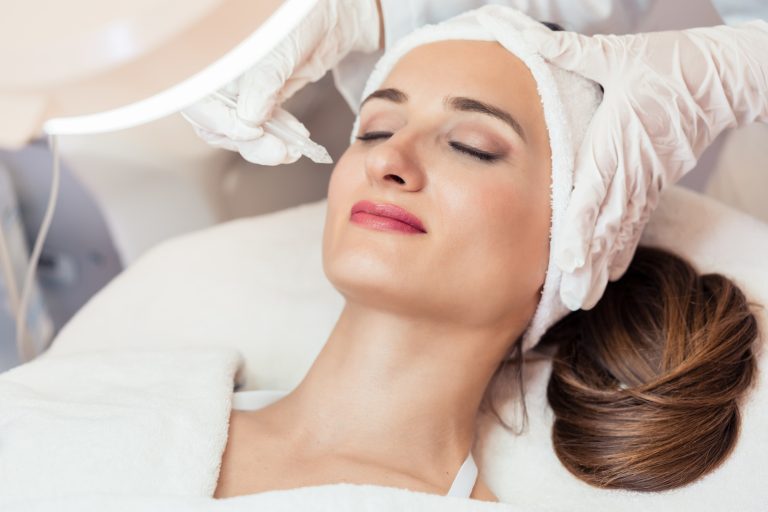 Work takes its toll on the mind as well as the body, things like anxiety and restlessness wearing your cells down. In addition, stressful professional lives may lead to poor lifestyle habits such as overeating, drinking alcohol, and smoking.
The result is oxidative stress on cells across the body (enacted by free radicals). This, in turn, has visible side effects: fine lines, wrinkles, dark spots, skin discolorations, etc.
Today, there are many options to gain back a youthful look and feel that don't require any needles or scalpels. If you're looking for non-invasive procedures to restore youth and confidence, we've got you covered!
Here are some of your options today:
The Top Non-invasive Procedures for Professionals
A lot of people are scared of invasive procedures and for good reason. There's never a simple invasive surgery. Cutting into the skin is a serious matter that has a lot of potential to go wrong.
In addition, patient's have many variables to consider before receiving surgery, such as:
Eligibility – Not everyone is a candidate for every wellness procedure. Some physicians ask that patients be a certain age or a certain weight to go under the knife (or needle).
Anesthesia – Before undergoing surgery, physicians ask patients to fill out a questionnaire on their health. Some people may have conditions or allergies that prevent them from tolerating anesthesia.
Recovery Time – Surgeries requiring scalpels are going to require stitches, which means recovery time or downtime. Often, the surgical site will bruise and swell, causing discomfort and feelings of low self-esteem.
Associated Pain or Discomfort – Post-surgery, some doctors may prescribe pain pills or suggest some form of pain management. The wound may ache or the pain from the surgical area may impair normal functions.
Want to skip these hassles?
Looking like a healthy professional can be as simple as investing in the right grooming products or a healthier diet. However, busy professionals might not have the time for daily upkeep.
If you're interested a quick and worry-free reinvigoration, then the following list can serve as your personal guide. Keep reading to learn about six non-invasive procedures for looking and feeling young again:
1. CoolSculpting
CoolScultping is a revolutionary tool for blasting away fat and helping smooth out cellulite in the process. Procedures are performed around the world (over 5 million procedures so far!) and CoolSculpting has been FDA-cleared for years.
This procedure utilizes the science of Cryolipolysis, which cools down fat cells until they crystallize and die off. After, the body flushes the fat cells away naturally with normal waste. CoolSculpting isn't painful and doesn't break or bruise the skin.
2. Cool Mini
While typical CoolSculpting procedures are meant for large fatty-deposit areas (such as your stomach, hips, and thighs), Cool Mini is specifically meant for the chin.
Cryolipolysis can be used to freeze away double chins and fatty necks in a few quick sessions (usually half an hour to an hour) spread over a few weeks.
A unique applicator is placed under the chin that fits comfortably around the patient's neck. With no supervision required, the machine crystalizes fat cells with patients only experiencing slight numbing on the skin.
Just as with other CoolSculpting applicators, the Cool Mini has an automatic shut off feature in case temperature levels become too extreme.
3. ENDYbleph
As stress causes the body to age faster, youthful cells break down across the body. One of the most noticeable signs of this breaking down is discoloration around the eyes and sagging eyelids.
Short of a surgical eyelift, ENDYbleph is the next-best choice (especially for anyone wanting to avoid invasive procedures).
This revolutionary therapy uses the power of radiofrequency to repair signs of aging. This can mean dark circles, bags, drooping eyelids, etc.
It causes the contraction of collagen and elastin fibers and helps produce new skin cells for a youthful look.
Click here to learn more about ENDYbleph's benefits.
4. Cryotherapy
Though it deals with extremely cold temperatures as CoolSculpting does, cryotherapy is a full-body and more intense procedure. Patients are submerged in hyper-cooled tanks (with head and shoulders exposed) to help encourage fat loss.
Cryotherapy is safe, and a session usually lasts somewhere between 3-5 minutes. Besides relieving aches and muscle pains, cryotherapy encourages a stronger metabolism as the body works to keep warm.
The procedure can also help reduce inflammation around the body, making your cells feel stronger and healthier. Fewer chronic ailments mean your body can use up more energy for regular maintenance to stay young and active.
5. Ultherapy
Ultherapy, like CoolSculpting, has been FDA-cleared for safe and effective mainstream use. Ultherapy treats skin by utilizing ultrasound to penetrate harmlessly beneath the skin and tighten cells.
Ultherapy can smooth lines and wrinkles from the eyebrows, along the chin and neck, and can even smooth out the chest.
Physicians and machine technicians use the tool to peer beneath the skin and locate problem areas in the layers. This way, they can focus the sound waves to tighten skin and encourage new cell growth where it's needed most.
6. Thermage
A full-body non-invasive solution to anti-aging, Thermage is offered across the country to help patients regain youth and confidence. This effective body-contouring procedure uses radiofrequency to enact skin cells into action.
For your eyes, Thermage is clinically proven to reduce fine lines and furrowed brows. On your face, the procedure can restructure collagen so that wrinkles and discolored spots smooth out quickly.
Thermage can even be used elsewhere on the body to temporarily improve the appearance of cellulite. You couldn't ask for a more customizable, full-body contouring session without the need for scalpels and needles.
More Insider Advice from the Industry Professionals
If you're a busy professional, looking your best can be as crucial as performing your best. Try any of these non-invasive procedures to gain back confidence and feel like a younger you again in the workplace.
For other insightful health awareness articles, visit the ADA Marketplace blog now. Discover how you can look and feel great as a working professional!