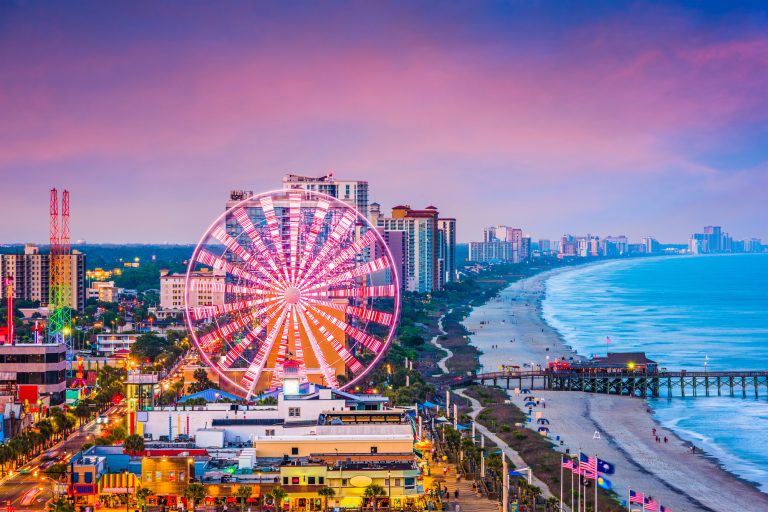 With 17 million annual visitors, Myrtle Beach remains America's top vacation playground. And it's easy to see why…
Myrtle Beach features more than 60 miles of Grand Strand beachfront. Its 1.2-mile wooden boardwalk and promenade–opened in 2010–was voted one of the top 10 in America by National Geographic.
When it comes to things to do in Myrtle Beach, you've got endless entertainment options, from sun-kissed days spent enjoying the sand and surf to dolphin tours or catching an extravagant dinner and show package.
Let's dive into off-the-beaten-path ways to enjoy this Southern gem.
1. Surf and Sand
With 60 miles of white sandy beaches and warm turquoise waters, no trip to Myrtle Beach would be complete without some serious beach time. But finding the best beaches can feel a bit overwhelming, especially if you're new to the area.
So, take a tip from the locals and head over the quiet, sophisticated Garden City area. Known for its beachfront real estate, southern charm, and pastel colors, the area features wide, ivory-sanded beaches that are well-maintained and picturesque.
Or, if you're looking for an even more remote feel, then head straight to Litchfield Beach. It boasts amazing biking trails, quiet beaches, and a main thoroughfare lined with quaint, one-of-a-kind boutiques.
For some serious R&R and a break from your hectic work life, these beach havens do the trick. They're also great places to reconnect with your kids and enjoy life at a more leisurely, Southern pace.
2. Dolphin Tours
For an exhilarating adventure the whole family will love, opt for an eco-friendly dolphin tour along the South Carolina Coast. You'll enjoy the adventure of taking a boat into the Atlantic to catch glimpses of dolphins frolicking and playing.
If you're looking for something a little more intimate, then opt for a jet ski or kayak tour instead. You'll still get up close and personal with these sleek darlings of the ocean because their playfulness is matched in equal measure by their curiosity.
3. Eats & Entertainment
No visit to Myrtle Beach would be complete without enjoying some delectable Southern eats. And while you're diving into some down-home country cooking, why not enjoy a Southern-style spectacle to boot?
You can do both at Pirates Voyage Dinner & Show. While enjoying a lavish four-course meal, you'll be regaled by the pageantry, acrobatics, music, and special effects of this swashbuckling show.
Pirates Voyage Dinner & Show marks the latest from Dolly Parton, famed country music legend and creator of other top-billed shows such as Dixie Stampede. From full-sized pirate ships to a 15-foot deep pool, get ready for an epic pirate adventure.
4. A Walk in the Past
The Myrtle Beach area has enjoyed a long, rich, varied history. Nowhere does this come more alive than at Hopsewee Plantation. Built in the 1740s, this home was the birthplace of Thomas Lynch, Jr., a signer of the Declaration of Independence.
The property once served as a rice plantation and is now a National Historic Landmark. You'll learn about the history of the plantation's owners as well as the stories of African slaves who worked the land.
There are even workshops where you can learn to craft sweetgrass baskets based on the West African tradition brought to the colonies by slaves and passed down through the generations.
These baskets played a crucial role in southern rice plantations and are today prized for their cultural significance and artistry.
5. A Day of Thunder
The Myrtle Beach Speedway is a must-see for visitors with a love for NASCAR. And the NASCAR Racing Experience lets you get behind the wheel for your own racetrack adventure.
If you'd prefer, you can also choose to ride along with a professional driving instructor to get the feel of the racetrack. Either way, it's a pulse-pounding adventure that'll let you experience what it's like to be a race car driver firsthand.
You'll also have a blast checking out the history of the track, which houses a variety of races each year including the annual Myrtle Beach 400.
6. If You Build It…
Baseball fans will find plenty of ways to indulge their love of the sport in Myrtle Beach.
If you're in the area between April and September, get tickets for the Myrtle Beach Pelicans. The Chicago Cubs' class A-Affiliate, they've sent 150 players to the majors. Who knows which stars of tomorrow you'll catch today?
And don't forget to check out the Cal Ripken Experience. Featuring nine baseball fields, each one is designed to replicate a famous ballpark. Get ready to stroll the grounds of Navin Field, Huntington Park, Griffith Field, and more, all in one spot.
7. Shag Away the Night
In the 1940s, the "Shag" was born on the beaches of South Carolina. This popular dance pairs beautifully with "beach music" featuring quick and smooth steps with a laidback vibe.
The 1989 movie Shag was actually filmed on location in Myrtle Beach. So, don't miss out on a cultural treat while getting your heart racing.
One of the best places to check it out? Look no further than Fat Harold's Beach Club. A host of the National Shag Dance Competition each Monday night, you'll find excellent dancers in a relaxed beachfront setting.
Things to Do in Myrtle Beach
As you can see, you're in for endless adventures in Myrtle Beach, even if you decide to avoid prime tourist destinations in favor of quieter spots. Check out dolphins playing along the coast or visit an authentic 18th-century rice plantation.
Want to learn more about how these attractions stack up to Myrtle Beach's boardwalk and promenade? Compare here to get a flavor for what this Carolina paradise has to offer guests of all ages and interests.
Get Ready for Your Southern Adventure
From the surf and sand of off-the-beaten-path Litchfield Beach to the NASCAR Experience, there's no end of things to do in Myrtle Beach.
Interested in other vacation spots you and your family will love? Maybe you'd like to travel a little farther afield? Then, check out our bucket list destinations of the eight most beautiful islands in the world.