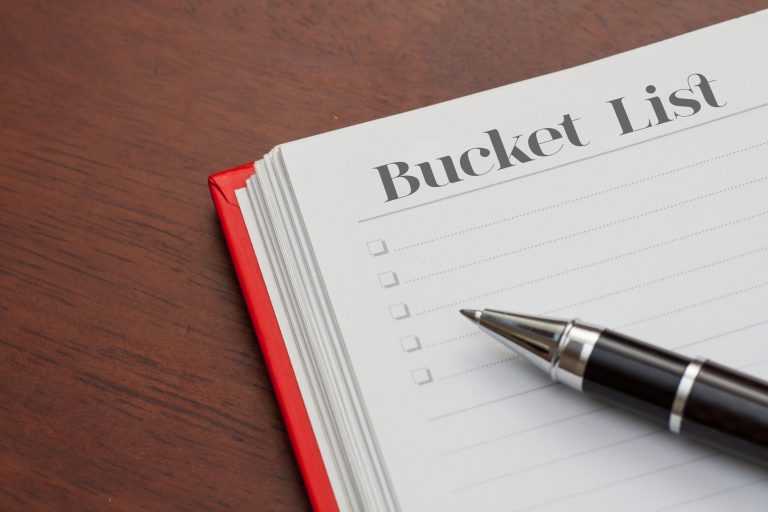 No matter how old you are or what you've already experienced in life, there's no time like the present to start creating your own ultimate bucket list.
Whether you've always dreamed about learning how to fly a plane, cook a decent meal from scratch, or just want to master the rhumba before you die, there's no wrong answer when it comes to what you put on your future goals list.
Looking for a little inspiration?
If so, then you should keep on reading this post.
We're sharing with you some of our favorite bucket list ideas.
Who knows?
They might even match some of your own!
1. Take a Once-in-a-Lifetime Vacation
Especially as a dental professional, you know that it can often feel next to impossible to actually find the time to take a vacation.
However, unless you've given yourself time to unwind — or rewarded yourself for your hard work — you're going to burn out. You might even run the risk of giving your patients a lower quality of care than they deserve.
So, when you find the time to take a vacation?
Make sure that you really go all out, and add a few unexpected destinations to your ultimate bucket list.
Instead of going to a "safe" and popular tourist trap, go off the beaten path a little bit more.
For example, instead of heading to London, why not try a place like Kingscliff, off the Northern South Wales coast.
You can lounge on the beach, try paddle boarding for the first time, or even visit the animals protected on the nearby wildlife sanctuary.
For more advice on what to do in Kingscliff, be sure to check out the Ingenia Holidays website.
2. Know You're OK on Your Own
Another essential entry to add to your future goals list?
It's not about travel, getting to the top of your field, or even finally finishing a Russian novel.
Instead, it's about cultivating a relationship with yourself — even if you've already found a romantic partner.
It might be a cliche, but it's a popular saying because of how true it is: Unless you love yourself, you can't love someone else.
Aim to get to a place where you depend on no one else but yourself for your own happiness. In other words, your friends, your job, and material things provide the icing — but you bake the cake.
In today's world especially, self-love is a radical act.
So focus on finding the things that make you happy — and that you do just for yourself.
Get to know your flaws, and get comfortable with them. Finally, recognize that you have gifts and aspects of your personality that are worth sharing with the world.
3. Sleep Underneath the Stars
You spend more than half of your work underneath the bright lights of your dental practice's office.
One of our favorite bucket list activities is promising yourself that you'll spend at least one night of your life sleeping underneath the stars.
We don't mean that you should bring a tent, either. We mean, bring only a sleeping bag, something to start a fire with, and maybe a few things to grill over an open flame.
The rest, you'll have to work out when you get there.
Not only is this an awesome way to get more in touch with nature. It's also the perfect way to help you to have more confidence in your own resourcefulness.
4. Take a Continuing Education Class
Just because you've graduated from dental school doesn't mean that your education has to end.
Maybe you've always wanted to learn more about philosophy. Perhaps you've wondered whether or not you have what it takes to learn to needlepoint or cross-stitch.
Maybe you'd like to take a dance class, a cooking class, or a course on basic psychology.
Taking a continuing education class in the subject of your choice is an essential thing to add to your bucket list experiences.
Not only will it help to keep your mind active and allow you to meet new people. It will also likely somehow serve you in your career as a dental professional.
5. Run a 5K
It's also important to add some physical challenges to your bucket list activities.
While not everyone has what it takes to successfully run a marathon, pretty much everyone can make it through a 5K — whether you run or walk.
It's easy to let fitness and health fall by the wayside — especially as your practice grows. But taking care of yourself, and pushing your body to new limits, will have long and short-term benefits.
If you're ready to get started on your 5K training, this handy guide will show you that it's likely much easier than you've anticipated.
6. Perform in Front of a Crowd
Whether or not you suffer from stage fright or if you're already the star of your local community theatre scene, performing something unexpected in front of a crowd is essential.
This is doubly true if you plan to speak at an upcoming dental conference, or if you're interested in hosting seminars/speaking events where you teach people about oral hygiene.
But even if what you're performing has nothing at all to do with dentistry, you can still feel confident in front of a crowd.
Plus, it's an awesome way to share your more unexpected talents with the world around you! And no one can resist a standing ovation.
7. Become a Godparent or "Auntie"
If you have children of your own, then we know it can sometimes be tough to have to constantly monitor your child's behavior. Sometimes, you just want the chance to be the fun "Auntie" or "Uncle" who lets kids get away with a few things.
And if you don't have kids?
Whether or not you want them for yourself, it can be incredibly rewarding to serve as a godparent to someone else's child.
You'll give that child another role model outside of their parents. Plus, they can come to you later in life with questions they might feel uncomfortable asking their parents.
Plus, you can also tell the kids funny stories about their parents when they grow up in a few years.
8. Try a New Language
Maybe you never took a language course in high school or college. Perhaps you lived abroad for a semester when you were younger, but now realize you've lost a lot of the language you once had mastered.
Whatever the case may be, one of our best ultimate bucket list items is the idea of learning a new language.
We're not saying that you have to become fluent. Instead, we're just saying that you'll get a whole new perspective — and an introduction to a completely different culture — if you try.
Maybe you'd like to learn a language that's connected to your heritage in some way, like Gaelic or Yiddish.
Perhaps you want to master a few key phrases before you head out to a destination on that travel bucket list ideas we mentioned earlier.
Whatever language you choose, trust us when we tell you that those who speak it will appreciate that you're even trying.
You'll also gain a serious appreciation of just how difficult it must be for people to learn English!
Try an app like DuoLingo to get started.
9. Build Something with Your Hands
OK, so you might not exactly be a master carpenter — don't sweat it.
However, there are a few simple DIY projects that even you can definitely handle.
Whether it's repurposing a piece of old furniture you found at a flea market or taking a class that teaches you how to cane a chair, you'll be proud to own something that you made on your own.
Who knows?
You might even get good enough to repair your own furniture, or make the perfect gifts for your friends, staff, and patients when the holidays roll around.
What's on Your Ultimate Bucket List?
We hope that these unique bucket list ideas have gotten you thinking about the things you'd like to accomplish in your life.
Remember, an ultimate bucket list is a combination of both larger and smaller goals. Some may be incredibly specific, while others might be a little more abstract in nature.
Coming up with your bucket list isn't just inspiring. It's also an awesome conversation starter!
So, at your next conference, or when you want to engage with your patients, ask them what's on theirs.
Looking for more advice about how to improve your dental practice — and your life as a whole?
Keep checking back with us for even more ideas.