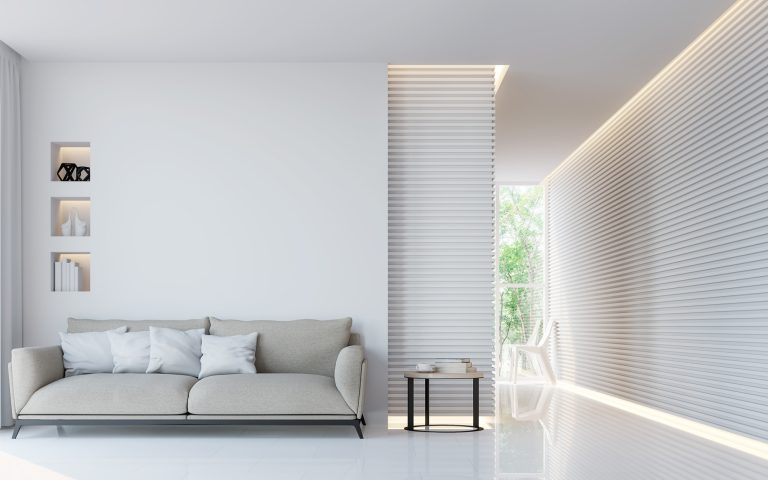 Whether you use your living room for everyday use, only when guests are visiting or you're currently using it as your own personal man cave, or only when guests are visiting, there comes a time when it needs an update. Not everyone has the budget or the urge to scrap everything and start over.
Sometimes, a simple living room change is all you need to create a whole new look and feel. But it's not always easy to determine what easy living room changes to adopt.
We want to give you some living room inspiration. With that in mind, keep reading to learn eight living room design ideas to help you upgrade your space.
1. Reorganize and Clear Out the Clutter
Looking for easy living room changes with a zero budget? Try clearing out the clutter in your living room.
Get rid of everything you no longer like, use or need. That includes books you'll never read, knickknacks, and even furniture.
If there's anything of value, try selling it online for extra cash. Then it's time to reorganize.
Place similar things together so you can find everything easily. When you're finished you'll notice a new look and feel to your living room.
Display the Best of Who You Are
Your furniture and belongings all tell the story of who you are. Make sure you're displaying items that display how wonderful and amazing you are.
They don't have to be top quality or even expensive, but they need to make you feel something positive when you look at or think about your stuff.
2. Change Your Look By Changing Your Paint or Wallpaper
If you're looking for living room inspiration that can easily transform your space, try changing up your paint color. Softer, lighter colors are a great idea to use if you're looking to make your living room look larger.
You can also opt for painting one accent wall in a bold color to create visual interest. If you have bookshelves, you can paint the walls within the bookshelves to create an area that pops.
Switching from paint to wallpaper can also create a whole new look for your space. Try using temporary wallpaper if you're not quite sure you're ready to commit to the look.
3. Rearrange Your Furniture to Create a New Layout
Sometimes, it's not the living room decor that needs a change, but rather, the way it's arranged that needs changing. You don't always need your sofa to be aimed at the television.
Take some time to consider how you're really using your space. Perhaps you spend more time reading than watching television. Arrange your furniture so that it faces your bookshelves.
Perhaps you frequently have guests in your home. Arrange your furniture so that your guests can easily see and converse with one another.
4. Create and Display What You Own in Your Simple Living Room
You probably have some beautiful items sitting in a box somewhere. You might as well use and display what you have to create a new look for your living room.
You can use anything. Metals, trays, baskets, and vases can all be beautifully displayed in your living room. You can hang them on walls, place candles on them, frame them, or even pile books on top of them.
You can create stunning wall art using your mother's old china that you never use. Take a look at what you already have and get creative. There's no point in putting things away for "special occasions", especially if you tend to forget you even own them.
5. Invest in One Statement Piece of Furniture
Even changing one piece of furniture, such as your sofa can create a whole new living room design. Invest in one piece of furniture to update the look of your living room.
Make sure your statement piece fits well into the room. Don't buy something too small or too large.
Don't be afraid to mix and match colors, patterns, and textures to create a whole new look for your living room. It doesn't have to be expensive, but it should be something you absolutely love.
Just make sure whatever piece of furniture you invest in, it's good quality. This page can help you learn how to pick out the best sofa.
6. Bring in Plants to Liven Up the Place
If you're looking for living room inspiration that also has healing and feng shui benefits, try bringing plants into your living room.
Adding greenery helps make your room feel more put together. You don't need to go crazy, even a small, low-maintenance cactus can give your space the finishing touch it needs.
Before you buy plants, do some research to see which plants will thrive best in your space. First, consider how often you want to tend to your plants. Some plants need a lot of tending, others barely require anything at all except water once in a while.
Look at what type of light you have in the room. Some plants need lots of direct sunlight while others prefer the shade.
You can also add extra living room decor by choosing decorative pots to put your plants in.
7. Layer Your Throw Rugs
Whether you have wood floors or carpeting, you can always create a new look by adding throw rugs. If your rug is too small for your space, layer a larger rug underneath to cover more area.
It's a common misconception that a smaller rug will make the room look larger. Actually, the opposite is true. A smaller rug really just gives the room a fragmented look.
Larger rugs where all the furniture is sitting on it will make your living room space feel more cohesive and intimate.
Also, if you already have rugs, you can update them by layering them with rugs that have bright and/or colorful patterns. Rugs are also helpful for reducing noise and
8. Add Bright Colors
Whether it's an accent pillow, a wall hanging or paint, bright colors make people take notice of your space. This works especially well if your living room has mostly neutral tones in it.
You don't need to go all out. Just a little splash of color here and there can help liven up your space.
Get More Tips Here
As a dentist, you have a thriving practice to focus on. You don't have a lot of time to peruse the web to learn how to make life better.
That's where we come in. Our blog has tips on everything from simple living room updates to how to market your practice better.
Make the most out of your time by using our blog as your go-to source for everything.