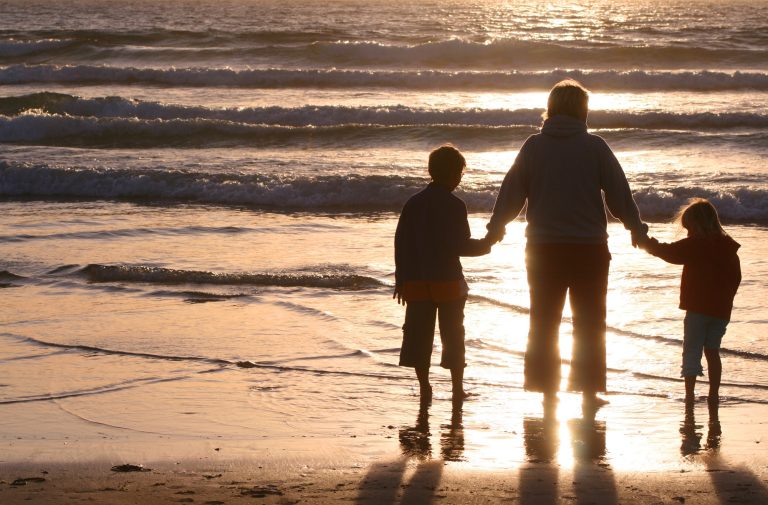 Do you take less vacation time then you should? Americans used to take more time off, and now they are starting to take fewer days.
From 1976 to 2000, Americans took an average of more than 20 days off a year, and after 2000, Americans are now taking an average of 16 days off.
Take some well-deserved time off with the family this year and plan an international trip on one of these unique vacations you'll remember forever!
1. The Jungles of Costa Rica
This beautiful country has it all — especially exotic wildlife. Take your family exploring to find brilliant birds, a cute sloth, and monkeys. You can take your pick of glorious beaches or lush jungles for your family playground.
Other ideas for activities include hiking, kayaking, zip lining, swimming near waterfalls, or take a ride down a river. Be on the lookout for turtles laying eggs on the beach.
Be adventurous and take a suspended bridge in the tree canopies. You can also play and swim with the friendly dolphins. There's something for every kid of all ages in Costa Rica.
2. Breathtaking Wales
If your family enjoys scenic hikes, you may want to check out Wales. You can climb Mount Snowdon if you have the endurance.
You can also take in the stunning views of Lyn Padarn Lake when you take the Llanberis Path. You may even meet some friendly sheep on your hike.
Check out several theme parks, animal sanctuaries, caverns, and more. There are several family-friendly museums in Wales, so you can do a little of everything.
3. Royalty in London, England
London is a great destination with kids. You are in a foreign land, but no language barriers. Older kids may enjoy the Harry Potter scenes, while all kids may be fascinated with seeing Buckingham Palace, the home of a real queen.
Other things to see in London include the Tower of London, Big Ben, Westminster Abbey, and St. Paul's Cathedral. You can explore the English gardens like Kensington Gardens, Chiswick House and Gardens, and Kyoto Garden. There are several kid-friendly restaurants so you can get fish and chips along or some afternoon tea.
4. Majestic Finland
If you enjoy winter and snow, you may want to check out Finland, which is only a few miles from the Arctic Circle. Your family can take a husky-pulled sled ride or climb aboard snowmobiles to enjoy the winter majesty.
If your kids like Santa, they will love visiting his hometown. Check out Santa Claus Main Post Office in Santa Claus Village. Kids can also explore the Elf workshop, visit Santa's reindeer, and try some gingerbread making.
Other things to see include several museums, amusement parks, and Olavinlinna Castle. Check out Viking Market and find out what life was like back in the day. Finland has several family-friendly activities throughout the year.
5. Camping in France
Do you enjoy camping? If so, you should check out Brittany, the northwestern tip of France. There are huge campsites and waterparks.
There are several scenic hikes including GR34, where you can take in the shapes of all the rocks and use your imagination on what they resemble. You can also check out the Pink Granite coast. Follow the Ploumanac'h lighthouse down the red-stained shores.
Read more here about camping in France. You can also rent bikes to ride the coast or sail in the sea. Go shopping in town and enjoy some local cuisine.
6. Beautiful Cyprus
When you think of the Mediterranean, you may not think of Cyprus. This island off of Turkey has several clean beaches and historic ruins. The list of activities in Cyprus is endless.
Try some local cheese at taverns and try the world's oldest wine in Old Town Paphos. Take in some history while checking out Paphos with ruins of Roman Villas or the nearby Tomb of Kings.
7. The Wonders of Iceland
You may not immediately think of Iceland for family vacations, but you can't beat the sight of the dancing northern lights. Nature's scenery is truly amazing in Iceland with the legendary Blue Lagoon and its erupting geysers. You can also see the steam rise around the black lava rocks.
You can also see nature's splendor with volcanoes, whale watching, glaciers, and explore lava caves. Check out all the fun things to do in this safe country.
8. Grand Cayman and the Beautiful Caribbean Sea
If you enjoy snorkeling or diving, nothing beats the Grand Cayman Islands. There are several family-friendly activities on the island.
You can't beat the pristine beaches that are as clear as can be. Your kids can also check out the Sting Ray City to see hundreds of peaceful stingrays around them. These animals are gentle, and kids can enjoy feeding them by hand.
9. Neighboring Toronto, Canada
If you enjoy history, the arts, and cultural experiences, check out Toronto. Check out the CN Tower where you can take a look at 1,135 feet – and the glass floor will take your breath away!
There are the Natural History Museum and the World Culture galleries. Toronto is one of the most diverse cities in the world with several cultural events to explore.
10. Castles in Ireland
If your kids love princesses and knights, they will be in awe of all the real castles in Ireland. Dromoland and Bunratty Castles have educational events, interactive displays, costumed actors, and medieval dining experiences.
You have to see the Blarney Stone at Blarney Castle -it's a legendary Ireland landmark. You can go to local pubs with your kids- yes, it's not uncommon in Ireland, so enjoy some local food and entertainment.
The Value of Unique Vacations
Family is important, and you work hard. Take time to enjoy the beautiful scenery throughout the world. These international destinations are family-friendly and safe so no worries.
Take your pick and enjoy yourself! You will remember this trip forever, and your family will too. Vacations give you time to recharge and reconnect with the ones that matter most.
Check Out Other Advice Just for Dentists
Now that you have some ideas for unique vacations, check out our site for other advice just for you. You can find articles meant just for your dental practice such as ways to improve your practice inside and out.
Looking to join another practice? We got you covered with official American Dental Association job board for dental professionals! Also, check out our blog for more information on how to live, work and play better.