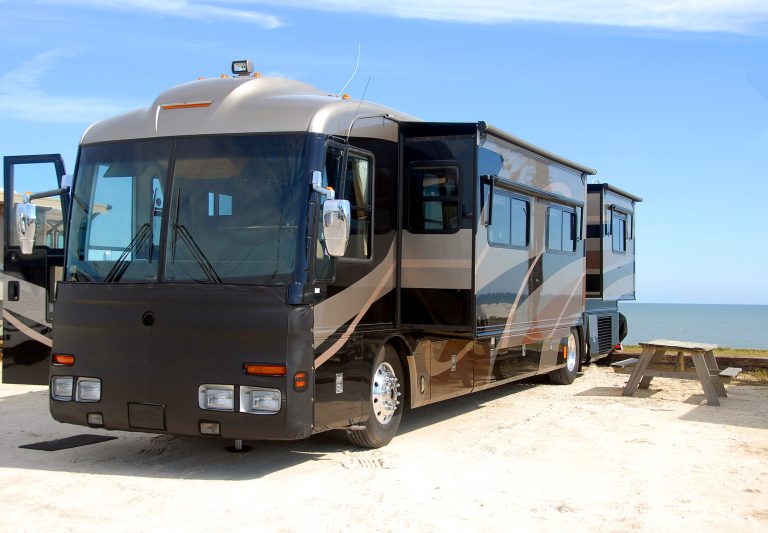 Have you worked hard all year and are desperate for a vacation, but can't decide where to go? Are you dying to get away from the crowds and relax in some wide open spaces?
Then now might be the time to think about an RV vacation.
If you've never been on an RV vacation before, you might not know how much planning is involved, or what you need to pack.
Well, fear not! This handy guide is full of RV vacation ideas and advice about what you'll need to have the trip of a lifetime.
Planning Your RV Vacation
First things first: You need to decide where you're going.
There are plenty of guides and online resources to help you plan your road trip. You can pick a destination and head straight there, or be a bit more spontaneous and see where the wind takes you.
Either way, it's helpful to check where the nearest campsites and gas stations are along the route. If you need to phone ahead to reserve a pitch at campsites then you can do that before you set off.
GPS and Google Maps will be your friend on any RV vacation, but always make sure they're up to date before you set off.
If you're heading to one of the National Parks on your trip, you can download National Parks apps to help you get the most out of your adventure.
It's always worth taking paper maps with you too. Mobile devices are great, but they can fail and you might not always have cellular reception. Besides, navigating the old fashioned way can be fun and a great new skill to teach the kids!
Pick the Right Vehicle for You
If you've never been on an RV vacation, you might not have been inside a recreational vehicle before, so it is definitely worth considering looking at a few different types of RV vacation rentals before you rent one.
Think about how much space you need, and as tempting as it is, there's no need to go for the biggest vehicle on offer. If you've never driven an RV, you might not want to be reversing a 50ft vehicle into a campsite in the middle of the night!
Once you've rented your vehicle, spend some time getting to know it. Familiarize yourself with all the electrics, stove, water pump, and lights. Check that all the equipment is working before you leave the rental lot and don't be afraid to ask any questions about how everything works.
Packing for an RV Vacation
Making sure you've packed everything you need for your RV vacation can make all the difference when it comes to having the trip of a lifetime. From the basics and bare essentials to the little luxuries that will make your vacation even more relaxing, having a thorough checklist is a must.
When making your checklist, organize it into sections for the different items you're going to need. Here are some useful headings to get you started.
RV Vacation Essentials
There are some supplies that everyone going on an RV vacation should have on their checklist. These are the items that will ensure the smooth running of your vehicle and keep you and your family safe, such as:
Flashlight
Battery jump cables
Extra engine oil
Toolkit
Water canister
Heated water hose
Batteries
Maps
Sometimes the water hose in your RV can freeze, which is not good news when you need to take a shower! Packing a heated water hose saves precious time and energy having to defrost a frozen hose.
Read more about RV packing essentials so you know exactly what you'll need.
Clothes
When packing your clothes, check the weather for your destination. Also, bear in mind that the weather can change according to the terrain. If you're up in the mountains one day and down in a valley the next, the temperature can vary by quite a lot.
Some useful pieces of clothing to take on any RV vacation are:
Waterproof coat
Warm jumper
Comfortable shoes or hiking boots
Sunglasses
Hat
If you're RVing in the summer, don't forget the swimsuits! Many campsites include amenities like pools and even lakes where you can take a dip.
Toiletries and First Aid
Toiletry requirements are individual to each person, but making sure you have the essentials for what you need will make sure you stay comfortable throughout your vacation. Never set off without the following items:
Soap
Shampoo
Toothpaste and toothbrush
Body lotion
Sunscreen
Razor
Shaving gel
Comb
If your rental doesn't include a first aid kit, consider buying one before you hit the road, or build one yourself.
Cooking
Cooking outdoors, or in your vehicle, can be one of the most enjoyable aspects of any RV vacation, but only if you have the right equipment. The following items will allow you to really get to grips with RV cooking:
Aluminum oil
Water bottles
Pans and skillets
Matches
Kindling
Plastic wrap
Cutting board
Utensils and knives
Dish soap
Dishcloths
Can opener
Plates, cups, and bowls
Napkins
Heavy duty garbage bags are an important essential for an RV vacation. If you happen to leave one out overnight by accident, it may give you added protection against wild critters scavanging for food.
Entertainment
When you take an RV vacation, you're going to have plenty of time to relax and chill out, either in your vehicle or in the great outdoors. Make sure you pack plenty of fun activities for you and the whole family to make the most of your down time. Think about taking the following:
Books and magazine
Football, frisbee, or softball
Board games
Playing cards
Radio or MP3 player
Binoculars
Many RVs include DVD or Blu-ray players, so don't forget the movies!
Luxuries
All this talk of planning, safety and being organized might not sound that indulgent. But there's no reason why you can't enjoy some home comforts and even a bit of luxury on your RV vacation.
Taking a few treats such as the following, can make the trip even more special:
Wine, beer, or even cocktail ingredients
Chocolate and candy
Sun loungers
Buy yourself some new accessories such as new shades or summer wear
Of course, this all depends on your tastes so if you have something you can't live without, make sure you pack that, too!
Finally – Don't Forget To Enjoy Your RV Vacation!
We know how hard dentists work, and how hard it is to get a decent rest sometimes. That is why you need to get the most out of your well-deserved break.
Your RV vacation will be what you make it. Make sure you set aside some time to explore the local area. Check out whether there are any historic or interesting sites on a route, and don't be afraid to be spontaneous.
Following this guide can help make your RV vacation one to remember, and a trip where you really get to kick-back and relax.
For more vacation and lifestyle tips for busy dentists, check out our other blog posts.