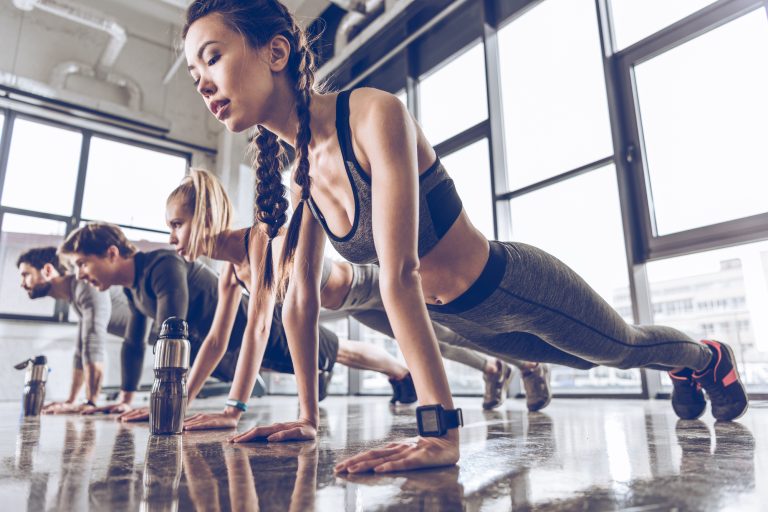 When you're putting long hours into the office and the rest of your energy into your family it can be difficult to figure out how to be more active.
The other areas of your life don't have to suffer in order for you to make your life a healthier more active one.
Check out these tips on how to be more active
How to Be More Active Commuting
One easy way to add activity to a busy life is to combine it with something you have to do already.
There are many ways to add physical activity to your commute each day. Whether you like to take a bike ride, jog, rollerblade, or walk you can make it a regular mode of transportation you integrate into your weekly commute.
Even if you live too far to make the whole trip and still have the energy to get through the day it's possible to get creative and mix it up. You don't have to make exercise another chore on your to-do list if you have some fun with being active.
Hitch a ride part way to the office and rollerblade from there. Take public transit that has bike racks and peddle your bike the last part of the journey.
If you only want to exercise one way you can always carpool one direction or take your car in the morning and jog home. The next morning you could walk to the office and collect your thoughts for the day or listen to a motivational podcast en route.
Lunch Break Workouts
In the summer months, it's easy to find a park or pathway to get some outside exercise such as rollerblading, jogging or yoga in the park.
If you're facing winter weather or just prefer to exercise at a gym or taking a class perhaps a membership at the local health club would be more motivating.
If you have a large staff or spend most of your time at the office you might even consider putting in a workout room with equipment for your staff to use.
This would encourage your entire dental office staff to be more active and allow them to get a full workout in. There are workout routines that are designed to be lunch break workouts giving you anywhere from ten to sixty minutes worth of exercise.
If you're looking for ways how to be more active with your family rather than during the day you may want to think about recreational activities you can do together or to design an area that promotes family fun.
Bring Your Favorite Activities to You
Every family is different and likes to spend their time doing different activities so why not tailor your living space to the activities your family loves to do.
Rather than taking a family vacation you may want to invest the money into some home improvements that cater to your family's fun side. Instead of a week or two of quality time, you can enjoy your investment for years to come and stay fit in the process.
Home improvements could be elaborate like building a pool, rock climbing wall or basketball court or as simple as clearing a space for some tia chi, Zumba or aerobics as a family.
Many online sites and stores have home gym equipment that after the initial investment can provide an economical and convenient way to stay fit in the comfort of your own home.
You may find you're too busy to fit a trip to the gym into each day but if you set-up a home gym with equipment you can workout anytime night or day.
If you prefer a more social experience or to have some expert guidance during your workout there are many ways how to stay active in your community.
There are many fitness centers that have family deals or the YMCA gives several options for recreational activities.
Schedule It Like An Appointment with Yourself
Even when the equipment or resources are right in front of you it can still seem impossible to find the time to exercise. The most successful individuals often say you have to make it a priority and schedule time for yourself.
Treat the appointment to get active with the same professional commitment you would if it was an appointment with a patient, business associate or family member.
Make it a regular block of time every day or week that you know ahead of time cannot be rescheduled. It should be a time you look forward to and one that works with the rest of your commitments so you won't be tempted to cancel or overbook the time you give to yourself.
Make It a Family Affair
You may be able to make excuses to yourself and easily cancel the time you set aside for yourself but it's much harder to make them to your family.
There's nothing more precious than family time and being able to find that work-life balance. Combining family time with your exercise time can be a great way to multi-task and still keep priorities straight.
There are many fun ways how to get more active with your loved ones that can help you all be healthy together and enjoy some quality time while creating memories.
Learn New Skills
The family could come up with a monthly activity to try together. Everyone gets a chance to pick something fun to do such as hiking, fishing, dancing or bike riding. Take a weekend and go camping to learn survival skills, try various activities like kayaking and leave technology behind for a few days.
You could even hold workshops and exercise classes offering information on how exercise impacts dental health
. Why not market your dental practice while promoting dental, physical and mental health to your clients, staff, and community.
Family horseback riding lessons, boxing or dance lessons could be a great way to connect with your kids and have fun together.
Group Activities and Sports
Join a community league of your favorite sport such as soccer, basketball or baseball for families.
There are also fitness programs designed for dentists and their staff that you could become involved in. Joining a program can help motivate you and help you be accountable to others rather than trying to do it on your own. If there isn't one in your area, consider starting one through Facebook or local bulletin boards.
Start a community fun league of flag football or some other activity you love together. You don't have to think inside the box on this one.
If you and your children are interested in something then there's sure to be others in your city who enjoy it too. You can do it for bonding time or to become more social and make more friends young and old.
Some great ideas on how to be more active as a family might be:
Geocaching
There are several geocaching type apps or games you can download to your phone. It's like a modern-day treasure hunt where you follow co-ordinates or hints to find a virtual or real-life cache.
The geocaching app leads you to small containers (often the size of a film canister) with a sheet of paper, writing utensil and sometimes a reward. You sign your name (or geocaching username) and check in on the app.
You can then go off in search of the next hidden capsule. Many families have fun doing this activity and even make friends and form teams along the way.
Scavenger Hunt
Little children and teens can often get bored with the family hike or walk very quickly.
Why not turn a family hike into a scavenger hunt with the winning team choosing the snack afterward?
If your answer to everything is "There's an app for that" then you're in luck, there are actually several.
Some such as Munzee send you in search of code cards or to take a picture of preset monuments.
Others give you an easy way to create your own and integrate technology into the search with phone GPS, app features, etc.
Pokemon Go is an app that gives you virtual rewards and bragging rights as you collect hundreds of virtual creatures.
Full Moon Hike
Go for a hike with the family on a full moon night so you can see the stars in a way that's impossible surrounded by city lights. Bring a telescope and a snack to have a family picnic under the stars.
There's an app that lets you know what constellations you're looking at just by pointing the device towards the sky. It's a great way to start carefree conversations with your older children and teens and for all of you to get in touch with the vastness of the universe while staying active at the same time.
Spend the Day at the Farm
Pick some fruit and vegetables, ride a horse, bale some hay. Life on a farm is active and spending a day helping out there is a workout for anyone.
Picking bushels of apples, pints of strawberries or the perfect pumpkin can not only get your family enjoying the outdoors but give you delicious fresh produce while supporting local farmers.
Fun for a Cause
Organize a run or bike ride that could raise money for a charity as a way how to be more active and more charitable at one time.
Set a Goal and a Reward
We all work and play harder when there's something at the end of our efforts whether it's reaching a goal or a reward.
Why not make it both?
A fun run or hiking a bucket list mountain at the end of the summer can be a great way to motivate yourself to keep on track with your goal of 20 miles a week.
Even with a stationary bike, you can set goals like biking enough miles to get across the country, then reward yourself with a trip to your destination.
Have Fun with It
There are thousands of ways how to be more active without making it seem like a chore. You don't have to have a strict regime to worry about if you think outside the box and make it a priority.
For more great tips on making your life happier and dental practice better check out our blog.