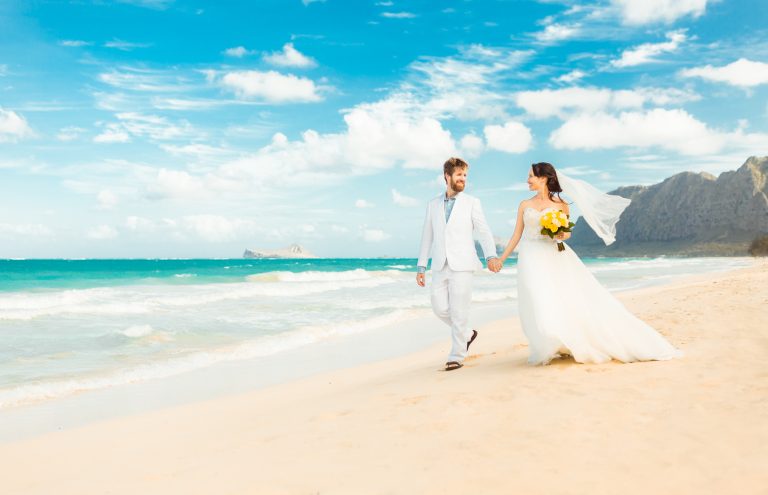 Are you ready for the average cost of a destination wedding?
Apparently, it's not as simple as packing a few sundresses, hopping on a plane, and riding off into the sunset. A 2016 survey from The Knot states that the average cost of a destination wedding is $27,897.
But, how about your friend who flew to Miami, got married on a local beach, and treated everyone to dinner out on the water? Surely they didn't spend $27,000. So, it all depends on your taste and style. Let's break it down accordingly.
A Simple Affair
It's possible to plan a destination wedding for under $2,500. That's less than the down payment on a new car. The trick to this type of destination wedding is do-it-yourself. You have to DIY it all the way, from start to finish, including the invitations to friends and family.
Do you want a beachside affair? A mountain lodge affair? How about something overlooking the Santa Fe horizon? It doesn't matter. If you keep this sort of affair domestic, you could be looking at a car ride with some friends down to the beach, an affordable wedding dress from H&M, and the price tag of treating your friends and family to dinner at some restaurant on the water.
Now, you've shared the happiest day of your life with the ones you love and here's what it boiled down to:
a tank full of gas
a couple of nights in an affordable hotel with your new spouse
a simple dress
food and drink for your family and friends
Consider this type of affair to carry the same costs as a nice weekend getaway. There are all those little "extras" like snacks for the road or that one morning of room service but, all told, a simple domestic affair is completely doable on a $2,500 budget.
A Packaged Affair
There's an entire industry out there dedicated to making destination weddings move from dreams to reality. As a blueprint, let's go with one of the top resort chains in the world, Sandals.
With Sandals, every Caribbean destination wedding package includes:
Ceremony
Reception
Wedding Planning Team
Marriage Documents
Manicure for the Bride
30-Minute Foot Massage
Music
Signature Cocktail
Wedding Website
Gift Registry
5″x7″ Photograph
Honeymoon Dinner
So, you've got some basic considerations covered, where Sandals will all but lead you down the aisle. But, here's where the onslaught of questions come in and each will vary your destination wedding budget dramatically:
Flowers
Ceremony Structure (i.e. flower-trimmed trellis)
Live Entertainment (ceremony and reception)
Table Linens
Centerpieces
Lighting
Dinner Options
Wedding Cake
Photographer
Videographer
Hair and Makeup
Last year, InStyle Magazine published their list of top affordable destination weddings. You'll see some of the top Caribbean hotspots hit the list, even Italy. That's the beauty of destination weddings, isn't it? You're not limited to a 25-mile radius.
How many times in life are you able to spin that little globe in your library and just select a destination? Have you ever considered a wedding in Hungary? How about Morroco?
Is there somewhere fabulous that has special meaning to you and your loved one that would also be a treat for your friends and family to visit? Then, let that globe spin while you arm yourself with the above checklist and make the most cost-effective decisions that fall within your destination wedding budget.
Factor in Foreign Fees
Let's say your destination wedding is in a different country with a different currency. If you're using your credit card, everything from that drink you're about to buy at the bar to the venue rental may come with a foreign transaction fee. These can range anywhere from 1% to 3%.
To avoid this, you might want to consider a credit card without foreign transaction fees. Or, you could consider paying in cash. But, then you have to find out if your bank will charge a fee for international ATM withdrawals.
Consider Your Documents
There are two ways to go about getting married in a foreign country. First, you can go "all in" and actually secure a marriage license from, say, Jamaica. But, then you're going to have to abide by Jamaican law.
What if you were to get married in the courthouse in your local town, and then use the destination wedding as a symbolic ceremony, a celebration? At that point, the only things to worry about are sponge cake and mascarpone options.
The Final Cost of a Destination Wedding
In the end, the cost of a destination wedding is whatever you want it to be. Isn't that fabulous? How often in life are we told, "It's whatever you want it to be, darling." More often, we're told what's appropriate, what's right.
The goal of a destination wedding should be singular: to kiss the one you love under a sky that sings of happiness while the most important people in your life erupt into a wave of applause.
Whether you want to do that with a road trip, a dress from a consignment shop, and an ordained minister named Spike or a $27,000 package from Sandals is completely up to you. It's whatever you want it to be.
As you dream up your dreams of a lifetime, we hope you'll continue to come on over and visit our blog.
While we deal with the daily ins-and-outs of building up our businesses, won't it be wonderful to take some time to honor your special day in a way you'll never forget?