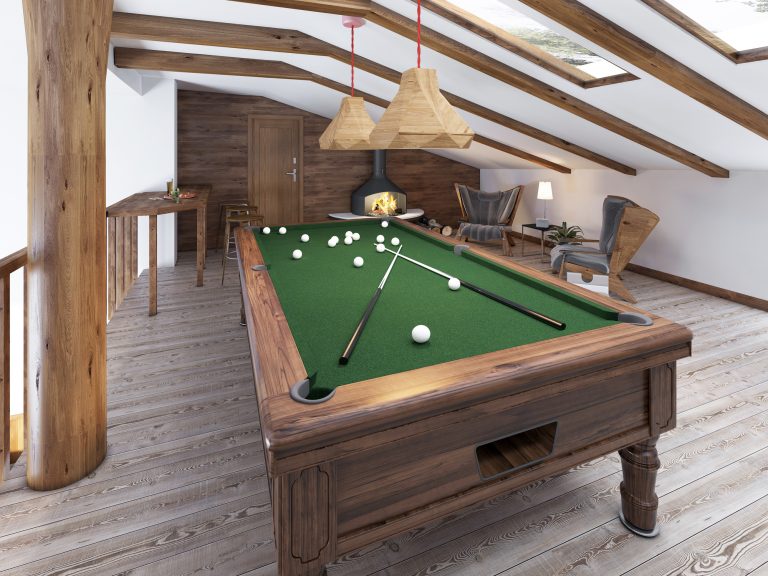 The word "attic" refers to a low story above the facade of a building which was an architectural feature of buildings in ancient Attica, the region around Athens. The Olympics originated in Greece and the first modern Olympics was in Athens in 1896 so how appropriate that an Athenian architectural feature should be the location of a game room.
Don't waste your attic by using it as a storage space. Read on to learn attic decor tips that will transform it into an amazing game room.
Game Room
A game room is a great addition to any home but not every home has the space to accommodate one. The attic space might be just the location for this family-friendly feature.
A game room can be a place for kids to play ping pong or teenagers to play pool. Invite friends over for poker night or just relax with a drink and a movie.
Bear the Load
Your attic is not necessarily designed as a living space. It may not be able to bear a heavy load of people never mind a pool table or furniture.
You need to have the floor checked by a structural engineer to make sure it can handle the extra load. If necessary, have the floor strengthened.
Attic Decor
If your attic is small then use light colors to exaggerate the space. A minimalist approach will make it feel bigger than it is. If you have lots of space then use different colors to break it up.
You can use mirrored surfaces to add to the illusion of space. Try a mirrored wall or a bar with mirrors behind it.
Lighting Options
If you have the luxury of natural light then use it well with uncluttered windows. Even if you have windows you will need to have lighting for that late-night poker night or party.
Recessed lighting can provide ambient light and spots can be used for dramatic effect. Make sure pool and ping pong tables have sufficient light. Consider colored lights for light-night party effects.
Make it Cozy
When planning an attic room redesign, consider insulation. Any space below the roof will need special thought to make sure it doesn't get too hot or too cold. If this concerns you, click here for more information.
You may need to incorporate heating or air conditioning to regulate the temperature. Make allowances for some energetic activity if you have a ping pong table.
Hardwearing Floor
There are a number of flooring options. A carpet has sound insulation properties and can also help with damping any echo in the room. It's easy to keep clean too.
Hardwood flooring looks great but be careful of the load-bearing capacity of the floor and also the potential wear and tear around a pool table or ping pong table.
Soft Furnishing
Finish off the room with some comfortable seating for relaxing after the game, watching TV or just chilling. Even a man cave benefits from some soft touches. Floor cushions and bean bags can add extra seating options when you need to cater for extra visitors.
It's in the Game
Choose your game options carefully. Have you the space for ping pong? Do you enjoy playing pool enough to justify the investment in attic decor?
What about a bar? How about a TV and surround sound system? Think carefully and think long term.
To learn more about home renovation, try these ideas.