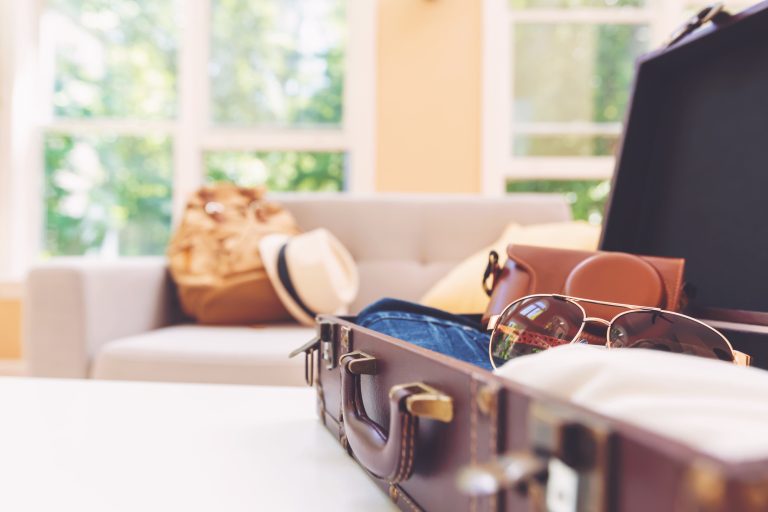 Nearly 62% of Americans took a vacation away from home in 2017. And 21% of Americans traveled internationally.
Vacations are not only a great way to relax and take time off, but they're also good for your health. Vacations can help you reduce stress by taking you away from activities and places that cause you stress.
Research also shows that those who don't take vacations for five years in a row were 30% more likely to have a heart attack than those who vacationed every year. Other benefits of vacations include sleeping easier at night and better productivity.
You know what's not fun about vacations? Packing.
You try to cram so much stuff into your suitcase. You're not sure how many pairs of pants you need or which shoes to take.
If you think packing is the worst, then this is the article for you! Read on to learn the best tips and tricks for how to pack like a pro.
Plan Your Outfits
The first thing you should do when preparing for a trip figure out what you will pack. You can either create a mental list or make a physical list with paper and pen if that will help you stay organized.
Check the weather online for your vacation destination so that you can pack accordingly.
Use a Formula for Clothing
It's easy to overpack and have a suitcase loaded with clothing that you won't end up wearing. To remedy this, follow a formula for packing. Every pants or skirt should have about three tops.
Bottoms are usually heavier than tops, and you can wear them multiple times.
For a weeklong vacation, you need about six shirts, a dress, and one or two pants. Out of the clothing that you pack, pick two in neutral colors so that it's easy to mix and match outfits.
Leave the Heavy Clothing Behind
Travel light and leave heavier pieces behind. Instead of a thick, bulky sweater, choose a soft cardigan or clothes you can layer.
However, If you're going somewhere cold, you will need to pack a winter jacket. You can zip it up and roll it while squeezing all the air out.
Then, wrap it tightly with yarn or rubber bands to save as much space as possible. Finally, place it into a pillowcase and pack it in your suitcase.
Use Items That You Can Wear Again
You may want to pack all your fanciest clothing because you're on vacation. However, make sure you pack clothing that you're comfortable in and that is multifunctional.
For example, you can wear a t-shirt dress during the day while touring the sites and then dress it up in the evening for a night out.
Choose Wrinkle-Free Fabrics
If possible, pack clothing with fabric that doesn't wrinkle easily while stuffed in a suitcase. The best fabrics are polyester or nylon. For winter clothing, wool is best.
Pack Efficiently
Now that you've decided what you will pack, it's time to learn how to fit it all in your bag or suitcase.
Rolling or Folding?
The two best ways to pack are either rolling or folding your clothes. Rolling is best for unstructured bags and clothing that won't wrinkle. By rolling your clothing and packing them tightly, you can maximize your space and minimize wrinkles.
Rolling works best for clothing such as t-shirts, jeans, and sweaters.
Folding works best for structured suitcases and dressy clothes that wrinkle easy.
Pack Heavier Items First
Pack your heavier items, such as shoes, at the bottom of your suitcase. You can also place your socks in your shoes. Then, place each shoe in a bag and place in the suitcase with the soles facing the sides.
You can then place other heavy items, like your toiletry bag, next to the shoes.
Next, you can add the rolled, heavier clothing. You can then add bottoms and dresses next. Next, add shirts, jackets, and sweaters.
For belts, you can place them around the sides of your suitcase. You can also stuff underwear and socks into the corners of your bag.
The top layer of your bag is best for the most lightweight items or ones that you don't want to get wrinkled, such as dress shirts or fancy dresses.
Use Packing Accessories
Another helpful way to pack efficiently is to use packing accessories such as packing cubes.
Packing cubes can help you keep your items separate. For example, if you're traveling to more than one place, you can place your clothing for each location in a different packing cube.
You can also use packing cubes to store food items if you don't want them to mix with your clothing in case of spills.
Packing cubes also help minimize wrinkles, and they keep your items private. Learn more about packing cubes and see how they can help you stay organized when traveling.
Additional Tips to Pack like a Pro
Once you've packed most of your items in your suitcase, you can add smaller items like loose toiletries and your toothbrush in the front compartment of your bag.
If you have fragile items, like mugs, you can wrap them in a sweater and place in the middle of your bag to protect them. For items such as perfumes or cologne, you can place in a separate plastic bag.
For laundry, you can bring a plastic bag to place them in. Place the dirty laundry in the bag and roll the bag tight to get out any extra air. To save space, pack the laundry bag in a side pocket of your luggage.
One final tip, place a plastic trash bag on the bottom of your suitcase and another on the top when you're done packing. This can help protect your clothing in case of rain.
Know How to Pack like a Pro? Go Enjoy Your Vacation!
By learning how to pack like a pro, you will be more organized and will spend less time searching for specific items in your suitcase. You will also spend less time ironing your clothes in the hotel room and more time enjoying your vacation.
For more lifestyle tips, check out our blog.