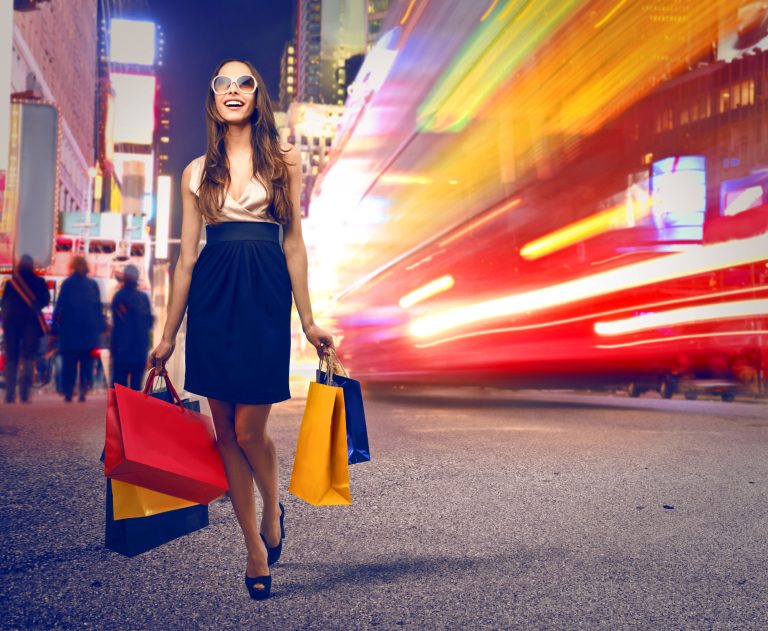 In need of a little vacation?
Summer is the perfect time to take a much-needed trip. After all, September ranks as the best month to plan a getaway.
The most memorable vacations offer a mix of culture, cuisine, and of course…shopping. From high-fashion Hollywood boutiques to downtown chic department stores, there's no shortage of shopping centers in America.
For every style and budget, here are the 10 best shopping cities in the US.
1. New York City
Jay-Z, Frank Sinatra, and Billy Joel all agree. The sing the city's praises for it being a mecca of all things fashion, art, and culture.
It is the home of the Statue of Liberty, Central Park, and the best places to go shopping. The Big Apple boasts serious shopping potential, from couture to vintage.
No wonder it's home to New York Fashion Week. You'll find models and designers roaming the stylish streets in search of the latest "it" bag. It rivals Paris and Milan as one of the top shopping destinations.
Take a trip down glittering Fifth Avenue. It's home to every luxury brand from Louis Vuitton to Prada. It's also home to iconic department stores Bergdorf Goodman and Henri Bendel. Find priceless jewels at Tiffany's, Mikimoto, or Harry Winston.
Or take a stroll along the quieter tree-lined streets of Madison Avenue. It offers top designer boutiques from Hermes, Jimmy Choo, and Chanel.
Stop at The Strand for over 18 miles of books, from brand new to rare editions. Or head down to the West village for rare vintage finds. Time Square has no shortage of "I Love New York" gifts.
2. Miami
Want a view of palm trees, sun, and sand while shopping? Make Miami your next shopping vacation for fashion, furniture, and fine jewelry.
The Design District offers up art and fashion in its outdoor mall. Expect to see luxury labels from Burberry to Dior.
The Bal Harbor Shops and Lincoln Road Mall are other open-air shops that host an array of top designers. Miami's Dolphin Mall has over 240 outlet stores. There is also no shortage of beach boutiques and independent shops in this magical city.
3. Los Angeles
It's where the sun is always shining and fashion is always trending. You'll also find some of the best-dressed people in American in the streets and shops of Los Angeles.
You can thank Rodeo Drive for that. It makes L.A. one of the most famous shopping cities. You'll find over 100 stores on the stylish street, from Gucci to Tom Ford.
L.A. is also home to many vintage shops and flea markets. Check out Avalon Vintage, Foxhole, and Decades for rare and luxurious finds.
York Boulevard is currently trending as one of L.A's hippest streets for shopping. It's full of art galleries, vinyl shops, and retro bookstores.
4. San Fransico
Any San Fran fashionista knows to head to Union Square. With Saks Fifth Ave and Barney's, it's the best place to shop.
Fillmore Street boasts a true California style. You can buy organic skincare products and handmade leather shoes. You'll find local-owned shops at the Mission District's open-air shopping mall.
Head to SoMa for trendy and unique clothing options. Hit the Noe Valley boutiques for furniture, home goods, and hard-to-find specialty items. Fisherman's Wharf also has a tourist's favorite gift shops.
5. Dallas
More than cowboy boots and hats, you can find all the runway ready styles in Dallas.
Highland Park is a National Landmark filled with all your favorite high-end brands. It also has unique stores that sell fine cheeses and hand-crafted toiletries.
The mall at Northpark Center is a shopper's dream, with stores from Versace to Valentino. There's even a custom candy-maker, Sugarfina, which is worth a visit. Dallas is also home to the Neiman Marcus flagship store.
The colorful and eclectic Bishop Arts district has creations from local artists. As well as handmade jewelry and clothing.
If you happen to fall in love with the Lone Star State, here's some good news. Texas has a shortage of dentists. So you could learn more about teeth-straightening technology and move your practice to one of the best shopping cities in the US.
6. Chicago
The Windy City is home to Magnificent Mile, one of the top shopping destinations in the country.
North Michigan Avenue holds over 460 stores. They range from luxury department stores to retail chains to food markets. It also has 3 high-rise indoor malls.
There's even fun for the whole family with a Disney Store and American Girl Place. The doll store even has a cafe and can host a birthday party.
When you're ready to drop from all the shopping, take a break and do some sight-seeing. Plan a guided river tour to see the detailed architecture in Chicago.
7. Las Vegas
It's the city of sinfully good shopping.
Taking this once-in-a-lifetime vacation is on most people's bucket list. For some, the glitz and glam of Las Vegas is a must-see. It has everything you could want in dining, gambling, sight-seeing, and shopping.
The Forum Shops at Caesars Palace combine classic architecture and luxury shops. The Via Bellagio Promenade also has luxury retail as well as signature shops. You can find Manolo Blahnik, Ralph Lauren, and Chloe at the Shops at The Palazzo.
The Louis Vuitton flagship lives in Las Vegas. You can find it (along with many other luxury labels) at The Shops at Crystals.
The Wynn Esplanade is a light and airy retail center. It's also home to a stunning Ferrari dealership.
8. Charleston
Charleston is a city of charm, culture, and couture. No wonder it's ranked as the top city to visit in the US.
A trip to Charleston is not complete without a visit to King Street. It has everything from bookshops to art galleries to consignment boutiques.
The south end of King Street has amazing antique shops and art galleries. While the north end holds home decor and design stores. The middle section is the fashion district, full of all your favorite retailers.
If you're feeling hungry, head to Charleston City Market. It holds over 300 vendors for food, souvenirs, and local goods.
9. Honolulu
Gorgeous sunsets and good vibes aren't the only things you'll find in this capital city.
You'll also find retail therapy at its finest, with Ala Moana Center. The world's largest outdoor mall is the best place to shop for your favorite brands. It even has a Bloomingdale's.
Visit the local boutiques at Ward Village Shops and Haleiwa Store Lots. The Kahala Mall offers a more peaceful shopping experience, away from the bustle of the big city. It's home to upscale shops and a Whole Foods Market.
10. Aspen
Ski in, Ski out, and shop till you drop.
Aspen may be a small town, but it has plenty of luxury boutiques within walking distance. Stroll down the quaint streets and stop into Prada, Dior, and Gucci.
For something unique, check out Kemo Sabe. It sells quality-crafted western apparel, boots, and hats. Visit Aspen Fur and Shearling to stay warm and stylish.
Book a Trip to the Best Shopping Cities in the US
These top 10 best shopping cities in the US are brimming with retail therapy adventures. Don't forget to bring an extra suitcase for all your new purchases.
Always be safe when traveling to a new city. Know your surroundings and don't flash jewelry or money around. For more info check out these travel safety tips.