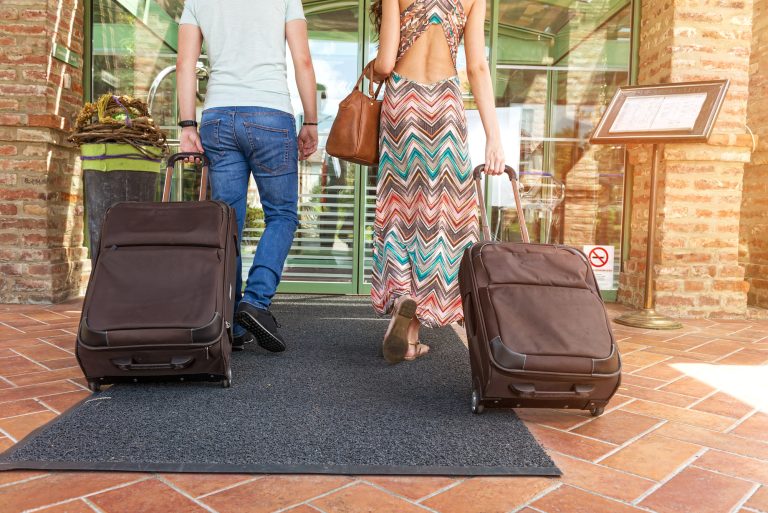 There's nothing worse than finally going on your hard-earned vacation and finding yourself in a terrible hotel.
Your hotel room should be a place of relaxation, not a source of stress. For this reason, we've compiled a list of the best hotel chains for you to stay at while on vacation.
Criteria For The Best Hotel Chains
The most important criteria used for this list is simple: which chain gives you the most value for your money?
To determine this, amenities such as pools, wifi, and activities weigh heavily into our rankings.
Customer service, activities for children, and comfort are other factors that helped determine the value hotel guests receive. Here are the top hotels that met our standards.
Wingate By Windham
Customers recently named Wingate the best moderate value hotel in America. Don't let the moderate tag throw you off, however; the chain offers the same luxury as many high-end hotels.
High scores in customer service, cleanliness, and comfort put Wingate on our list. The value you receive for money spent is difficult to top.
Drury Inn & Suites
When you stay at a hotel, you want to know that staff is going to meet your needs. When you stay at Drury Inn, you have nothing to worry about.
They are the only chain to ever receive eleven consecutive J.D Power awards for highest customer satisfaction. Their commitment to customer service shows in the many amenities they offer, including:
Free wifi
A hot breakfast featuring waffles and biscuits and gravy
A business and workout center
Pools and Jacuzzis for guests
You'll feel like you're at home with Drury.
Harrah's
Why not stay where you play? Harrah's is an industry leader in both customer service and comfort. What sets them apart from the other brands on this list is the entertainment they provide.
Many of their hotels have shows and events to attend while you stay. There's also the award-winning casino action you'll experience and a rewards program that pays you to play with them. Who knows, maybe you'll be one of the lucky few to win big!
Ritz-Carlton
The Ritz ranked highest among luxury hotels for service, but it was also the most expensive of the brands on this list. The brand goes all out to make sure that you get what you pay for, however.
The rooms are always immaculate and there's nothing customer service won't do to keep guests happy. Their front desk is always knowledgeable about the area and can point you in the right direction no matter what you're looking for.
Their amenities are top-notch, and they make sure to deal with loud guests before they become a problem. It's the perfect place to unwind after spending a day out and about in a new town.
The Westin
The Westin ranked slightly behind the Ritz in customer service, but also comes in cheaper. If the price is a consideration, you'll be better off getting a room here.
The rooms are always clean and stocked with everything you need. You'll find great service, awesome employees, and pools to help you beat the summer heat. The Westin has everything you'd expect from a luxury hotel, but you'll pay a lot less.
Hyatt Place
Over the past three years, the Hyatt has renovated over 75% of their rooms. Each room features a floor-to-ceiling divider between the sleeping area and cozy corner, which has a fridge, microwave, and television.
What separates Hyatt from the rest is their excellent breakfast buffet, which now includes healthy options. If you aren't too concerned about eating healthy (you're on vacation, after all), feast on cinnamon french toast and waffles to start your day.
For a perfect family vacation, head out to their Washington D.C. property. After a busy day exploring museums and the National Mall, relax at their rooftop pool and terrace.
Omni Hotels & Resorts
Omni restores historic resorts to their former glory, improving on these sites with modern luxuries. Two of their locations, Bedford Springs in Pennsylvania and the Omni Mount Washington Resort in New Hampshire stand out for different reasons.
Both locations are two of the most family-friendly hotels in America. The resort offers tire swings, indoor and outdoor pools, and an s'mores pit. At Mount Washington, families can take archery lessons, play disc golf, and carriage rides. Spa treatments and a mini zip-line are also available.
Every location gives kids a backpack upon arrival featuring crayons, game and coloring books, and a memory match game. They'll also get a delivery of milk and cookies on their first night. This chain knows how to make families feel welcome.
Sheraton Hotels & Resorts
The Sheraton is one of the best values in the resort industry, especially for families. First, they have a promotion where you pay the regular rate for your first, and the second and third night lowers to whatever year you were born. If you were born in 1975, you'll pay $75 dollars for the next two nights!
Next, kids 12 and under can sign up for an all-inclusive dining plan. For ten to fifteen bucks, kids get drinks all day whenever they are thirsty and eat for free with an adult at participating restaurants. Your family will actually save money by staying with Sheraton.
The amenities are top notch as well. They have swimming pools, business centers, workout rooms, and other activities. At their Sheraton Steamboat Resort, suites include a washer/dryer along with gondola rides and alpine slides.
Marriott
The Marriott is our top choice in the list of best hotel chains.
The rooms have sophistication and style but are flexible enough to allow you the freedom to work and relax as you see fit. After a long day exploring, you can indulge yourself in their spa-inspired walk-in showers.
The Marriott also works to make vacationing easier than any other chain with their Marriott vacation club. You'll be able to choose from thousands of resorts with any check-in date length of stay. If you plan on looking for a career in another city, you'll have a place to stay while interviewing and looking for your new home. They even have family excursions to turn any vacation into an adventure!
The next time you're planning a vacation, think Mariott. You get more bang for your buck than with any other chain.
Are You Ready for Your Next Vacation?
As long as you stay at one of these hotels, you're sure to have an amazing trip. Dental professionals work hard for their vacations; why not indulge yourself by staying at one of the best hotel chains?
Your ADA membership could save you money on your hotel stay and car rentals while you're on vacation. If you haven't signed up yet, make sure you check out the benefits our members enjoy.