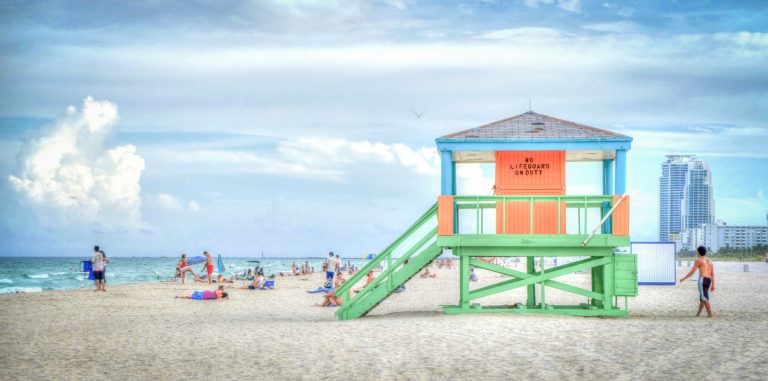 Perhaps you're retiring and looking for a warm, exciting place to spend some time.
Or maybe you'd like to escape the winter blues by bathing in the golden sun.
There are plenty of folks who choose to be Florida tourists for these very reasons, plus several others. In fact, Florida hit a tourism record in 2018 — over 126 million people visited the Sunshine State for a taste of the fun. That makes 2018 the eighth consecutive record year in a row!
What do all these people have in common? They know how to vacation.
But, we're going to give you a leg up on the masses. Instead of visiting the standard tourist traps, we offer a local's insight into great spots that are still (slightly) off-the-map. This way, you won't be elbowing up to your neighbors when standing in long lines at Disney or going broke paying for a Fast Pass.
Check out these five remarkable, completely un-cheesy ways to spend your time.
1. Visit a Historial Site in St. Augustine
If you or a loved one is a history buff, then St. Augustine is a must.
The city was founded in 1565 and remains one of the first-ever continuously-occupied towns in the entire nation.
Explore the town and see many other firsts — like the oldest wooden schoolhouse, the oldest masonry fort, the oldest wax museum, and more. St. Augustine is at no loss for exciting historical sites, and a walk down the narrowest street in the U.S. is truly a walk down memory lane.
The city itself is a beautiful place to visit, and that's in part thanks to Henry Flagler. The railroad tycoon popularized the town in the 1800s when he built several fancier hotels throughout the city. Then, he promoted it as an ideal vacation spot for more wealthy northerners during the winter months.
His endeavors also gave the town a school, hospital, and a variety of churches.
Bonus: it's only a short drive from Jacksonville, where you can explore famous beaches, too.
2. Wade Through the Everglades
If anyone in your group is an outdoor junkie, the Everglades can scratch that itch.
The Everglades houses tons of engaging activities, including (but certainly not limited to) Everglades National Park.
This park is the third-largest in the lower 48 states, and that's saying something! It spans an astounding 2,400 square miles.
Within that space is a plethora of things to do. Florida tourists can kayak, hike, bike, canoe, camp, and go fresh- or saltwater fishing. Additionally, many areas offer tours that allow you to wade through waist-deep water, allowing you to experience nature in its most primal form.
If the thought of wading in the water scares you, a more mild excursion could be slough slogging — this is the Everglades' version of off-trail hiking (guaranteed to get your feet wet).
3. Swim with the Manatees in Crystal River
As the name implies, Crystal River is a beautiful, clear body of water that many a local love to spend time in.
You can boat, swim, and hop off your canoe into the river at any time. Crystal River is so named because it's fed by 30 natural springs, leaving the six-mile-long waterway clean and beautiful with perfect visibility.
Many consider it the place "Where Man and Manatee Play," as you're bound to see manatees during many times of the year. Remember not to touch the manatees if you do see them, however, as it helps preserve their existence to remain reasonably fearful of human beings.
When you're done swimming, consider visiting the Crystal River State Archaeological Site. This 61-acre Native American site is full of fascinating history, holding burial grounds, temple mounds, and more.
4. Eat Freshly-Caught Fish on Anna Maria Island
There are plenty of things to do in the seaside town of Anna Maria Island.
For one, it's home to Cortez — one of the last fishing villages in Florida. Back in the day, many Floridians made their living by fishing. They'd sell their supply to other parts of the state, as well as open up many seafood restaurants to cook up their fresh catches.
You can still eat many of these delicacies at the numerous restaurants along the coast. Bonus: they're affordable, too!
Anna Maria Island is also famous for beach-goers, as the island houses several different beaches. It's particularly famous for Longboat Key and Bradenton beach — but if you want to stray from the crowds, consider visiting one of its lesser-known beaches for some more privacy.
5. Explore One of the Many Natural Springs
Florida has more than just beaches — in fact, it's home to no less than 700 beautiful, crystal-clear springs.
These springs maintain a cool temperature year-round, which is particularly amazing in the hot summer months.
Thirty-three of those springs are considered first-magnitude springs. This means that those 33 springs discharge at least 64 million gallons of water per day! Some notable first-magnitude springs include Weeki Wachee and Rainbow.
But, wherever you're staying in the sunshine state, the odds are high you'll find a fantastic spring nearby.
You're Ready to Be a Florida Tourist!
Participating in Florida tourism doesn't mean you have to be the typical Florida tourist.
With this list in mind, you can explore the finer things the state has to offer. Plus, they don't involve high price tags or waiting in long lines.
So, whether you're retiring, vacationing, or scoping out a future home, Florida is the place to be — if you know what the locals do. After all, that's what makes it one of the top states in the nation for getaways.
Check out this list of other famous getaways so you can plan your next one right when you get back!