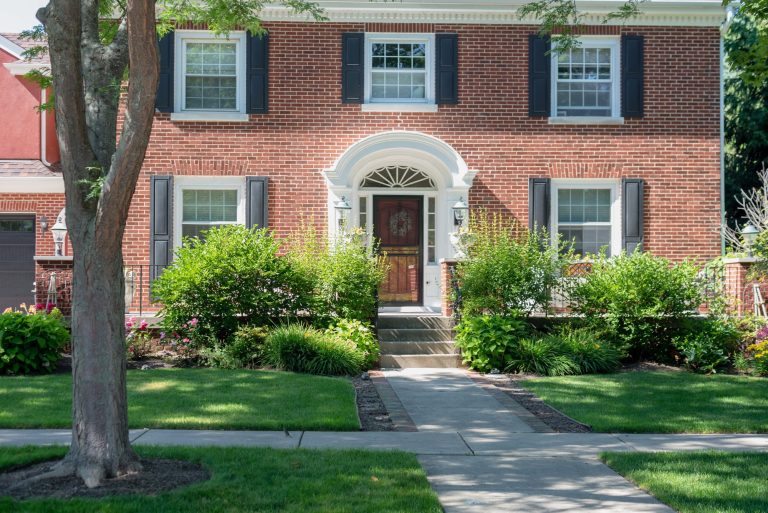 Are you looking to give your front yard that jaw-dropping wow factor that'll make your friends jealous? Or maybe you want to spruce up your business premises so your clients will fall in love before they even meet you?
If you want to make a great first impression with your home or business, then curb appeal landscaping is just what you need. A pretty front yard and the right flora and fauna will say a lot about your place. Keep reading for our 10 killer landscaping ideas.
1. Waste Those Weeds
You'll need to start with the basics. While you may not notice the weeds that have sprung up outside your property, they give a place an untidy, uncared for look.
Seize the day, get out the weed killer, and go to town on those cracks and crevices where these unwanted visitors have sprung up. And if that sounds like time you don't have, employ a professional to do it for you.
2. Add a Spot of Color
A failsafe way to add design appeal to your property is by adding color, and you can do this in a bunch of different ways. The boldest move is to paint your front door. Make sure you pick a shade that's easy on the eye because it'll be the first thing people notice.
You can also liven up the outside of your property with colorful blooms, and pretty trees. If you're installing these at your place of business, you may want to opt for low-maintenance shrubs that'll be easy to look after day-to-day.
3. Light Up Your Landscaping
Adding lighting is another foolproof way to add curb appeal to your home or workplace. The options available to you are endless, and you can either connect lights to your main power supply or use solar-powered lighting that will twinkle gently as the night draws in.
Solar garden lamps are a great way to add an enchanting glow to your property and will shine on your flowers and trees even after the sun's gone down.
4. Pave the Way
With your footpath, you're looking for the yellow brick road of curb appeal. You want people to follow your path all the way to the end!
Tie your garden path into your property's design. If you're in an older building, a stone or pebble path may look just right. If your building is more modern, play around with bold colors and shapes to make your footpath pop.
5. Design A Custom Canopy
If you want to give your business that eye-catching appeal, then a custom canopy should do the trick. Customised building canopy design will work with your business structure, and give it some architectural substance.
You can add ornate curves to a boxy building, or cool modern swoops and swishes. These canopy design features will add character and give your patrons the welcome they've been looking for.
6. Make a Splash With a Water Feature
One of the best curb appeal landscaping ideas comes with a side of water. Water features always add a bit of class to a property, and because they come in a whole host of different designs, you'll be sure to find one you love.
If your front yard lacks space, a smaller piece that utilizes height is a great option. And if you've got tons of space, why not go crazy with a big, bold water feature that draws the eye like nothing else… or maybe even two?
7. Revamp With a Railing
A great but often overlooked feature in curb design is the humble railing. Railings not only add interest to your property and frame it – they also have a very practical use.
If your home has steps, or if you own a business, then a railing will be particularly handy for guests that find them a struggle. Once installed, you've got something else you can add color to, and make the lines of your property stand out.
8. Add Whimsy With Window Boxes
Window boxes are a great way to show your property some love. They're small, easy to look after, and will add a gorgeous burst of life to the eyes of your building – its windows.
When it comes to window boxes, the world's your oyster because they make anything look good. Use colorful flowers like pansies, low-maintenance shrubs like lavender, or you could even plant a herb garden for a tasty treat.
9. Fix Up Your Fixin's
If you've been in your place for years, or have been too busy to get outside, you may not have noticed that dented mailbox, the tarnished door knocker, or the wobbly steps.
Go around your property with new eyes – pretend you're a potential buyer. What would put you off? Check the gutters, inspect your fencing, and note down anything that needs to be repainted, repaired, or removed. Fix up your fixin's, and your property's curb appeal will skyrocket.
10. End With Some Edging
For great first impressions, landscaping is important, and what better way to finish up your efforts than with some neat and tidy edging? You can go for something low-key and subtle or something modern and striking, depending on your taste.
Edging along your flowerbeds and footpath will keep the soil from traveling, and can also help keep the neighborhood pets away. Plus, it'll add a bit of personality to your property, and make it stand out from the crowd.
Wow-Factor Curb Appeal Landscaping Ideas
If you're going for the wow-factor when visitors approach your front door, then some clever curb appeal landscaping is the way to go. Start with the basics, like tidying up what's already there, and making sure your hardware is in tip-top shape.
When you add color and lighting, you'll be adding some life to your property. And those finishing touches like flowers and neat edging will make your home or business a place people will just love coming to.
Are you looking for a new office space for your dental business? Check out these 12 questions you should ask before signing that lease.