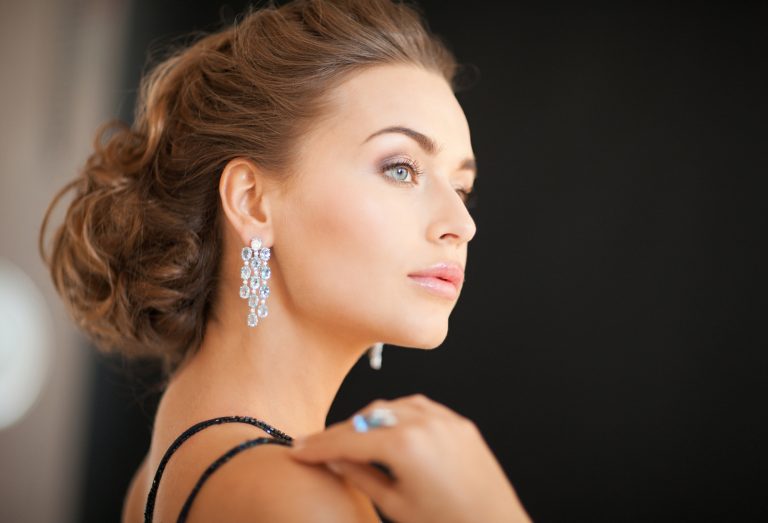 As a medical professional, you're a prominent member of your society and you want to make a good first impression on others. As you dress for any occasion, you want to add a touch of class. Diamond jewelry might be exactly what you need.
Most people think of diamond jewelry as an accessory for black tie events. With a little creativity, though, you can incorporate diamonds into any outfit. Get started with these tips:
Ways to Wear Diamond Jewelry with Any Outfit
A diamond can look out of place if you wear it in the wrong way. Accessorize wisely with these tips:
Mix Boho and Elegance with a Diamond Choker
The choker trend isn't going anywhere, and it goes far beyond 20-somethings at music festivals. It lets you bring a fun boho style to any attire.
A diamond choker, on the other hand, takes it to the next level. It incorporates the casualness of a choker with the formality of a diamond for a beautiful, unique look.
Add Sparkle to Basic, Clean Fashion
One of the best ways to make your wardrobe go further is to opt for more basic pieces. We're talking about block colors with a great cut rather than an attention-grabbing pattern. It's easy to make these pieces fit your style du jour with the right jewelry.
Diamonds are great for dressing up these pieces. For instance, try a diamond pendant on a long chain that hits around your ribcage. It breaks up the blocky color of your top while adding some elegance to the look.
Use a Tennis Bracelet as One of Many Thin Bracelets
Another great trend in today's fashion world is stacking a variety of thin bracelets. It's the ultimate in customizability because you can choose a blend of colors for that day's style.
The trick is to mix materials. For instance, stack a diamond tennis bracelet with a leather bracelet, a hemp bracelet, and a plain metal band. Make the tennis bracelet a focal point by placing it in the middle of the pack.
Get Creative with Your Hairstyle
Sometimes you have to think beyond your wardrobe to add the right amount of glitz to your outfit. A great way to do that is with a diamond hair accessory.
A diamond clip on the side of your head is a beautiful way to add a touch of luxury.
Call Attention to Your Cinched Waist
One of the biggest challenges for women is finding outfits that give them an hourglass shape. Sometimes, the outfit itself needs a little help.
To accentuate the narrowest part of your waist, add large waist belt with a delicate diamond buckle. If you don't have one, try a fabric band with a broach on the front.
Add Glam to Your Shoes
Neutral, basic shoes are versatile enough to pair with anything. Sometimes you need to add a little style, though.
Have you thought about what diamonds can do for your shoes? Try a diamond broach on an ankle strap, for instance.
Make the Most of Any Neckline
The trick to wearing a diamond necklace well is knowing what neckline to pair it with. Different shapes of necklaces work best with different necklines.
If you want your diamond jewelry to be versatile, try buying a pendant you can put on any length and shape of chain you want.
Add a Delicate Touch to a Sweater
As the weather gets cooler, it's almost time to break out your stash of sweaters. Nothing accentuates a beautiful sweater like a diamond ring peeking out at the bottom of the sleeve.
Draw Eyes to Your Face
If you want to draw eyes up to your face and create the illusion of a longer neck and slimmer shape, consider long diamond earrings. They're genuine attention-grabbers that elongate your look.
This is also a great way to accentuate a unique or beautiful neckline. The earrings will draw others' attention upward to that area, highlighting your favorite part of the outfit.
Add Interest without Adding Color
Sometimes, you look at your outfit and say, "It's missing a little pizzazz." If you're already wearing bright, bold colors, adding more color may take it too far.
This is a situation that warrants a diamond.
With their neutral color, diamonds pair well with anything. They add enough interest to spice up any outfit without clashing with any colors you're already wearing.
Accentuate Your Arms with Short Sleeves and a Watch
Classy watches are a huge style trend right now. For women, current trends favor large-face watches with some glam, although thinner, more delicate watches are still in style too.
For undeniable elegance that steps up any outfit, go for a diamond watch. For versatility, aim for one with mixed metals so you can wear it with outfits that favor gold and those that favor silver. For a splurge, you could also get diamond watches in a few different metals.
Indulge in the Multiple Rings Trend
Another huge trend in the fashion world is wearing multiple rings on each hand. A diamond ring can be the perfect way to hop on this trend with elegance and class.
It's important to mix your rings wisely, though.
Never wear a real diamond and a cubic zirconia or other "knock off" diamond at the same time. It will draw attention away from your real diamond. Instead, pair a diamond ring with plain metal bands or bands with other gemstones.
Get the Most from Your Diamond Jewelry
The right diamond jewelry can last a lifetime or even become an heirloom if you maintain it well. However, that doesn't mean locking it away and being too afraid to wear it. The key is pairing your diamond well and using it to embrace your natural style rather than changing your style.
The tips above can help you get more use out of your diamond for years to come. For more great style and fashion tips for dentists, check out our blog.