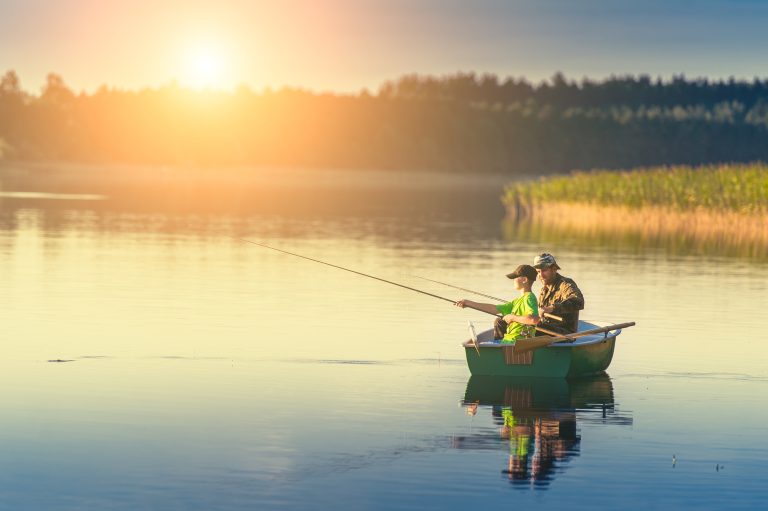 If your idea of heaven is a serene waterfront with a pole in your hand, it sounds like you're ready for a fishing trip. Fishing vacations are the perfect way to unwind from the rigors of the workplace or enjoy your retirement.
The key to a great fishing trip is to pick a location with promising catches and a relaxing atmosphere. Whatever season you choose to take your respite, we can help you choose the best destinations for your ultimate sporting vacation.
Homer, Alaska
If you're looking to immerse yourself in one of the last wild frontiers in the states, Alaska is the place to be. The perfect escape for a true outdoorsman, a 45-minute flight from Anchorage will take you to some of the most beautiful winter fishing destinations in the world.
Salmon spawning runs are plentiful, as well as a diverse selection of fish in the nearby Kachemak Bay. Ply your skills at catching rockfish, halibut, lingcod, and many native species you'll never spy on the continent.
Homer is pristine and seemingly untouched by man, offering a real Hemingway-esque adventure.
Mammoth Lakes, California
Central California is home to this beautiful lake region of the Sierra Mountains. For trout fishing, few other places can compare to Mammoth Lakes.
Not only does this region offer pristine freshwater fishing, but the area is great for hiking, camping, and biking year-round.
The nearby Yosemite airport has plenty of flights from LAX, so making your way into the mighty Sierras is quick and easy. For an extra stunning adventure, traverse the area in the fall for excellent seasonal colors and fewer crowds.
Emerson Resort & Spa, New York
If you're looking for a great couple's getaway that also had superb fishing opportunities, Emerson Resort is the place. Located in the scenic Catskill Mountains, this tranquil location offers a wealth of trout via the Esopus Stream.
The nearby Phonecia Library boasts an incredible Angling exhibit that frequently hosts workshops, special events, and unique presentations.
Emerson also offers a relaxing spa experience, and nearby Woodstock is a great location for shopping.
The Florida Keys
Known as "the Sportfishing Capital of the World," this locale is host to the Presidential Sailfishing Tournament. Over 500 species of fish are just a boat ride away. Florida is an ideal winter fishing destination for those who seek a warm, sunny locale full of tropical fish.
The keys are home to many prestigious resorts, plenty of which are equipped for pier fishing, scuba diving, kayaking, and other waterfront activities.
Lake Placid, New York
Spring in the Adirondacks is trout season, and fishermen far and wide flock to this region for the opportunity. Plentiful in pike and walleye as well, the picturesque region surrounding Lake Placid is full of seven additional lakes and ten streams ideal for the fly fisherman.
Hire an Adirondack guide who can guide you to the best opportunities in the region, as well as teach you helpful tips and tricks of the trade. The comfortable, upscale lodges in the region offer superior dining and fireside comforts. A trip fit for the solo traveler or the whole family!
Fishing Vacations of Every Variety
Whether you're planning an excursion to a fine resort or remote cabin, America has some of the most serene and plentiful fishing opportunities in the world.
The natural beauty and diversity of our lakes and coastal regions create an ideal space to unwind on fishing vacations. Bass, trout, swordfish, or salmon? You're sure to reel in the perfect catch on your next fishing trip to one of these fantastic getaways!
For more tips on your time in and out of the office, visit our blog at ADA Marketplace today.